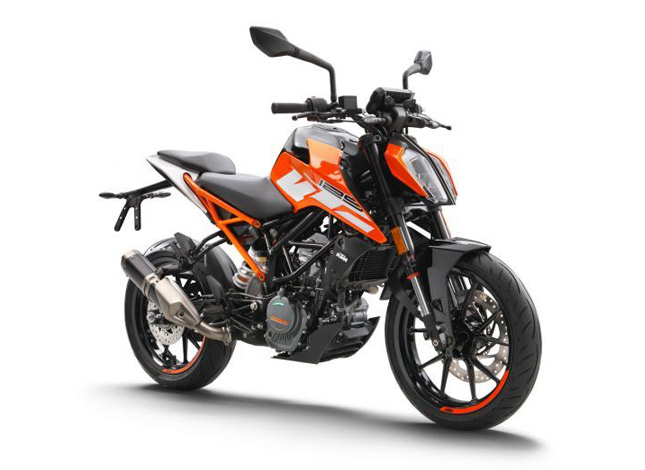 The bookings for the Duke 125 are now open and its ex-showroom price will be around Rs 1.25 lakh, which puts it in a highly competitive zone. Still, we believe that India is the most unique market in the world where chances of anomalies are very high. That's why we have come up with a list of reasons explaining why the Duke 390 will be a success and why it won't be.
Reasons for Success:
Identical Styling-
The Ktm Duke 125 looks identical to the much larger Duke 390. Only the engine size and the disc brake size is different on both models. It is an important point because the part reason why Duke 390 is so popular is that of its design. The Alien looking headlight and the edgy body panels stand out from the crowd, easily distracting the attention away from the fact that it's just a 125 cc bike.
A number of buyers-
The baby Duke will probably enjoy a number of buyers because of the way it looks. A good number of people buying the bike aren't hardcore petrol-heads who care about performance and power figures. There are also those people who want to own a KTM just for brand association and style. They will easily find the KTM 125 as their most suitable option.
Concerned Parents-
Just by looking at a Duke, people get the idea that it might be a very fast motorcycle. Other times they might be right but with the Duke 125, they can rest easy knowing that the bike only makes 15 HP and comes with a Dual channel ABS.
Reasons for Failure:
Not for Petrol heads-
The small Duke is not fast by any means. It might reach a top speed of 110 km/h but probably not beyond it and not any faster either. So the Duke 125 will not please hard-core KTM fans or fans of performance motorcycle in General.
Less Value for money-
With a price tag of Rs 1.25 lakh ex-showroom. It is not a value for money bike but if you decide to ignore its small engine the Duke 125 is a pretty neat bike. However, it does not change the fact that all of the equipment on board it will remain underutilized.
As far as I can think, these will be the deciding factors in the selling of Duke 125. So far the number of good points outweigh the bad ones so it is safe to say that the bike can sell pretty well, despite my analysis of its potential failure.
However, we still have to wait and watch until the bike isn't launched.
By:
Yetnesh Dubey