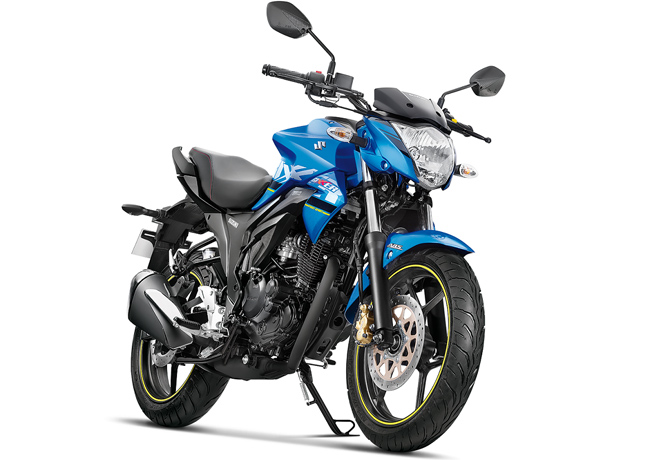 Let's take a look at exactly what Suzuki Jet Cooling System or (SJCS) does-
Motorcycles are mainly cooled by 3 methods, by using air, by using air and oil, or by using liquid coolant. Suzuki jet cooling system is kind of derivative technology taken from the company's own Advanced cooling system, which is used in higher capacity Suzuki bikes. Suzuki Advanced Cooling system or SACS for short was developed by an engineer from Suzuki Etsuo Yokouchi. SACS was extensively used in Suzuki Gixxer till 1992 but DR650 still uses it in their current model. SACS was developed by taking inspiration from air-cooled rotary engines of world war 2 aircraft. In those machines, pistons were sprayed at their bottom to increase heat transfer and reduce stress. Note that, in a rotary engine, all sides of the curved triangle rotor work as a piston.
SACS works by using a specially designed engine oil pump which consists of 2 chambers. Both of these chambers have a high pressure and low-pressure pump. The former is used to lubricate important parts like piston, cylinder walls etc while the latter is used to lubricate gearbox and clutch. After this process, the engine oil passes through an oil filter and returns to the oil pool. The cycle continues in the same way. Now, SJCS uses a more simplified design that works by using an oil sprayer to spread the oil below the piston to lubricate it thus increasing the heat transfer and reducing the wear and tear of the moving part.
Suzuki Jet Cooling System or SJCS's main function is to improve engine longevity, it does so by keeping the moving parts cool and resistant to internal wear.
Suzuki Gixxer 2018 currently comes in different variations and this particular one will be the top end model of the bike. The
Single Channel ABS
and SJCS will definitely improve the riding experience and also the amount of heat we are facing nowadays, such a cooling system is very much appreciated.