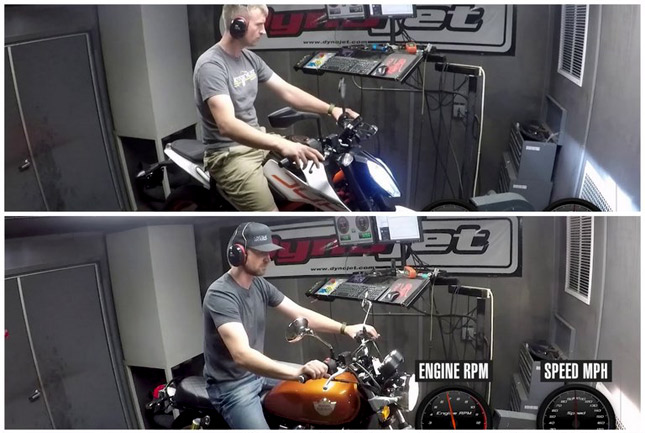 The Dyno test video of the Royal Enfield is out and the results are as expected. The test was done on both 650cc models, The Interceptor 650 and the GT 650. For comparison sake, we are also measuring the power of KTM Duke 390, which is almost as powerful as both Royal Enfield motorcycles.
The tests were done by the Cycle World, which is a USA based magazine that also tested the original Royal Enfield 750cc back in the '70s. The KTM Duke 390 and the both Royal Enfields are tested by the Cycle World.
On paper, both motorcycles make 47 HP but some of that power is always lost in transmission from crankcase to the rear wheel. By keeping this in mind, let's begin.
First, let's talk about the Royal Enfield GT 650. The final result of the Dyno tests indicates that the bike makes around 44.36 HP at 6840 RPM. The weight of the GT 650 is around 200 Kg, so judging by this fact, the result is justified. The Interceptor 650 is heavier than the continental GT 650, and it shows in the final result as well. The horsepower loss is significant in this 650cc model. The final rear wheel power of Interceptor 650 is 42.55 HP.
The Duke 390, on paper, makes around 42.90 HP and weighs around 163 kg wet. The bike also uses high-quality performance parts including an aluminum swingarm, a lightweight trellis frame and WP suspension. All of them have a massive impact on the final power delivery. The Dyno test of the Duke 390 confirms the final rear wheel horsepower as 41.21 HP at 8640 RPM, which is pretty amazing. The brilliantly engineered Duke 390 loses only about 1 HP in transferring the power to the rear wheel.
However, The huge difference between the claimed HP of Royal Enfield bikes and the actual HP means that there is a lot of room for improvement. The custom bike builders will definitely be able to play around with different weight reduction mods on the bike, thus making it faster.
Both bikes are pretty neck to neck in this case and it'd be exciting to see a drag race between the two and find out the actual result.
By:
Yetnesh Dubey