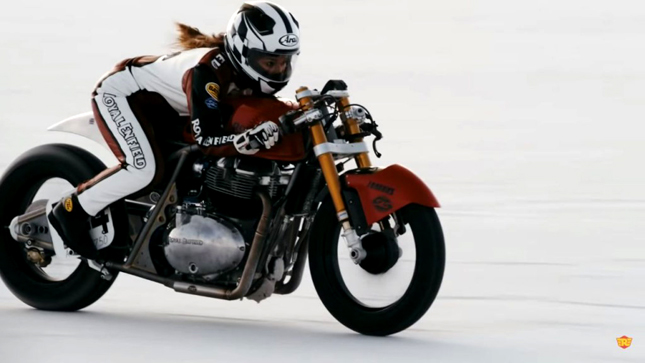 People are freaking out over the Royal Enfield's record at the Bonneville dry salts. The company set a top speed of 240 km/h with their Continental GT 650. It's a good speed but I am here to tell you that why it isn't all that impressive.
The bike wasn't stock-
The continental GT 650, which the Royal Enfield used was clearly not a stock bike. Any good performance modification requires changing of camshafts, maxing out cylinder size and a new fuel injection. Considering the final product, it wouldn't even have been a 650 cc bike, that raced across the desert.
A lot of competition-
There are several 650 cc bikes which can cross 200 km/h mark easily. A 2018 Ninja 650 can do a top speed of around 220 km/h while being stock. A simple performance exhaust and an ECU remap can take the same speed to 235 km/h. Note that I am not comparing the bike with an inline triple or an inline-four, Ninja 650 is a twin cylinder bike just like the Continental GT 650.
GT 650 has low power-
The bike has a weight of 198 kg and it makes around 47 BHP. Calculate the bike's power to weight ratio and it comes out to be 0.1077. While the ratio for Duke 390 with 43 HP and 154 kg of weight is 0.126. While Ninja 650 with 67.2 BHP of power and 193 kg gives an impressive .157 ratio. Not only is the power of GT 650 low, its weight is also more compared to the competition.
It is what it is-
It might seem like that we are going the extra mile to prove that a bike is not worthy. No, we are not doing that here. I am just trying to tell you the situation as it is. Continental GT 650, as a stock bike isn't a very fast bike. It may be fast against single cylinder 300 cc motorcycles but in its class, it's probably the slowest. It doesn't mean that it is bad in any way. It is just what it is. The bike's makers didn't intend the bike to be so fast and that's why it isn't.
We are eagerly waiting for the launch of Continental GT 650 and discuss with you guys about all its Pros and Cons.
By:
Yetnesh Dubey