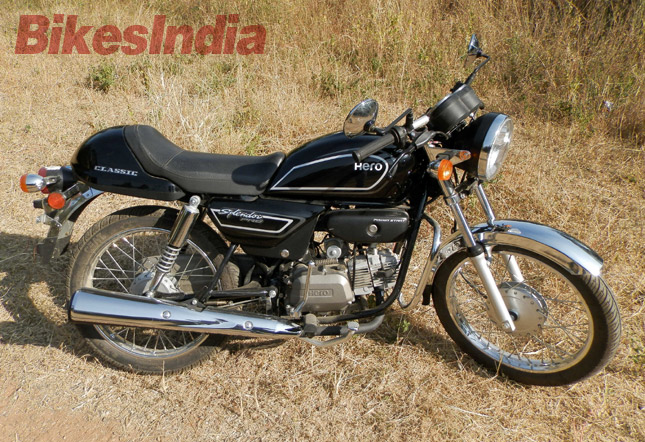 After introduction of Royal Enfield Continental GT as cafe racer bike in our country, we not only get to know about these cafe racers but experience them also with their virtues like peculiar styling and ability to travel short distances in shortest possible time. The cult of cafe racer motorcycles started in late 60s when bikers were chopping their bikes to cut down the unnecessary weight and converting them into fast machines. The primary motive of those bikers was to travel short distances as from one cafe to another in minimum possible time.
Following the trend of cafe racers in our country Hero MotoCorp took a very unprecedented and bold step by launching one of its own kind bike- the Splendor Pro Classic with cafe racer styling. The bike became instant talk of the nation as shown at the Delhi Auto Expo for the first time. I was one of those who felt that it was a half hearted effort by Hero and the prototype would never made its way to the streets but Hero proving wrong all of us launched this cafe racer based on splendor with identical styling as featured in the prototype, as if it was not a prototype but was a production ready model.
The Splendor Pro Classic was launched recently as the cheapest cafe racer bike of the World, we got to test ride this little cafe racer to find out its worth.
Test Ride & Review By: Farhan Kashif
Photographs By: Ahmed Faraz
Bike Tested: Hero Splendor Pro Classic
Total Kms Run: Only 06 Kms on the ODO
Price: Rs.48,650 (Ex-showroom, Delhi)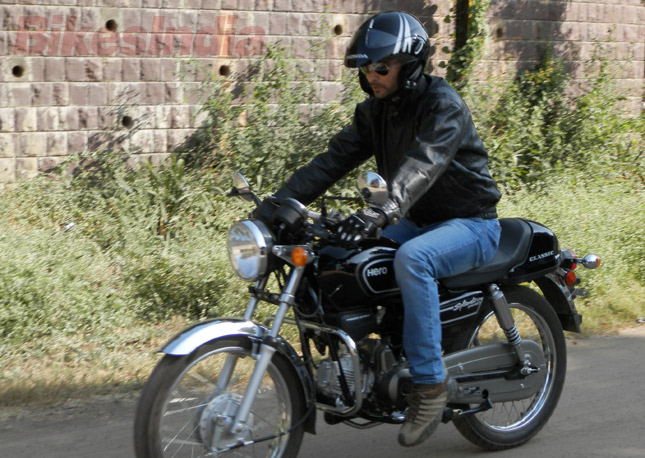 Style & Design:
The Splendor Pro Classic has the design elements inspired by the cafe racers, the bike is featured with short "Club Man's" handle bar, typical single seat with rear seat cowl and lots of chrome all over. The big round headlight of the bike also comes with round rear view mirrors, round meter console and round tail lamp with round blinkers. All of these round elements of Splendor Pro Classic adds to the classic feel of the bike.
There is Chrome everywhere, it is there at the headlight assembly, meter console, fenders, blinkers and the rear shock absorbers. The bike looks good in flesh and does catch the eyeballs, it particularly looks good in Red color, though we could only get our hands on the Black color Splendor Pro Classic.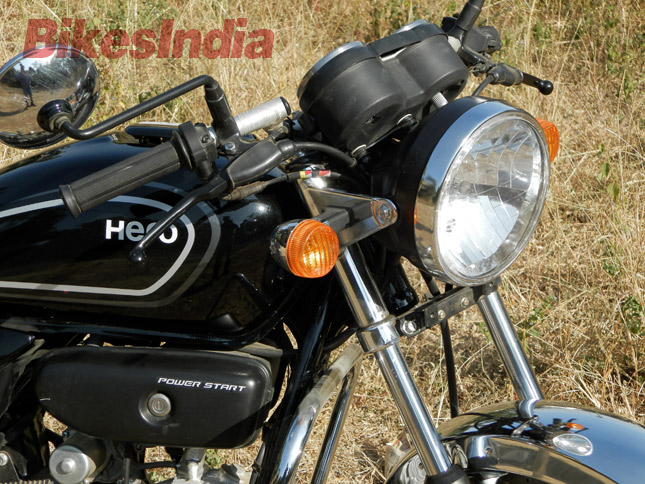 Comfort & Ergonomics:
The seating of the bike is compromised and the clubman handle bar is particularly uncomfortable and feels after market modification. The weight balancers were badly missing in the handle bar. To make the already compromised seating worsen the position of foot pegs are not altered as per the handle bar and are kept as it is in the regular Splendor. The foot pegs should have been rear set to complement the handle bar.
The single seat looks accommodating for a pillion but it is fairly deceptive and can neither accommodate an adult male nor a lady on it at all, making the cafe racer highly impractical and exclusive for single riding.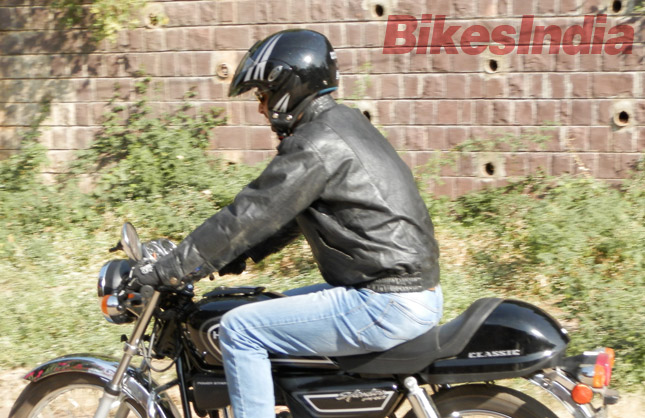 Instrument Cluster & Switch Gears:
The instrument console is round in shape and classy, it features the basic infotainment like speedometer, fuel gauge dial with neutral gear indicator and side stand indicator. As a cafe racer though the tachometer is highly missing and it would have lended another character to the bike.
The switch gears are directly taken from Splendor and other commuters of Hero, there is nothing special whatsoever in the switch gears or their quality. The engine kill switch is badly missing and it could have been featured to the bike as an exclusivity.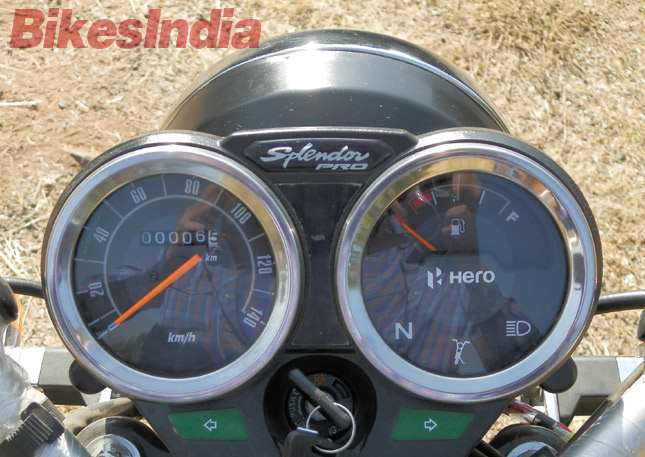 Performance And Gearbox:
The Splendor Pro Classic is featured with 97.2cc engine directly from Splendor Pro but Hero has tweaked the performance of the Classic, as the same 97.2cc engine now boasts 8.4 Ps of power in place of 7.8 Ps of regular Splendor. However this marginally increased power hardly felt to the bike and at least 125cc engine of Super Splendor would have done the trick. Hero had options of putting engines of Xtreme and Ignitor on this cafe racer but for some reasons Hero MotoCorp chose to be conservative and went for Splendor's engine.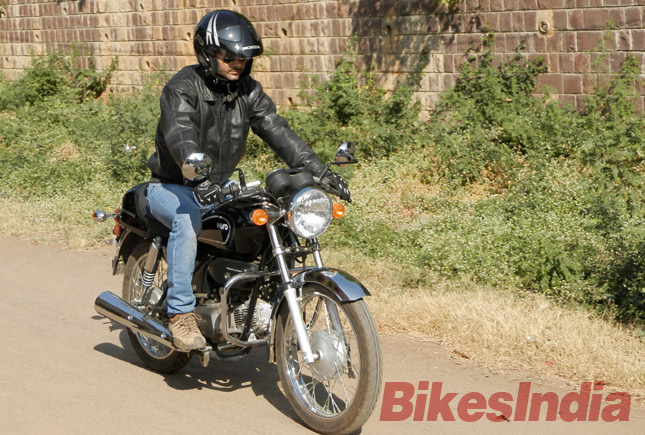 The 97.2cc engine is mated to the 4- speed gearbox of Splendor with same transmission setup. The gearbox is typically Hero/ Honda but the heel n toe gear shifter is an absolute no no. It is hard to understand that why Hero did not go for the toe shifter and rear set foot peg assemble in Classic cafe racer as it can be easily lifted from the Xretme or Hunk and that would have added an authentic feel and moreover proper ergonomic to the bike.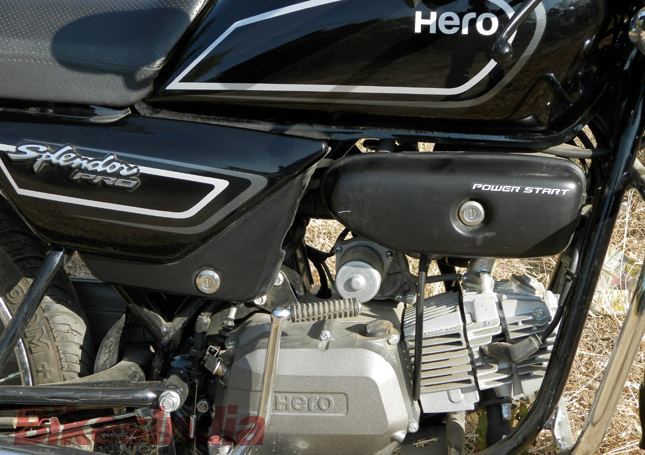 Verdict:
All n all the Splendor Pro Classic is a different looking bike with subjective styling, it is a bike for a niche and a common man would hardly go for it. Those who love to be different will like to own one but I personally feel that Hero missed an opportunity to bring a perfect cafe racer rather than this so called cheapest cafe racer. I found that the bike is not focused to the target audience as well, it lies somewhere in between.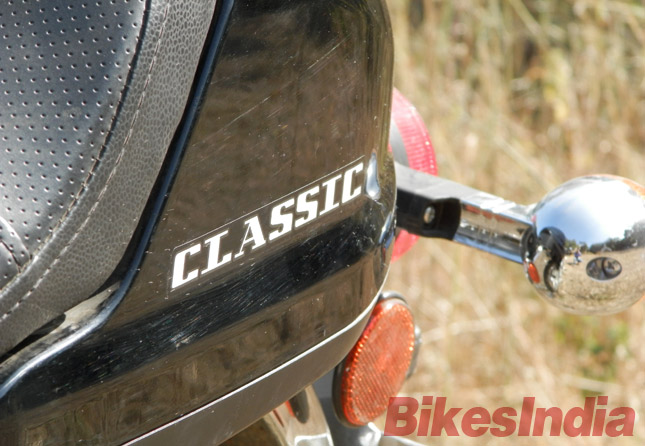 If you talk about the pricing of the bike and consider it as a cheap alternative to the stylish cafe racer, you should also keep this in mind that the impracticality of the bike kills the charm of the cheapest cafe racer, as for a price conscious customer the practicality is the foremost thing.
And those who are hardly bothered about the pricing, why would they go for an under powered machine which is in fact an amalgamation of a commuter and a cafe racer and not a proper cafe racer?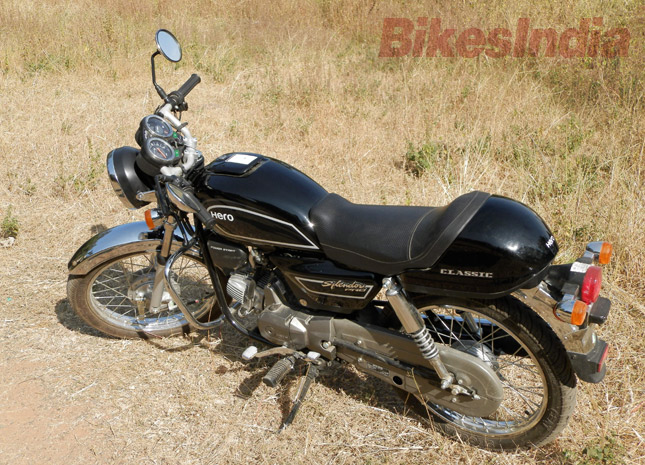 Had this been launched with small alterations and few more features added like more powerful engine, proper clip-on handle bar, bigger tyres, rear set foot pegs with toe gear- shifter, this would have been an instant hit amongst all types of buyers. The RE Continental GT is towards the extreme side with +500cc engine and hefty price tag, if Hero would have launched a cafe racer with aforementioned features and price range of 70-80K this would have been an iconic brand for Hero.
What do you think about that? do share your thoughts on this.
*** This review is courtesy
"My Bike"
, Bhopal. We convey our sincere regards to
Mr Kundan Bist
, Sales Manager, "My Bike Bhopal" (M.P).
By:
Farhan Kashif