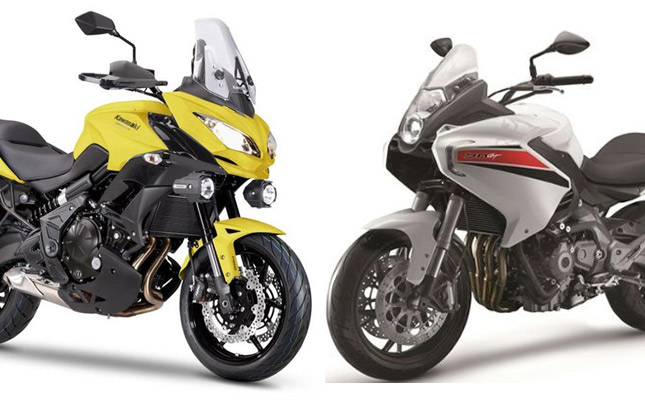 Kawasaki recently launched Versys 650 which will compete with middle weight sports bike and sports tourer, while Kawasaki itself has two more motorcycle in its stable with the same engine displacement but they all serve to different type of customers. So, the main competition which Versys 650 will be facing is from the most appreciated motorcycle in the segment i.e. Benelli TNT 600GT, both the motorcycle serve same type of customers and both are sports tourer as well. So how to choose which one is a better package? we will help you.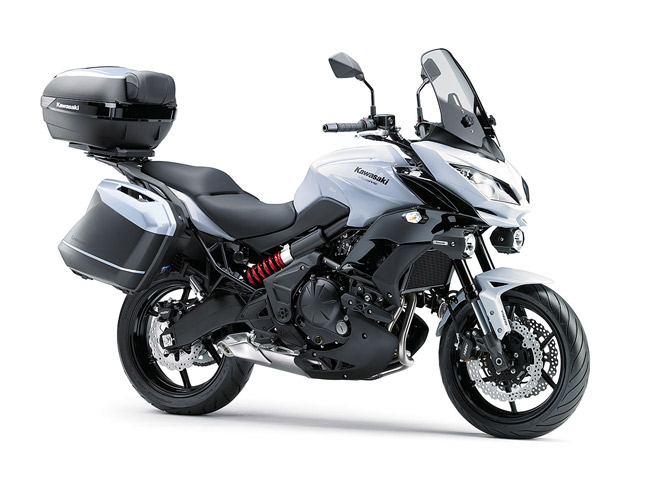 Looks and Design
Kawasaki has designed Versys 650 very nicely, the semi-fairing on the bike gives a look of muscular sports tourer, the fit and finish are too good which is always expected from a brand like Kawasaki, the look and styling of the bike will lure your eyes and people are going to appreciate it for the design and looks, it has dual side headlamps compared to over under headlamp of Benelli TNT 600GT and the headlamp of TNT 600GT houses a projector as well.
The Benelli TNT 600GT looks like a tall bike when compared to Kawasaki Versys 650. Benelli TNT 600GT sports semi-faring with a small headlamp in front, so we feel if only looks are your concern then Kawasaki Versys 650 looks better, but that doesn't mean Benelli TNT 600GT looks bad. Benelli TNT 600GT has the potential to attract a lot of eyeballs but the design is a bit radical.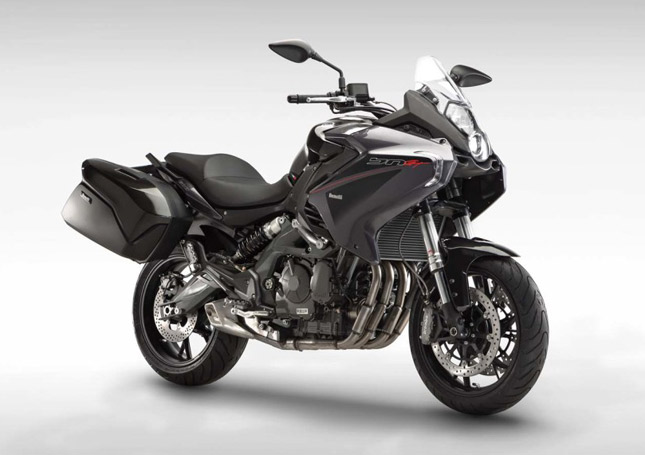 Engine and Transmission
Kawasaki Versys 650 is powered by 649cc twin cylinder, liquid cooled engine which churns out a power of 68.9 bhp@ 8500rpm and a torque of 64 nm@ 7000 rpm, it has six speed transmission with positive neutral finder whereas Benelli TNT 600GT has 600cc engine with inline 4 cylinder, liquid cooled engine, with 6 speed transmission which helps it to achieve more power than Versys 650. The Benelli TNT 600GT produces 85.07 bhp@ 11500 rpm and torque of 54.6 nm@ 10500 rpm, the torque figures are lesser when compared to Kawasaki Versys 650.
The biggest difference between both the motorcycle is Benelli TNT 600GT houses a 4 cylinder engine compared to 2 cylinder engine on Kawasaki Versys 650.

Features, Brakes and Tyres
Both the bikes are equipped with inverted front forks. Kawasaki Versys 650 has slipper clutch which Benelli TNT 600GT is missing. Benelli TNT 600GT has a huge tank of 27 litres which is 6.2 liters more than Kawasaki Versys 650. The ground clearance of Kawasaki Versys 650 is good at 170mm which is 20mm more than the Benelli TNT 600GT. Kawasaki Versys 650 has an adjustable wind shield which is also missing in Benelli TNT 600GT. Now coming to the weight Benelli TNT 600GT is a heavy motorcycle with a weight of 243 kgs compared to 216 kgs of Kawasaki Versys 650. The biggest let down of Benelli TNT 600GT doesn't offer ABS not even as an option but Kawasaki Versys 650 offers ABS.
Compare The Detailed Technical Specifications Of Kawasaki Versys 650 Vs Benelli TNT 600 GT
Kawasaki Versys 650 is offered with 300mm dual petal disc brakes with two piston calipers at front and 250mm single petal disc with single piston caliper at the rear. Benelli TNT 600GT on the other hand offers 320mm dual disc with four piston calipers in front and 260mm single disc with two piston calipers at rear.
Both the motorcycle has 17 inch alloy wheels with same size front tyre of 120/70x17 but the rear tyre of Kawasaki Versys 650 is 160/60x17 whereas the rear tyre of Benelli TNT 600GT is 180/55-ZR17. So the rear tyre is 20mm more wider in Benelli TNT 600GT.
Price & Verdict
Kawasaki Versys 650 is priced at INR 6,60,000 (ex-showroom Delhi) while the Benelli TNT 600GT is priced at INR 5,73,000 (ex-showroom Delhi).
Both the motorcycles are good and have their own advantages and disadvantages, but the Benelli Tnt 600 GT looks more value for money when it comes to the features it offers at a given price tag. However the Kawasaki Versys 650 with standard ABS and other added features like adjustable dampers and windscreen also offers a decent package for serious touring freaks. So its up to you which feature is more important for you. Please give your suggestions in the comment section below.
By:
Shafqat