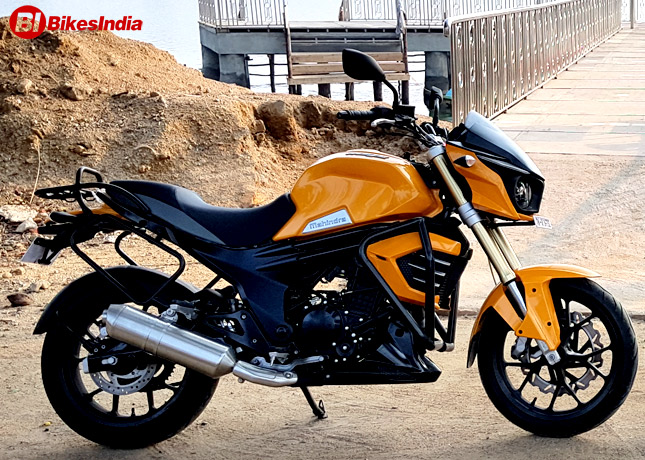 Motorcycle Touring demands different kind of riding style. While it involves riding at an optimum speed but it still requires most of your attention. The bike and the rider, both need to stay relaxed and clear-minded while munching long miles. You can't tour for long while being constantly annoyed by fuel range, vibrations and potential break down. As a result, you don't need a super fast supersport, to tour efficiently, instead, you need a work-horse hybrid. One, which can provide enough power for takeovers while still keeping you at ease for the long haul.
When I say entry level power cruising, the only thing which comes to mind is the Bajaj Dominar 400, but another similar naked-cruiser, the Mahindra Mojo UT 300, holds several merits to its name. Now, I am not going to compare Dominar 400 with Mahindra Mojo UT 300 because nothing can match the ridiculous value for money which Dominar offers. I would like to analyze Mahindra Mojo UT 300 on its own to see what it brings to the table.
The refinement: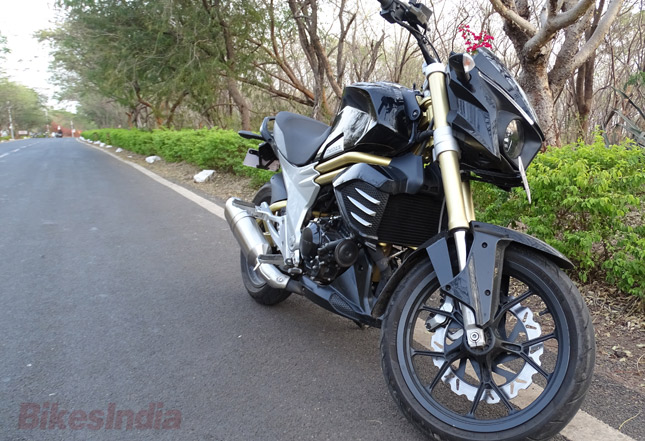 The Dual overhead cams (DOHC) setup is partially responsible for the refinement of Mahindra Mojo UT 300. When I say partially, it's because the other half goes to the R&D team at Mahindra which utilized their years of experience at Moto 3 championship, to craft a refined motor. Mahindra mainly spends all of their time in tuning 10-litre Diesel engines, how hard can it be for them to tune a 300 cc motor.
The detuned 294.72 cc Liquid cooled Single-Cylinder engine makes about 22.3 HP @7500 RPM and about 25.2 NM of torque @ 5500 RPM. The power is less, but the torque just in the perfect amount. These figures provide you with enough juice for cruising at triple digits and for instantaneous overtakes. The liquid cooling works well and there is no well defined complain about it.
The ease of riding: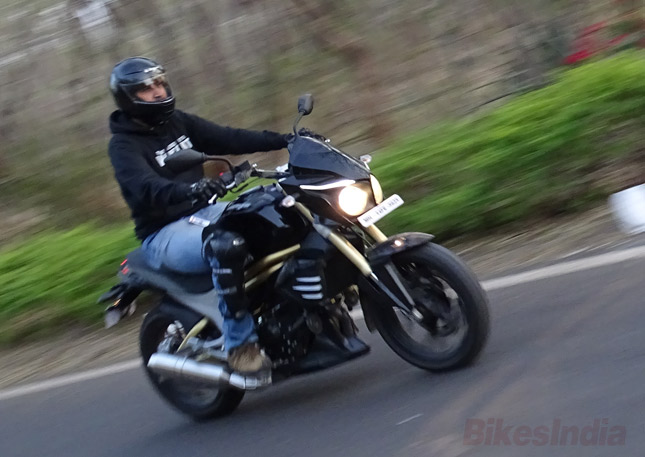 The Mojo offers a riding position similar to Dominar 400. The rider sits straight up like he would on a naked bike but this time the motorcycle has a longer wheelbase and low center of gravity. The position is comfortable and serves you well during a 500 km trip. The suspension at the front is traditional right side up forks which offer 143.5 mm of travel and at the rear, the mono-shock offers 135 mm of movement.
The bike comes with a 21-litre fuel tank, which is identical to the one available in Kawasaki Versys 650. One can expect at least 500 kilometres between fill-ups. It makes Mahindra Mojo a true cruiser, as with one full tank, you can forget about the availability of fuel stations and just go where ever your heart takes you.
The Power to Stop: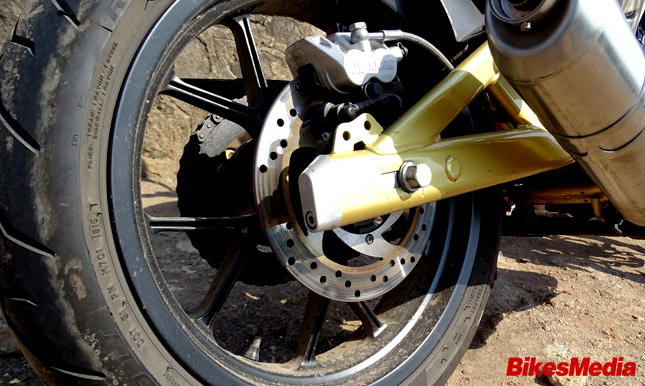 The bike does not come with an ABS, even as an option. This is a very serious downfall for Mojo and is probably the biggest reason why it fails to compete with Dominar 400. It does, however, come with a Radially fixed mounted caliper at the front and Axially floating caliper at the back, they both act on a 320 mm and a 240 mm disc respectively. The speeds and the lean angle at which the bike is expected to be ridden, MRF Nylo grip Zapper are good enough.
Mahindra only has two motorcycles in their line up, Mojo XT 300 and UT 300, Both of them are the entry-level middle. The lack of ABS on both of those motorcycles is a serious trade-off but the 21-litre fuel tank and the refined nature of the motor are some serious advantages to consider.
By:
Yetnesh Dubey