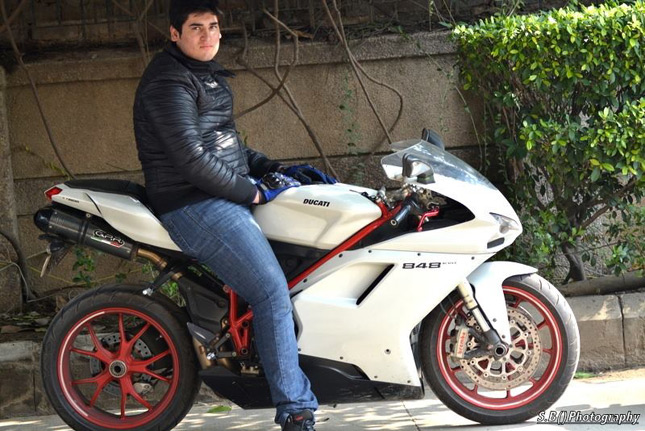 Enter the room of any typical boy and you would see walls covered with posters of superbikes leaning into the corners and models posing next to those mean machines. Like all kids, I also covered my walls with the posters of superbikes in a hope that someday I would own a superbike and that was the starting of my love for superbikes. While riding my bicycle, I would imagine as if this is a superbike from the posters and would try to imitate that man (covered in leather suits) from the posters and lean the bicycle and would end up crashing and getting hurt!
Fast-forward the timeline and I was in 11th standard when my father, came home after meeting an old friend, and randomly showed me a photo of a bike. I took a look at the photo and with excitement told him that it was a DUCATI MONSTER. I being a bike fanatic by now told him everything I knew about the brand and superbikes in general. After I was finished he calmly said and I quote
"tujhe chalani hai ye bike?"
And I couldn't believe my ears that my father who is against two-wheelers in general offered me a chance to ride a superbike (naked one though). I quickly said yes and he continued and told me that his friend, whom he just met, bought the bike in the photo and has asked my dad if I was interested in riding the bike. The very next day we went to his place and waited for my father's friend as he went to get fuel.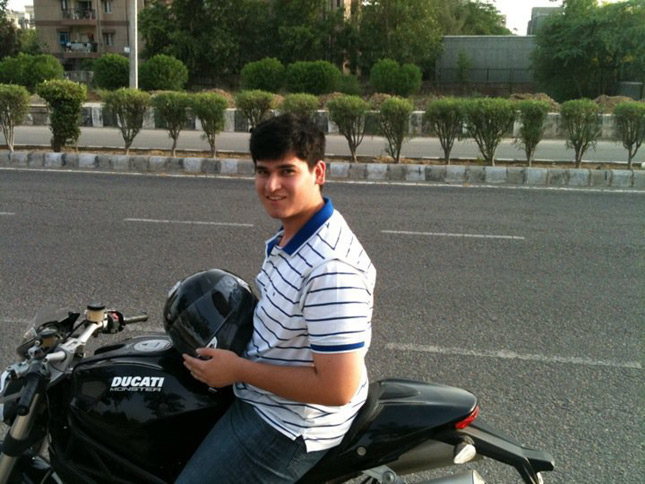 I remember listening to a faint growl coming from the far end of the road and as time went by the intensity of the growl increasing and a large grin was forming on my face. A few seconds later the bike came and stopped in front of me and the man got off the bike, removed his helmet and greeted my father. After a quick chat with my father, uncle gave me some basics to ride a superbike and as a matter of fact this bike was the 3rd bike I was riding after the infamous Splendor on which I learnt riding and the Bajaj Discover which was of my friend.
He handed me the keys of the monster and the helmet and both, my father and uncle, stood there watching me wear the helmet and stare the bike as I was awe-struck and in utter shock that my dream of riding a superbike came true and coming back to my sense I pressed the ignition button and the monster came to life with a huge roar. I quickly revved hard and scared the shit out of the people nearby who stood at a distance watching me and my monster and taking photos of me with the bike, the magic of superbikes is such that makes you feel special and a celebrity as soon as you sit on the bike and start it. The ride ended soon and left me speechless and that very moment I fell in love with Ducati and its shear looks and performance. That day ended with me in a thirst to again ride a superbike and a strong desire to own one as soon as possible.
Days went by and I finally graduated from the school and took admission in an engineering college and spent my time mostly around cars and bikes as I was studying mechanical engineering. The desire to own a superbike kept on increasing day by day as I saw people riding superbikes every now and then near my college and the dam finally broke when my best friend after returning from US surprised me with a gorgeous black Hayabusa which he got as his birthday gift. After a quick look at the bike I got to know that it was fitted with a full system Akrapovic exhaust. I took a quick round on the bike and went home with a massive grin on my face. That very night I made several plans to try and convince my dad in letting me buy a superbike on my birthday and after pursuing him for months I finally got the permission to buy one for my birthday.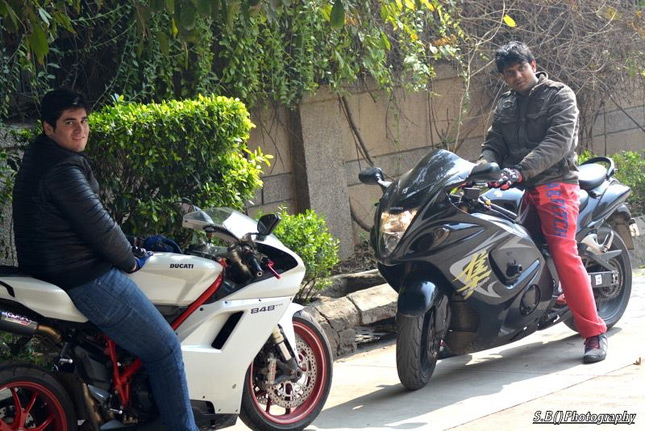 After some research and hanging out with some superbike groups in Delhi I saw the DUCATI 848 EVO for the first time and immediately fell in love with the bike, no Japanese bike came close to the Italian beauty and made me fall in love with the Ducati again. I then found a man who was selling his 2011 evo in Jharkhand. I had my doubts about the servicing and the issues a Ducati faces but got sold when the seller told me that he rode the bike all the way from Delhi to goa with a large group of Harleys for the INDIA BIKE WEEK and had no issues on the way.
I transferred the money and I was handed with a tracking number and a date on which my bike would arrive. The day came and it was 18th September 2013 and I had to pick the bike from a location near the Manesar toll on NH8. I had gained some experience on how to handle a superbike since I was riding my friend's Hayabusa all the time and was waiting for the bike to unload and my dream of owning a superbike was finally complete and with that thought I paid the shipping guy and quickly wore my helmet and started the bike and revved it in utter joy and just admired the Italian beauty as it was warming up.
Sat on the bike and the first thing I noticed was the riding position. It was completely different from the Hayabusa and was more race oriented whereas the Hayabusa was more on the cruising side when compared to the Ducati. Took the bike on the highway and as the road in front of me cleared I gave a little throttle in second gear, the beast inside the bike came to life and with a small wheelie the bike touched an easy 80km/hr. As the revv meter hit the redline, I changed the gear and again with a little wheelie, even on 3rd gear, the bike just went like a rocket and I realized that neither is this road for high speeds and nor is the correct time and within speed limits I went home, quickly changed and started cleaning the bike.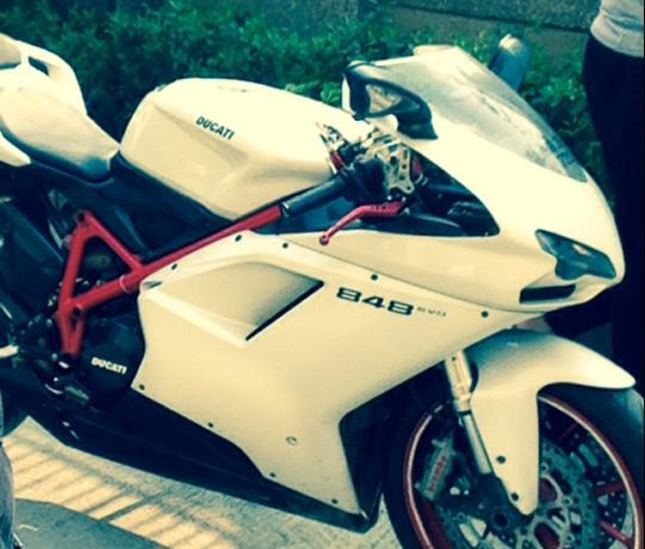 After 2 hours and empty bike polish and shampoo bottles lying near the bike I stood there and just stared at the bike admiring the beauty and the curves the Italian had. Oh, I forgot to mention the sound it made which was like a loud lion roar and the popping sound when the rpm lowered slowly since it came with the GPR end cans fitted and with an option to change to the factory end cans. Though the GPR irritated the neighbors and my parents too to some extent but I liked the GPR more so didn't changed to the factory ones and kept on waking the neighbors up at 5 O'clock on Sunday mornings when I used to go for a ride with my group.
Ducati made the 848 Evo as lightweight as possible and packed a whopping 140 horses which gets the Evo in litre class territory. 848 was designed keeping the race tracks in mind and was aimed at being a track day weapon for the general public. Evo comes loaded with steering dampers which eases your efforts in turning the bike in crowded places. Among other features the most I liked was the Ducati DATA ANALYSER also known as DDA which in layman terms helps the rider to record his lap times around a track and helps him analyze several different things just as we see in MotoGP. The Evo comes fitted with Brembo mono-block calipers at the front and Brembo 2 piston calipers at the end which give you MotoGP level of confidence under braking. This means that Ducati is providing MotoGP technology in its entry level light weight superbike and wants us, the general public, to take a feel of what it's like to ride those coveted MotoGP bikes but of course on a race track.
Riding a superbike is a very demanding and engaging affair. The bike demands your full attention right from the start when you start the engine. The EVO is small in size and has a power output of about 140 horses but it behaves like any other 1000cc bike. The bike rattles and vibrates on higher rpm but is a smooth ride at lower rpm and makes for a good evening ride on empty Delhi roads. In the initial days the body pains at places where you don't even think as the ride is stiff and the hardcore riding position puts pressure on your hands and shoulders but the more you ride the more you get used to such body pains. The left wrist aches and gets soar due to the use of clutch again and again in delhi traffic. But the worst part of all the troubles and pain that comes with riding the bike is the heat which the bike produces even while idling. The bike becomes a fire ball which is placed just in between your legs and roasts the whole lower body as a piece of meat kept in the oven.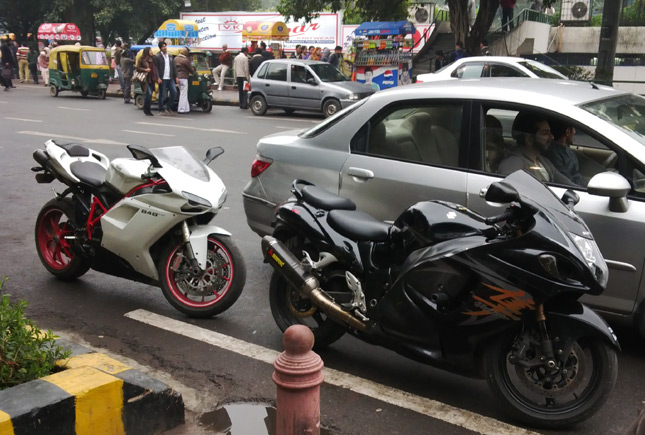 In Delhi, where temperatures reach up to 40 degrees on a sunny day, think of riding the Ducati with leather jacket and jeans and being stuck in traffic or finding yourself at red lights waiting for the signal to turn green. This was my daily routine while going to the college on the Evo. Though people say that superbikes are meant for weekend rides or on track only but I was in love with the bike and did not wanted to part with the bike anytime, so every day I would wake up an hour early and clean the bike and wear my gear and would leave for college and then get stuck in the traffic and end up burning my legs as I reached college.
The problems do not end here and increase more as I leave the bike in public parking of the college and attend some lectures. Students sitting on the bike or standing very near to it and posing for a photograph is a very big problem when parking in public. Then your friends and batch mates and some even complete strangers want to take a ride on the bike and don't leave you till the time you get irritated and then some students also try to race with you and speed on college roads so as to show off and feel superior to the EVO which again increases my problems. People go to dangerously insane levels to get close to the bike and sometimes it becomes very un-nerving and tests your level of concentration and the size of your balls needed to steer clear of such people, else, matters can go from bad to worse to a living nightmare in a fraction of seconds.
But luckily I befriended a college guard who would keep a constant eye on the bike and wouldn't let anyone near the bike till the time I am in the class attending lectures. So this made my life relatively easy on a daily basis.
The excitement and thrill of owning a superbike in your college life slowly decreases as you ride the bike more and more and get used to its power delivery and the problems associated with riding on a daily basis and you start taking out your bike only on weekends or at late night when the roads are empty and the weather is relatively cooler. I stopped going to college on the bike and only took out the bike on Sunday mornings to go on a long ride with my group to Murthal or towards the Buddh International Circuit or sometimes towards Manesar .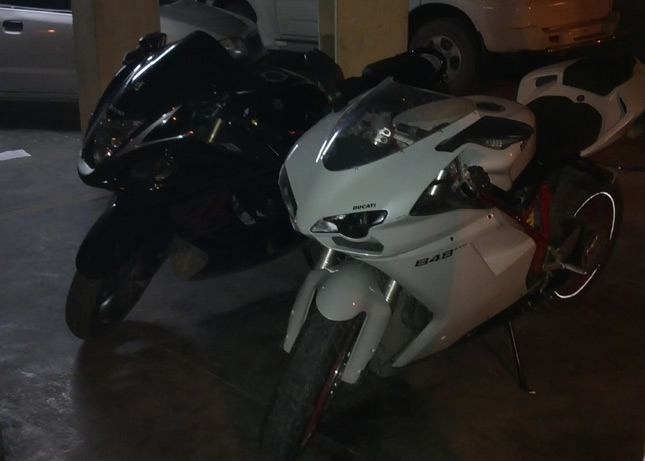 The maintenance of the bike was a bit of issue which I faced as Ducati was not officially launched in India at this time and there was only one dealership in Chandigarh in northern India. This made the servicing part a bit of a hassle for me about which I did not thought while buying the bike but my group riders came to the rescue and suggested me a mechanic who was previously working at Ducati Gurgaon before it got closed. So the average service would cost you around 8-9k including the oil and the labour fee and I found it reasonable as an average mid-level sedan cost around 10-12k in servicing. The rear brake pads would cost you around 3k and the front ones would cost around 5k, so after every 3-4 months I would have to get my brake pads changed as I do not like to take risks when it comes to safety of me, the bike, and people on road.
The Ducati due to its small size and clever aerodynamics drinks lesser fuel as compared to other superbikes and that is a relief since I have to manage the fuel from my pocket money and me being a college student didn't have that much cash to refuel the bike after every 50 km ride. The Ducati gives an average of around 14kmpl in city which is what an entry level sedan gives and drops as fast as you turn that throttle and let the bike come to its true colours. So for me the Ducati is just like a Volkswagen Jetta when it comes to servicing and maintenance, a chick magnet and a show stopper when it comes to riding it and taking it out in the public.
After riding the Ducati for almost 2 years and spending time with other riders and seeing a lot of friends getting hurt on the bike, I can say that these bikes should be treated with respect and are not your everyday Pulsar and R15 with which you can mess around. I learnt this the hard way when a dear friend of mine took my EVO on a ride to impress his girlfriend and crashed the bike before even reaching her place.
Luckily my friend escaped unhurt with only a few bruises here and there but my childhood dream and the love of my life, my beloved EVO just scrambled like an egg on a hot pan and was dead in front of my eyes. This was my worst nightmare that unfortunately came true and I learnt a very valuable lesson at the cost of EVO that never ever handover your bike keys to an amateur and ride with all your gears worn. Currently I am not riding any bike but the passion and the love that I have for bikes just grew even more after this and now I have an eye for the 1199 Panigale which just got officially launched in India and marked the entrance of Ducati in Indian market.
By:
Navneet Lamba