This ownership review is a part of ongoing
"Review Your Ride"
Contest, you can also take part in it and get a chance to win exciting prizes.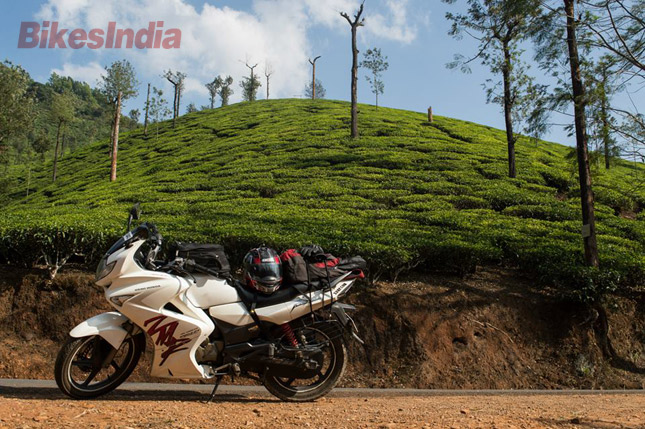 In the battle of Troy, when prince Hector met the mighty Achilles; they had a short conversation.
Hector: Why did you come here?
Achilles: They'll be talking about this war for a thousand years.
Hector: In a thousand years even the dust from our bones will be gone.
Achilles: Yes, prince. But our names will remain.
Now, how does the above excerpt even relate to bikes? It does, in a deeper sense though!
Motorcycling in India has come a long long way in the last 30 odd years. There was a time, when we had fun to ride and extremely crazy 2 wheelers on sale (2 strokes). The only downside was - low fuel economy due to the very nature of the machines on sale then. Ok, they weren't very reliable in the eyes of a commoner.
Then came the fill it, shut it and forget it revolution (4 stroke). It almost instantaneously killed the competition. People wanted a no nonsense bike and their wishes were fulfilled. Slowly, India earned the tag of being 'mileage conscious'. Performance be damned!
There have been repeated attempts at cracking this mold and foraying into the performance segment again by many a manufacturer; but only recently have they started getting the applause they deserved. Many products from worthy stables of Hero, Kinetic, LML, TVS etc flopped. Pundits say, they came ahead of their times. I say, we (the public) were ignorant. We were so obsessed with mileage that we killed some wonderful products.
One product lived through the hard times then and is somehow surviving due to its legacy in the hard times now (due to issues in the most recent model). It is brand Karizma. I say it is a brand because now it consists of 2 products for the past 6 years - Karizma (R) and ZMR.
It was a product that catapulted Hero right to the top of the performance charts (the revolution was initiated by the rivalry between CBZ, Fiero and Pulsar). It looked very decently proportioned and it went fast! In fact, the earliest batches had insane acceleration. However, the common man wanted better mileage out of this bike as well which led the manufacturer to making few changes, one of which was to retard the timing by a small margin. This meant that while the bike still has great low end grunt (not as much as the first batch though), it could deliver not-so-poor mileage now. Years passed by, competition firmed up. Pulsar 220 was ruling the charts, R15 came and took the segment by storm, RTR series added to the wow factor, but Hero wasn't ready to awaken from its slumber.
In 2009, Hero made an attempt at a new version for its flagship bike, by adding FI (Fuel Injection) and a fairing. While the FI unit did wonders for the mileage, it was the fairing that looked hideous to most. It mocked the mothership Hayabusa in its styling elements.
With the background laid, I shall now discuss on my ownership of the very bike. Hero (Honda) Karizma ZMR. (Version 1.0 if I may call it.)
Ever since the brand came into existence, I was a big fan. I would visit the nearby showroom at my native in Jharkhand and stalk the bike like a mad person. I wanted one. I asked dad if he would buy one. He rides a Splendor, enough said!
Fast forward to 2011 January, I got a job after completing graduation. I was to report to my office in Chennai in 3 weeks' time. I needed a bike. As is often the case with most Indians, when it comes to vehicles, it should either be a Maruti or a Hero (Honda). We visited the same showroom. Sadly, there was no Karizma (R). My dad liked Hunk. Mom liked Super Splendor or something of that sort. But I shall forever be thankful to Mr Manish (the owner of the showroom) who sensed my sadness and asked what I want.
I blurted out K..K.. Karizmaaaaaaaaa!!!!
He smirked and asked us to wait. A dusted bike was brought out. It was a Pearl White ZMR. It sure somewhat looked like a Dhoom bike to me, but mom got interested. Mr Manish said it was as fast as the regular Karizma (which I wanted) while returning better mileage. This statement got my dad hooked. We did the necessary PDI. The bike had 3 km on the ODO. It took us only 4 hours to get the bike home.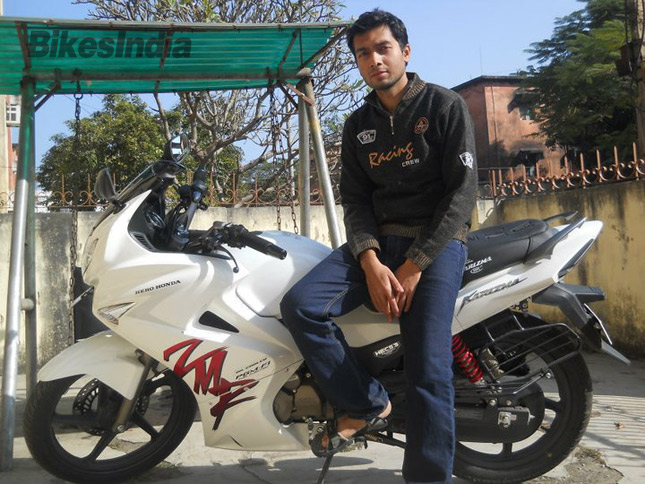 I was a star in my hometown. The bike had a huge waiting period in Chennai, hence we got the bike in Jharkhand and transported it via train to Chennai.
P.P.S - The bike has completed nearly 78000 km as I write this review.
I have basically learnt the nuances of riding on this very bike. I knew riding earlier, but the traffic in my native isn't even 2% of CHN/BLR, so what I knew already was pretty much useless.
I'll list down the various components one by one.
Run in method followed:
Followed the manual but not the 4k RPM/50 kmph funda. Varying the rev range within a limit is the secret to a good run in! I stuck under 4k RPM till 250 kms when I got the oil changed. Raised it to 5k RPM till I got another oil change done at about 595 kms on the ODO. Increased the limit to 6k RPM till I hit 2k kms on the ODO. 6k in 5th = 96 kmph. Hence, I did not cross 95kmph till I hit 2000 kms.
Design:
Highly subjective. I don't find it very pleasing looking, but won't term it "fugly" either. Basically the bike is front heavy and skinny stock rear tire makes it even worse! Addition of FI did add some zero point six braking ponies, but the fairing weighs a hefty 10 kilo grams.
End result - extra ponies nullified, in fact the power to weight ratio worsened.
Weight, riding posture and flick-ability:
The bike weighs 159 kg (kerb). That should tell it all!
I'd ridden my dad's Splendor and a peppy Kinetic Zing Scooty (63cc) all the while before graduating to this, and I was feeling the weight; literally! I remember wrist pain (no, the stance is almost Splendor like, not sporty) due to the front weight acting up on my arms. Flicking the bike in traffic was difficult initially (more compounded since I was newly learning riding in traffic in a metro), but I got used to it in about 3-4 months. Now, it seems like a piece of cake.
To all who get confused on the headlight assy not moving while taking turns, I'd suggest reading on counter-steering.
Engine:
Derived from a detuned Honda CRF 230, this is the most important aspect of the bike. Its a gem. It makes 17.6 bhp @ 7000 RPM and 18.3 Nm torque @ 6000 RPM.
The above spec tells clearly that the low end punch is good, and indeed it is. The bike can be slotted to 5th at 30 kmph and would continue till the top end without any shenanigans. Top speed is about 125 kmph true speed and one can often see that happening provided s/he gets an empty runway often! It can do about 90-100 kmph all day long without breaking a sweat! Mileage figures are also good for this class of machines with 42+ kmpl being a consistency.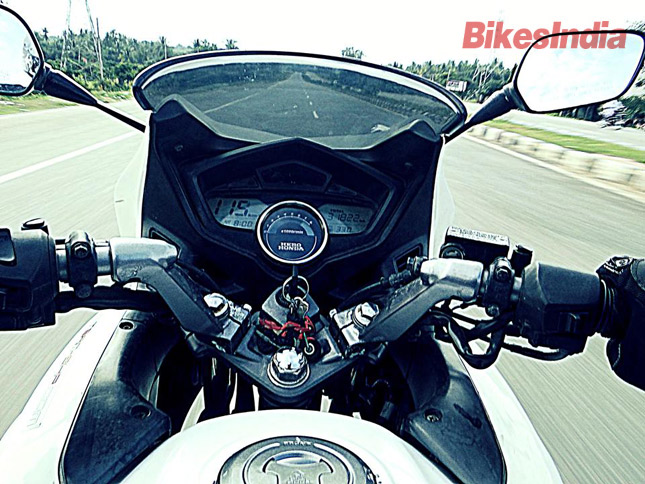 Engine oils used:
1. Stock HMC tide water 10w30 oil - used for 3k odd kms before I shifted to Shell AX7 10w40 SS. This oil sucks!!! Price - was 200 odd rupees per liter 3 years back.
2. Shell AX7 10w40 SS - used for ~5k kms. Great VFM oil. Drain interval is about 2.5k-2.7k kms and works wonderfully. Costs 340 Rs/L.
3. Mobil1 10w40 FS - used for ~9k kms. It is the best oil till date. There is no better oil for the ZMR than this. The engine remains very cool and silent and keeps munching miles. Downside - costly @ ~1000 Rs/L.
4. Shell Rimula R3X/R4 15w40 diesel engine oil - used for ~26k kms now. Its the best alternative to Mobil1 at the price of AX7. Bang for buck. But being a mineral oil, drain intervals are usually less than 2k kms. At times, I end up changing the oil twice a month!
Brakes:
Karizma has efficient brakes. Nothing to brag about though. It doesn't have the "bite" than R15's has, but its not weak by any standards. The difference people don't understand is that Karizma has progressive brakes by default. You don't get all the bite by merely touching the lever as you get in the Yamaha/KTM ranges, you need to press the lever further.
This variant has disc brakes on both wheels hence one must be cautious using them. But using only rear brakes is a myth. 80:20 or 70:30 front:rear ratio should be maintained. No, using the front brakes won't kill you, there are larger disc rotors up front on bikes for a certain reason. The braking systems are from Nissin and they're efficient. Yes, the brake pads are costly (compared to TVS/BAL), but they last longer. If anyone says his pads on a ZMA/R went bust in less than 10k kms, s/he's overusing them!
I've been following the 80:20 rule ever since I started (well almost). I had this query when I was new to using the bike and got introduced to
XBHP
.
Also, I'm extremely happy to say that my 80:20 ratio is proving itself. I have had 5 changes of the front brake pads, the last one being 500 kms ago. The rear ones were changed at 73k km. BTW, each pad costs ~1100 rupees in BLR.
Seats:
Sofa for both rider and pillion!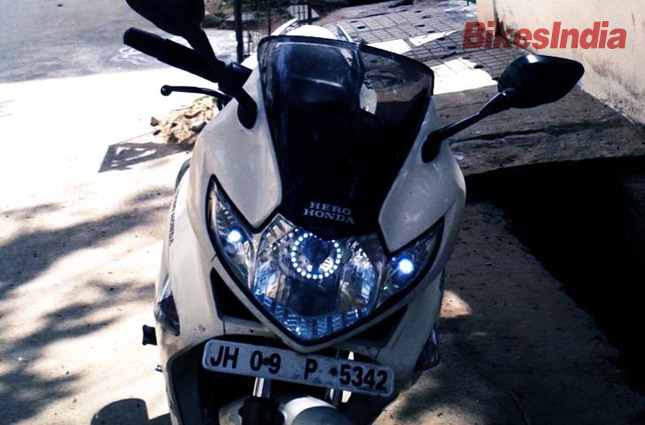 Lighting:
Stock lamps are 35w H4 type halogen headlights (useless IMO) and normal T10 type pilot lamps. LED tail lamps look great OTOH! ZMR has a powerful alternator than can produce up to 238 w of power. So, we can easily fit in a 55w lamp without a relay. Also, the pilot lamps can be upgraded to LEDs. No issues would occur with the battery. Just ensure that the HL are switched on only after switching on the bike first. Trying to start the bike with the HL on would kill the battery of course!
I upgraded to Osram Night Breaker 55w halogen lamps and 5w pilot projector LEDs with a 40 LED corona ring that ran as DRL until I got bored. All of this without any relay on the stock battery!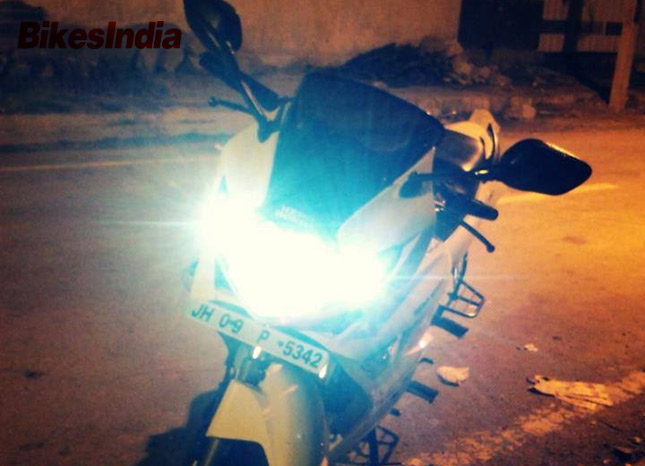 Tires:
OE front - 80/100-18 MRF Zapper FS TL type. Decent tires. No change needed to a different spec/brand. Zapper FY (Passion XPro OE front) can be used too. OE rear - 100/90-18 MRF Zapper Y TL type. Shittiest tires on earth. Change to a better tire with center grooves. ZMR can accommodate 110 mm section tires without ANY mods.
I used the stock rear tires for 15k kms somehow. Then I upgraded to Pirelli Speed Demon 110/90-18 TL tire. Cost me 2850 rupees then. (2012)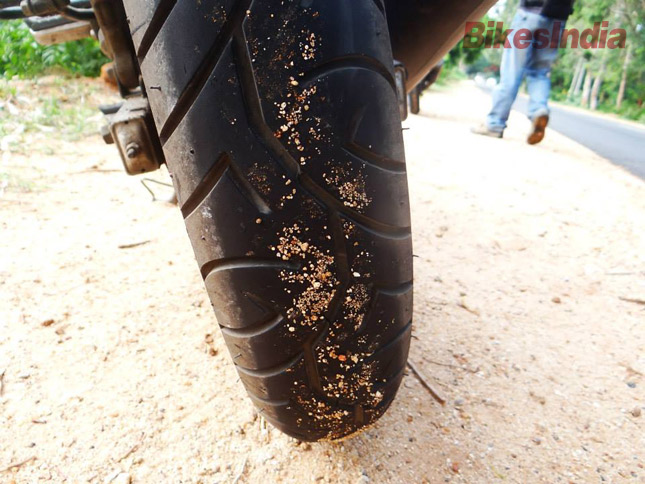 Its a lovely tire and grips like leech in dry conditions. Wet grip is much better than stock too. Being soft-medium compound, the life is very less and it is puncture prone. I was lucky I got only 1 puncture in the ~19k kms I used it and that was when I changed the tire (the nail was so big it killed the tire).
PSDs have a huge demand as well as a lot of fakes are seen around, hence I avoided it the second time. I opted for MRF.
MRF Zapper Q 110/90-18 TT.
Grip levels - 80% of PSD on dry tarmac, similar to PSD in the wet! Me happy. Using it for roughly 8k kms now. Cost me 2300 rupees. (depends on one's bargaining skills)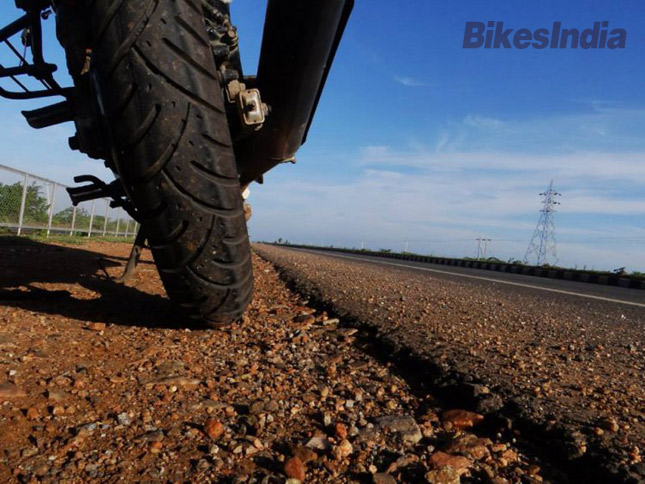 Points to note and major consumables:
1. RVMs get loosened frequently. Carrying an Allen key size 6 would be good.

2. Avoid over tightening the visor bolts as they immediately start cracking the visor.

3. Lubing the chain every 500 kms (summer/winter) or 200 kms (rains) and cleaning every 3k kms enhances sprocket life. Also, chain should have optimum play. Neither too loose, nor too tight!

4. Change spark plugs every 12k kms for optimum performance. One can use NGK G power plugs. Costs 170 rupees. Avoid Iridium and Spitfire cables. They're marketing gimmicks for our mopeds.

5. Change the air filter every 10k kms. Reduce the intervals if you live in very dusty regions.

6. Engine oil drain intervals:

a. Mineral oil - 1800-2200 kms
b. Semi synth - 2600-3000 kms
c. Fully synth - 3500-4000 kms.

7. Clutch plates - depends upon usage. I just got them changed at 77,777 kms.
Clutch plates + pressure plates cost 1500 rupees.

8. Removing the snorkel is an option for increasing the sound like a K&N equipped bike but without the damages to the engine.

9. Some owners of earlier batches suffered with fuel pump issues. It costs 12k rupees.

10. Cone set - replaced 12000 kms back. Costs 340 rupees.

11. Fork oil - replace every 20-25k kms. Both forks. Cost me 210 rupees + labor.

12. Mileage: Lowest - 37 kmpl and highest - 57+ kmpl.
Overall, I have had a very trouble free ownership. I have done a lot of highway rides, the longest being a ride to my native and back (4100 km). I have had great moments to shitty moments (an auto passes the road despite seeing me approach in speed)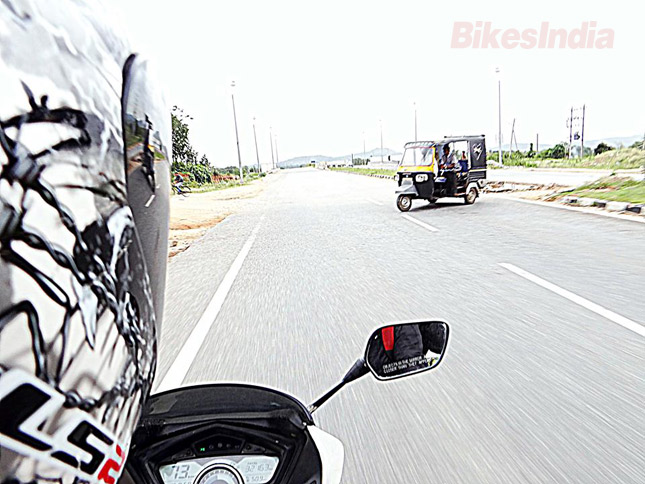 This bike is a work horse. It just keeps on going and it is a worthy competitor to the plethora of options available in the 150cc and above segment today and with a tank range of nearly 600 km, its a perfect highway getaway vehicle.
Does Achilles' point to Hector make sense now?
- Divya Sharan