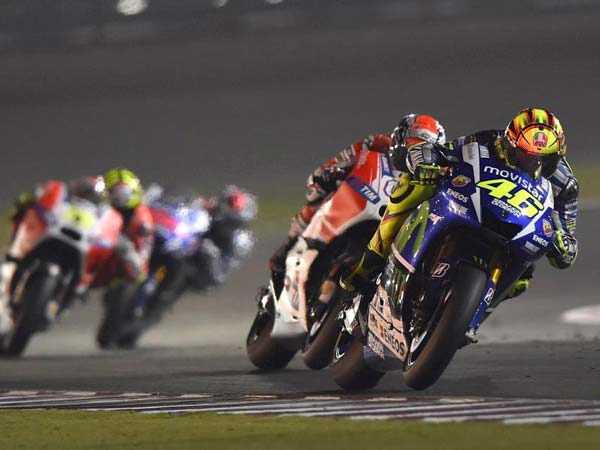 Ducati has dominated qualifying at the Qatar GP, bagging the pole and three spots in the top Five. the Desmosedici GP15, As they call it, is a revolutionary upgrade to the older Desmosedicis, which had severe under-steer issues and tire wear issues. On the other hand, the two factory Hondas were in the top five, and many expected the battle of the V4's under the "lights". However, there was a surprise entry- Yamaha.
Jorge Lorenzo jumped into the top three as early as turn three, but the padding of his HJC helmet ruined his chance of winning the race. That's where the 36-year old, nine time world champion stepped on the gas. After dropping from 7th to tenth place in the first lap, he made his way through the grid and conquered the top step of the podium
The sheer aggression like a nineteen year old and the experience of twenty years made Valentino Rossi a winner in his 313rd GP appearance- his 109th one in his career. Sit back and watch the nail biting final laps of the season opener in Qatar!
By:
Suraj