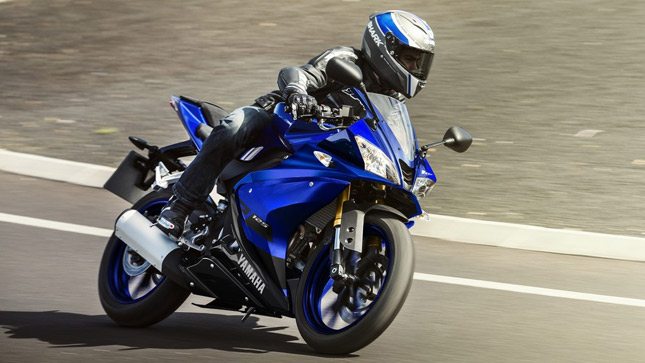 The best thing about the R-series bikes from Yamaha is an abundance of choice. If you're the ultimate thrill seeker then you can go for R1-M. If you want an everyday machine then you can opt for Yamaha R3. The list just doesn't stop there as the availability of choice is so fluid that you can even choose how much of comfort or speed you wish you have while riding. That's why the R-series starts from R-50 and goes all the way up to R1, which is a 1000 cc supersport, capable of 0-100 in 2 seconds. Recently Yamaha updated its YZF-R125 along the lines of its bigger siblings, and what once was a starter sports bike has become a lot more. Here 5 Reasons explaining why the Yamaha R125 is a Game Changer-
1: VVA
Yes, the R125 will be equipped with a VVA setup, to make the ride through city traffic an utterly effortless one. Keep in mind though, that it's still sportbike and would have racing ergonomics but with a peppy pickup, the 125 ccs enough would feel right at home on the city streets.
2: USD Forks
The updated model comes with golden coloured upside down forks. These will definitely improve the handling of the bike.
3: Revised Geometry
Just like its cousin The R15 V3, the 125 also features a revised Delta box frame which is much sportier than the last generation. The bike looks more compact and the rake angle has been reduced for increased agility in the corner.
4: Lighter and Stronger
The 2019 YZF-R125 features a 140/70 section rear tyre, same as that of R3 and the new swingarm is made out of Aluminum to save weight. This increases the bike's stability in corners and on the highway at higher speeds.
5: More Comfortable
The padded seat of the R125 is much more forgiving than the previous version's. Although it increases the overall seat height of the bike, once the rider settles in, he can easily ride for long in the comfortable saddle.
The new YZF-R125 has been showcased with three brand new colours, Yamaha Blue, Tech Black, and Competition White. The bike makes around 14.75 BHP of power and 12.4 Nm of torque while maintaining a weight of 142 Kg (kerb). The engine on the bike is a liquid cooled 4-Valve Fuel injected engine which has a single cylinder. The fuel tank capacity of the R125 is same as the R15 V3 at 11-litres, while the height is 825 mm. The updated design of the motorcycle features twin LED lights, redesigned tank and rear subframe along with the engine cowl. The instrument cluster on the bike is new and so is the Clipon handlebar. The bike will be launched during the month of November, and it will only be launched in the international market.
By:
Yetnesh Dubey