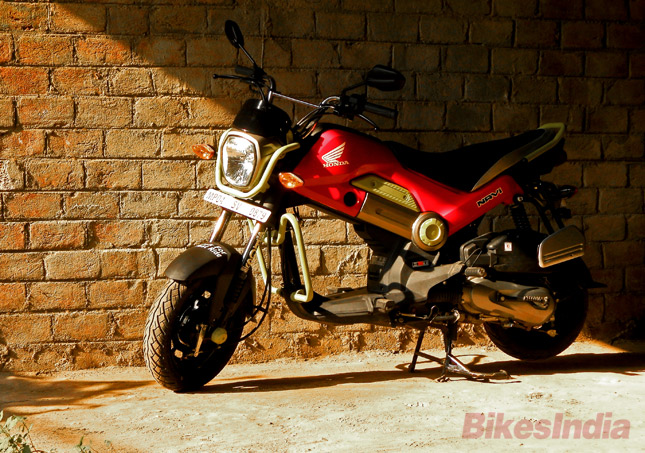 While all the people in India were drooling over high-end sportsbikes, cruisers, etc. we were silently wishing for a Small Monkey bike, just like or if not the Honda Grom to be launched in India, who would not love to have such kind of a bike to use everyday? It would be so much fun to ride it on a daily basis, the stunt freaks that do their stunts on mopeds/scooters, would enjoy doing it on such a machine too. So the drooling went on and it got to its peak when we saw the Kawasaki launching their Z125 internationally. We silently, yet badly wanted something like that.
Bike Tested: Honda Navi
Test Ride: Farhan Kashif
Review By: Rakesh Gowda
Photographs By: Haroon Mohd. Khan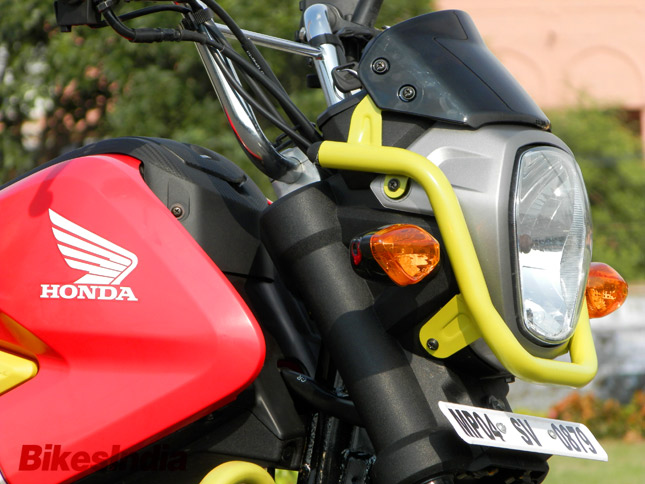 Finally our dreams have come true, by of course the one who makes our dreams come true, yes we are speaking about HONDA. Honda shocked everyone when they showcased and launched the Honda Navi at the Auto Expo this year, a younger brother to the internationally famous Honda Grom, with an 110cc engine.
Not just launching the motorcycle, we mean scooter, ah motorcycle err monkey bike, ya that's right a monkey bike, Honda also offered it's customers to choose their own customisations which includes paint jobs, flashy stickers, accessories and so much more. The bike was launched at a great price, that it brought a big smile on everyone's faces. So what is the Navi actually, read on to find out,
Styling: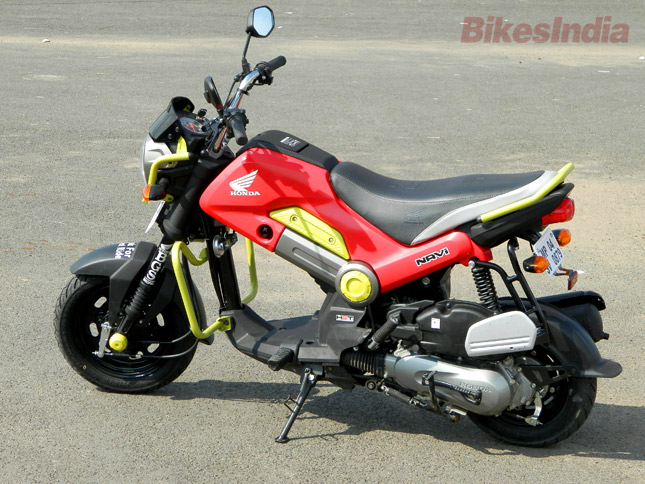 Show it to somebody new and they are totally puzzled as to what it is and they ask questions like "what is that?", "Is it a scooter or a motorcycle?", "Where did you get it modified?" and so on, that's how it grabs everyone's attention on the roads as everyone on the road cannot stop looking at it to figure out what it is. The bike looks stunning, it is small and it looks cute from almost all the angles.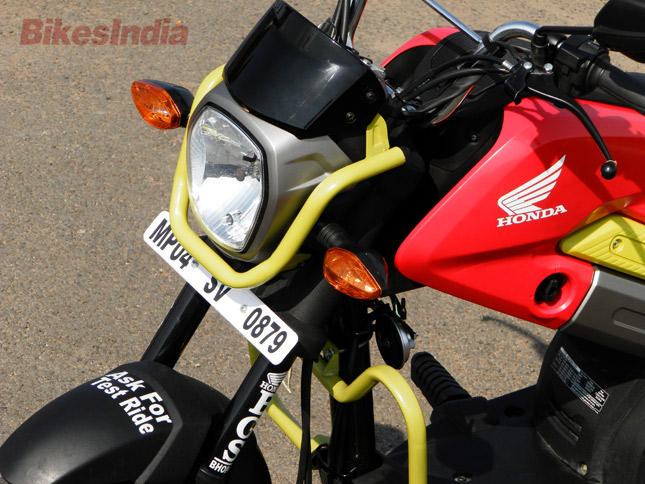 An unconventional square shaped headlight, a tall, yet not too wide handlebar, a simplistic fuel tank, a single seat and a rear end borrowed from the CB Stunner completes the top look. The bottom part is similar to that of a scooter. It has got minimal parts to it, making it a light machine. Since it has got limited body parts, it offers more space, especially the under tank space is quite big to store your shopping bags, your college bag or whatever fits in there. Overall the Navi has a simple yet stunning look.
Instrument Cluster and Switchgear: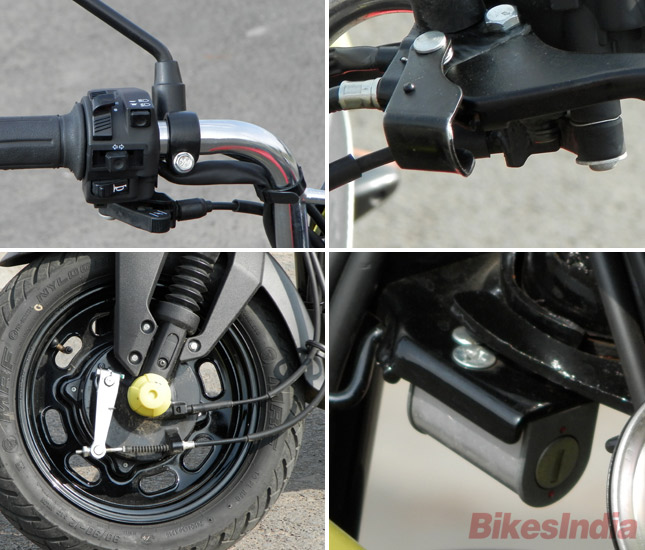 Haven't we said it like say 1000 times already? The one department where Honda sucks is here, using of bad quality switchgear to their good quality motorcycles, making it look like a sore thumb. Honda are you listening to this? Well even if they do, we know they are going to continue using the same 110cc switchgear for their entire range of motorcycles.
However, this time Honda has included a very important, practical and I must say a life saving feature, which they somehow discontinued from their entire scooter fleet- Emergency Brake Lock/Latch. This small yet vital part used to come featured on Honda scooters from the time of Kinetic Honda. The kind of latch given on the Navi is exactly the same and it is equally efficient opposite to those are coming on the current Honda lineup.
Another thing which has drawn our attention is the steering lock, since the Navi is based on the Activa's chassis and it is built as a motorbike, it is not possible to fit the handle lock conventionally. The steering lock is neither like it is normally seen on scooters nor it is motorcycle kind of. It is in fact the old school handle lock given at the bottom of the triple tree.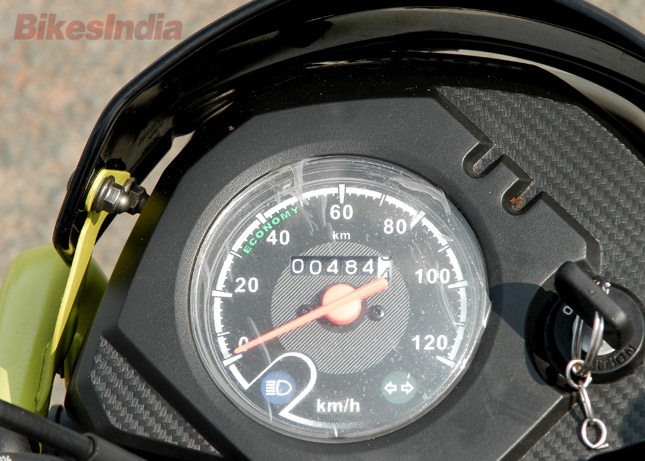 Coming to the instrument cluster, it looks old-fashioned and I must say doesn't go with the bike. The meter console houses a Speedometer with just basic tell-tale lights like the Indicators and High beam. Two of the most essential things Honda has missed out on the Navi are the Fuel Indicator or Fuel Gauge and the Pass-light switch. Overall we think there is still scope for improvement in this department and Honda could have done a better job than this.
Ergonomics: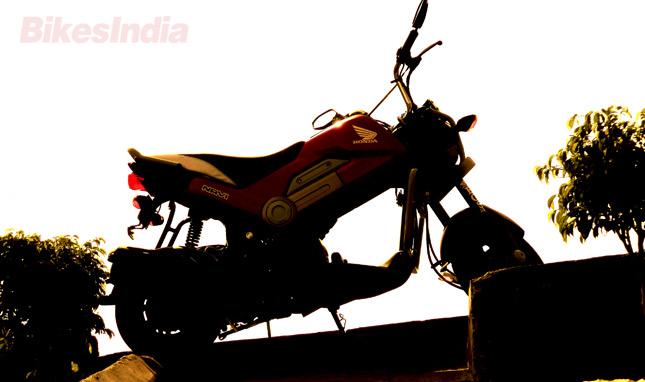 When I first saw a big guy bringing out the bike to hand it over to me, I thought would this actually be comfortable for him and would it fit two people, especially a big guy like him? So I decided to take him with me to see it for myself. To much of my surprise, I was actually blown away as to how we both sat on the bike without feeling congested or anything, in fact we both were very much comfortable on the bike.
I guess this is enough to explain how spacious the bike actually is. Only thing of note is the narrow seat which might not be comfortable for long hauls or it might irritate a bit after riding all day long. Overall the bike is ergonomically comfortable with perfect riding stance, handlebar placement and a seat that is long enough to accommodate two riders without feeling uncomfortable.
Engine and Performance: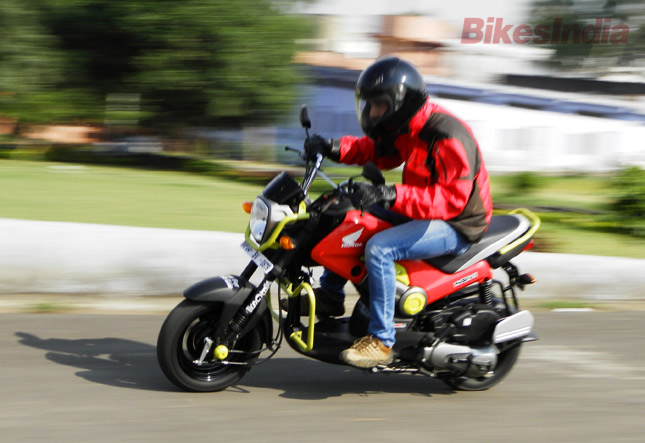 The Navi houses the same 110cc single-cylinder engine which produces a maximum power of 8 BHP and maximum torque of 8.96 Nm, mated to a V-matic CVT gearbox, which is of course the same as that of the Activa 3G.
Being an 110cc bike, the Navi has all it needs to be better than most of the scooters in the market. It is fast, it is light and it's very small. The engine is smooth, typical Honda engine and what I really loved about is the NVH levels on this motorcycle, being kept very low. Cruising on the outer ring road at around 60-80 kph speed and we could not find any noticeable vibration. I must say we are very pleased with the performance of the bike.
Riding Dynamics: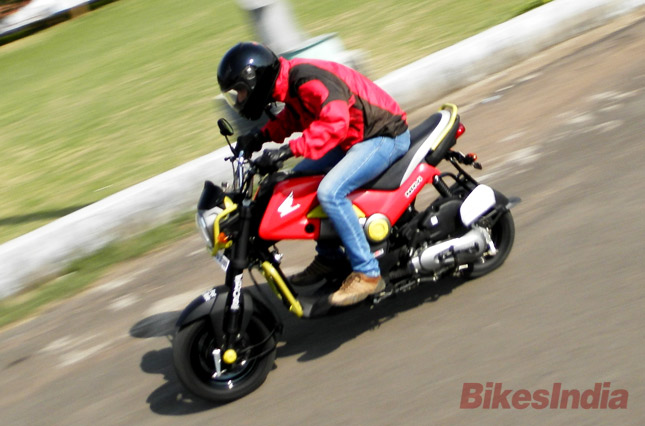 The small stature and hybrid looks of Navi must not confuse you, as it has a very good riding dynamics. The bike-like upper body, upright seating posture, with a raised narrow handlebar and a front set foot-pegs all add up to making this a bike that is light and easy to maneuver through the tightest of the city traffic.
The short travel front suspension is however not that efficient and they felt us spongy, had it been telescopic suspensions upfront it would have been icing on the cake but then Navi is a budget bike and cost cutting is obvious. The best part of Navi is that you can do a decent amount of cornering on this bike, the bike felt planted on road and the MRF tubeless rubbers provided ample of grip. The turning radius of the Honda Navi is also very low as compared to many other two-wheelers, giving it another reason for being fun to ride motorbike.
In brakes department the Honda Navi performs quite okay and we had no bad experience with it as such. Except, even after being written boldly on the fuel cap cover that there is no brake paddle in the foot and both brakes are operable by the hands, one gets fumbled if riding Navi for the very first time.
Verdict: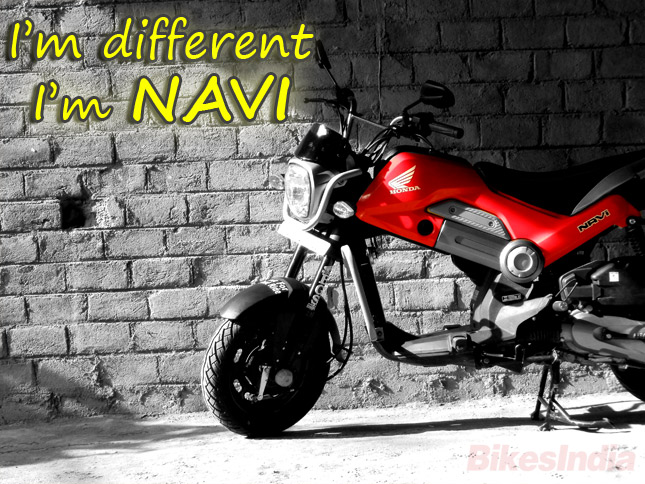 The Honda Navi is a fresh package in the Indian market which sure is going to change the way Indians see a motorcycle and may be in the years to come, other manufactures will be following this trend set by the Navi and launch their own. The bike is best suited for college going students whose parents do not get them a motorcycle and who are looking for something else other than the scooters like Dio/Activa in the market. At a price tag of 39,648 INR (Ex-showroom, Delhi) for the base variant, the Navi is a value for money product and also considering you get to choose how your bike looks, makes it even better.
Pros:
1. Butter-smooth engine and Performance.
2. Looks.
3. Fun riding stance.

Cons:
1. Instrument cluster and switchgear.
2. Brakes could have been better.
3. Spongy front suspension.
Ride Courtesy:
BGS Honda, Bhopal.