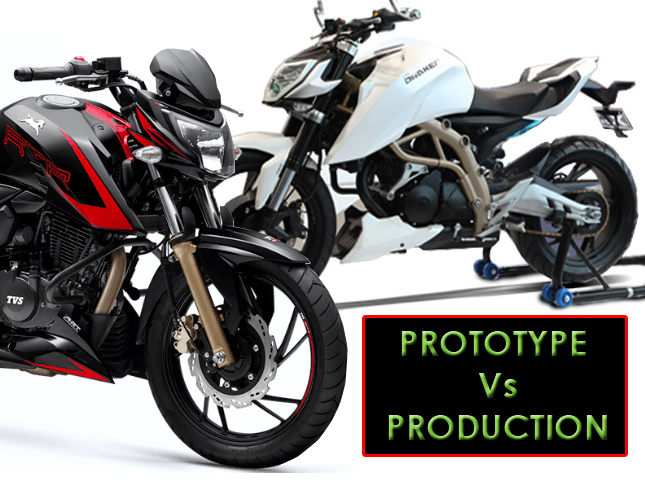 The prototype is defined as "A first or preliminary version of a device or vehicle from which other forms are developed". Since prototype is a preliminary version of the final product, it is usually better in terms of design and equipment. Take the "Draken" concept of TVS, it had inverted forks, off-set swingarm and a different frame. When the concept was finally launched as the Apache RTR 200 4V, none of those features were present. Why is it so that the product made before usually looks more advanced than the product developed after its worked upon? Let's dive in and check probable reasons.
If the bike isn't a Ducati or Aprilia, it is usually meant for a large variety of audience. The day to day usage of the bike can differ, yet many of them would still want one particular motorcycle. For example, Apache RR 310 had Akula as its prototype, which was a track-tool made out of Carbon fiber panels. TVS claims that Apache RR 310 is a track machine made only for setting up lap times. In reality, it's more versatile. In fact, it is a great tourer and can be used every day. It looks like a race bike and performs almost like one, which makes it a value purchase. People want to buy a bike which has won races and which is race ready, but they don't want the discomfort of a stiff suspension and rock hard seat. It seems reasonable because not everyone is the Rossi or Marquez, but it always feels better to know that you're riding a bike which can be appreciated by racers.
Another point is keeping the cost down. It might not be a surprise to you but racing equipment on a bike are way costlier than regular ones. As result, it's easy to make a bike with cheap and durable instead of costly and high-performance parts. That's why off-set monoshock and carbon fiber panels get axed in the final production model. Replacement of performance parts increase the weight but reduce the overall cost. Thus making the bike available to a huge number of people with a variety of needs.
The difference in Prototype and production model also depends upon the company in question. If we are talking about Ducati then there is a good chance that the production model may have all the features if not more, compared to the prototype. On the other hand, if the company serves a wider audience then there is a good chance that various features will be shown an exit.
The upcoming FTR 1200 from the house of Indian Motorcycles features Carbon fiber panels and S&S exhaust but it won't be featured on the production model in order to keep the cost down. Even the race-spec Ohlin suspension might see a replacement.
In the end, the main purpose of replacing high-quality parts in the production model involves reaching a wider audience, improving versatility and making a profit.
By:
Yetnesh Dubey