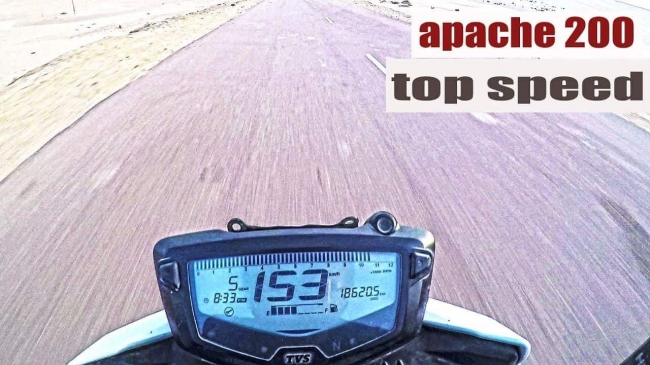 I love the TVS Apache RTR 200, especially its race spec, 2.0 model. The bike is smooth, grunty and lightweight for all intents and purposes. The highway stability of the bike is also really good, thanks to the 37 mm forks. The top speed of this bike is around 130 km/h on a good day but a guy has managed to take it beyond 150 km/h in his top speed test. You can see the video below-
To understand what's happening here, we need to take a close look at the road on which the test is being performed. The rider is actually going downhill on this road that's why he's able to achieve 150+ km/h. Also, note that the speedometer reading is not always correct as there is at least a difference of 8 or 9 km/h in the real top speed. As a result of the top speed, even on a downhill, will actually be around 145 km/h.
Apache RTR 200, the one shown here is a carb variant, which produces around 20 HP and has a top speed of around 125-130 km/h. The bike also comes with a Fuel Injected variant which produces around 21 PS of power. The overall design of the bike is of a naked roadster and it stays true to that range. The comfortable speed to ride around on this bike is 110-120 km/h. There is also a lot of windblast if you chose to ride the bike on a moderately windy day. The bike also has a similarly designed 160 cc model which has a straight handlebar and makes less power.
The latest edition of this bike is the RTR 200 4V Race Spec 2.0 ART edition. It features a "Slip & Assist" clutch as standard, along with a small windscreen. It also features two variants, one being equipped with twin channel ABS and the other with FI. There is no model yet which comes with both Fi and ABS as an option but it will be available after the ABS rule becomes mandatory in India after April 2019.
By:
Yetnesh Dubey