It is hard to believe that Bajaj Auto Ltd (BAL) which is now known as one of the largest motorcycle manufacturers of the world once used to manufacture scooters only in full swing. In fact brand Bajaj used to be a part of every Indian family with its "Hamara Bajaj" campaign, owning a scooter at some point of time used to be a dream for every middle class family and believe me the Bajaj Chetak or Super meant nothing less than a Maruti Suzuki 800 or Alto for an average Indian family in mid 70s and early 80s.
For the young generation it would be interesting to know that what they are relishing today in the form of "Pulsars" from the house of Bajaj, it had all started from a wonderful 2-stroke motorcycle which happened to be the First motorcycle from Bajaj's stable- The Kawasaki-Bajaj KB 100.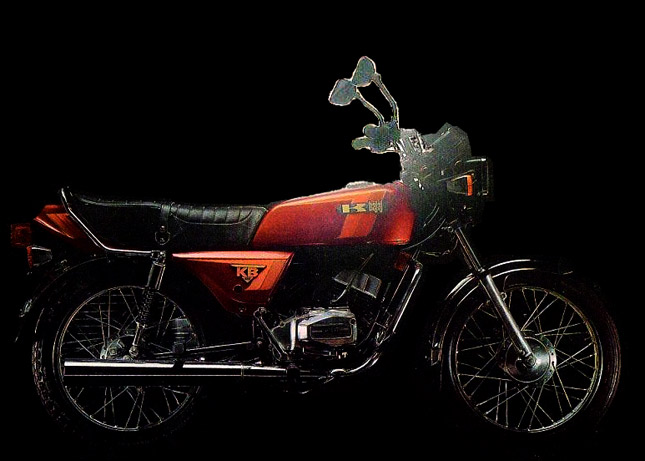 It is another sad story of a lost star that had shined in the sky of glamorous world and finally doomed to the stringent emission laws and the ever increasing fuel prices. Back in early 80s when commuting had a synonym and that used to be "
Scooters
", the motorcycles were either considered as luxury or those set of wheels probably considered as belongings of hippies or free birds. Those were the times when JAWAs, Yezdis and Rajdoots were reigning the roads.
The 2-stroke gas gulping iron horses were present on roads in limited number; at least they were not seen as an ideal family commute those days. The reason behind was higher maintenance cost and comparatively poor fuel efficiency than scooters.
I still remember when I was a kid, my elder brother was in search of his first ride and he narrowed down to mighty Yezdi (Yezdi Classic to be precise), a new entrant from Japan- Kawasaki Bajaj KB100 and the reliable
Bajaj Super
. I still curse that day when he finally decided to follow the same tried and tested route- the Bajaj Super. And I just missed the opportunity to inherit either of the pieces of history. That scooter remained part of our family for good 21 years until we parted it to another enthusiast, and I am still sure had it been either Yezdi or KB100, it would have been still with us.
Anyways, that was the aura of Bajaj scooters, people used to buy them on booking and often they were sold in black. Although, things started change before Bajaj realized it. Japanese auto giants like
Yamaha
,
Suzuki
and
Honda
stepped into our shores, as a Government policy they had to do a Joint venture with Indian companies to establish their business in India.
Yamaha came in 1983 first with Escorts India; they brought their flagship 2-stroke product as Rajdoot 350 (
Yamaha RD 350
). The bike has had already proven its mettle throughout the world and hence got success in impressing Indian motorcycle enthusiasts. But the Rajdoot Yamaha RD 350 belonged to premium class and therefore the sales received by the company was limited. However, the JV came with another successful 100cc motorbike very next year as
Yamaha RX100
.
Suzuki also brought almost simultaneously their 100cc 2-stroke offering as "
Ind-Suzuki AX100
" partnering with
TVS
motor. These two Japanese auto makers have successfully established a brand new segment in India and that was the beginning of whole new era of 100cc 2-stroke motorcycles. These motorcycles have let the Indian consumers to taste the performance, refinement, technology and fuel efficiency at very competitive price. It is then Bajaj decided to follow the slew and contribute to the future of two wheelers in India.
READ ALSO: Why 2-Stroke Engines Are More Fun Than 4-Stroke Engines?
Bajaj had undergone a tie up with another Japanese auto maker "Kawasaki" which was enjoying the status of the maker of fastest motorcycle in the world, the Ninja. The duo introduced the
Kawasaki Bajaj KB 100
in 1986, but it seemed like it was a little late for the party. By the time Kawasaki Bajaj KB 100 launched in India, the Yamaha RX100 was already quenching the performance thirst of Indian riders and another Japanese giant Honda had opened altogether another segment for the mile munchers and "
Kitna Deti Hai
" crowed with its extremely frugal
CD 100
which they launched with a punch line '
Fill it, shut it and forget it
'. And for those who were interested in both the worlds there was Ind-Suzuki AX 100.
That was a tough task for Bajaj to place the very brilliant and sophisticated Kawasaki KB100 somewhere in between the now almost saturated looking 100cc market. Another reason for getting it difficult for them, Bajaj apparently did not advertise the new product efficiently. It was later when the another variant of the KB100 introduced in the market with "Delta Super Tuned Engine"- Kawasaki-Bajaj KB100 RTZ, a television ad campaign launched with "Own Cheeta" tagline. It was now somewhat successfully marked the sleek image of the product and people started considering the Kawasaki Bajaj KB 100 RTZ as alternate to the Yamaha RX 100 and Ind-Suzuki AX100.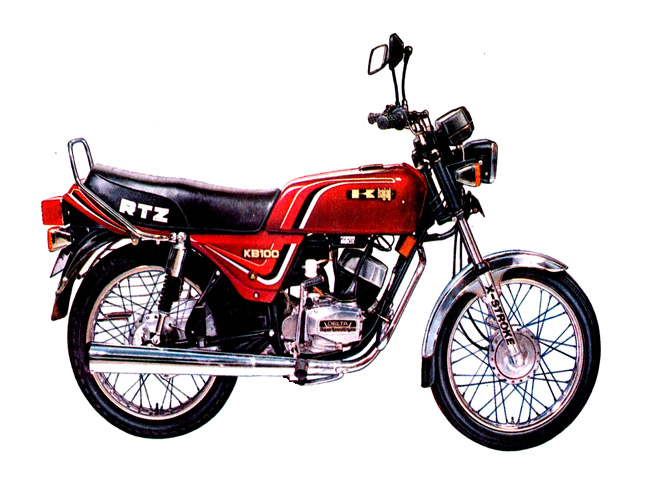 The Kawasaki Bajaj KB 100 had actually revolutionized the entire industry in terms of features and technology. The bike was first in class featured with Tachometer, earlier it was only seen in Yamaha RD 350. Fuel gauge and a central lock with inbuilt ignition were also industry first, these features came standard with the KB100. The double cradle steel frame of Kawasaki KB 100 has been taken directly from its internationally sold sibling- Kawasaki KH 125.
The Kawasaki Bajaj KB 100 also came equipped with concealed carburetor as better safety feature. The bike also had bigger 130mm drum brakes at both the wheels, it was also first in class feature. The wider rear tyre on bigger rear wheel complementing the largest wheelbase and mass centralized design of KB 100.
Those who have ridden the Kawasaki KB 100 RTZ will certainly vouch for the stability and control of the motorbike. It was without any doubt ergonomically a better motorcycle from rest of the competition. Performance vise also the KB 100 was not far behind from the lord of the street Yamaha RX 100 but the difference of low end torque between the two bikes made a difference of two worlds.
However, to satisfy the performance junkies of the country and to take a now looking unformidable lead Kawasaki-Bajaj introduced a 125cc version of the bike in 1996. The motorcycle was identical in looks and it could only be distinguished by the graphics and logo "KB125". The Kawasaki-Bajaj KB125 was equipped with a re-bored 125cc engine capable of producing 12.7 Ps of power and 11 Nm of peak torque.
READ ALSO: Suzuki 2-Stroke Motorcycles- The Rise And Fall Of Legends
By this time the clash between the titans was on its peak and Yamaha responded with its 135cc
RXG
and
RX135
, where as Suzuki came with its 110cc "Shogun" producing 14 Bhp of power. Suzuki later on going ahead launched 138cc Shaolin with 5- sprint gears. By now, Bajaj started producing motorcycles by their name only utilizing the technical expertise of the foreign partner. Responding to the growing competition Bajaj came out with another version named- Bajaj Prowler RR 125 with 125cc engine taken from the KB 125 mated to the 5- speed high velocity transmission gears. Extremely limited models of this version came out of the Bajaj factory and it never saw a full swing of production, very few could be seen on different forums. The bike was wrapped around the body of the other 4-stroke motorcycle- Kawasaki-
Bajaj Caliber Croma
with front disc brake. The bike was touted to produce 12.5 Ps of power and could go to 110 Kmph top speed.
The race of proving supremacy had come to an end with Bajaj discontinuing the production of KB125 in 2000 along with other manufacturers stop producing 2- stroke motorcycles due to Government's strict emission laws. The golden era of two stroke engines came to its end but the love and affection towards these amazing machines would never fade from the hearts of the motorcycle enthusiasts.
By:
Farhan Kashif