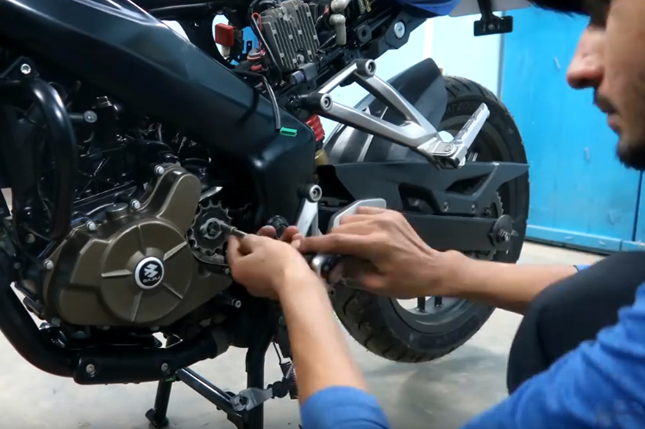 Have you ever wanted to build a bike all by yourself? Well, this guy made his Pulsar NS 200 from the ground up. It is always a satisfying experience to watch a bike slowly take shape out of a bunch of parts. The owner of the Youtube Channel
"Jeet Bhaskar"
is an incredible mechanic who builds his own Pulsar NS 200. Watch the video to see his talent.
Assembling a bike takes skills and a lot of practice. There are hundreds of parts and to have the knowledge of which one goes where is very impressive. The video starts with the assembling of the Perimeter frame, which is made up of pressed steel to minimize flex.
None of the parts shown in the video is "pre-made", as he assembles every single one of them by his hand. From the wheels and brakes to gear lever and footpegs. From this view, we can also see a clear view of the Pulsar NS 200. It can be seen that there is no frame under the engine and it hangs from the frame which adds to the low center of gravity. As a noob in understanding the electric wiring of a 2-wheeler, I find it pretty amazing how he's able to make sense of which wire goes where.
The guy also assembles the motorcycle suspension all by himself. He begins from the raw piston and proceeds on to fit it with springs, oils and other camping equipment. Just refilling a piston with oil requires a lot of patience and this man is making a new piston, part by part.
There is also a video on his Youtube channel where he rebuilds the whole engine of the Pulsar 200 NS, which he has used here. With a 12-minute time lapse video, Jeet Bhasker has further proven that doing proper mechanical work, requires nothing short of a genius mind.
By:
Yetnesh Dubey