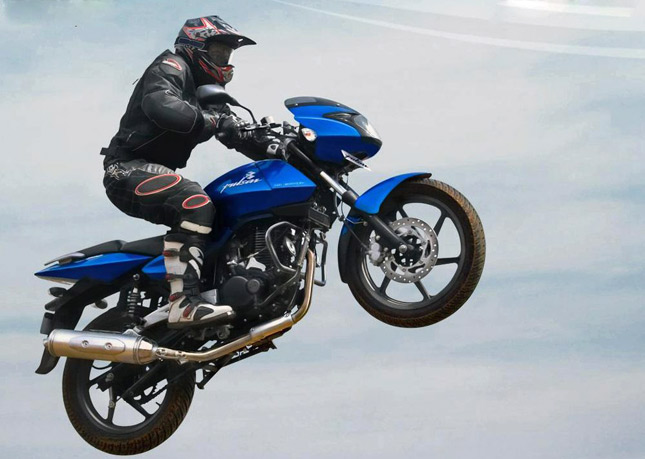 Bajaj is reportedly working on next-gen Pulsar platform, I am of course talking about the street range which includes Pulsar 150, 180, and 220. It will be a better upgrade than the last time which only included minor updates like colour change and Rear disc. This time, however, the company is serious in bringing in a totally new generation of Pulsar because it has been more than a decade since the Pulsar series went through a metamorphosis and the current market is evolving with at an unprecedented rate. So, before these Pulsars see the light of the day, we would like to name a list of features which we want to see on them.
1: Oil-cooler:
Pulsars are notorious for getting their guts handed to them during summers, 220 is an exception in this case, due to their Air cooled engine. On the other hand, the same feature makes these bike ultra easy to maintain. We wish to see the addition of an oil-cooler which will maintain the approachable air cooled design of the engine and help in hot weather.
2: Monoshock Suspension:
We understand that Bajaj is intentionally not giving a monoshock in its current range because they know the number of people who use this bike for tripling is huge. Pulsar is the bike for "3 people riding", not that you should do it. A monoshock will not only justify the awesome handling of the bike but will also make the "fender-less" style look awesome.
RELATED ARTICLE: Why Bajaj Needs To Stop Relaunching Pulsar 150
3: LED DRLs:
The projector headlamps on Pulsar 220 works really great but with the inclusion of BS4 and the main headlight staying always "ON" has a devastating effect on Motorcycle's battery. The inclusion of Daytime running lights will allow the company to include a headlight switch and the LED lights will not be a strain on the battery either.
4: Sophisticated Instrument Console:
Instrument console on every Pulsar motorcycle looks outdated compared to current generation motorcycles. Even entry-level Duke and Apache have a very detailed console which has features like Top speed recorder, Laptime recorder etc. Ironically the most detailed console in the market is on TVS Enter, which is a scooter. Bajaj can really take some notes from all of these brands.
5: ABS and Fuel Injection:
I don't need to stress on the first part because if any new motorcycle will launch in India, it will have ABS as per the law. On the second part, I do want to urge the company and our readers to support fuel-injection in the new series motorcycles. It will finally end the jumpy throttle problem and does not require to be cleaned every time your bike goes into service.
RELATED ARTICLE: What Makes Pulsar 200 NS Best Bike In 200 cc Segment?
It is almost time for the current generation Pulsars to be scraped off because at this time Bajaj is just milking them to their limits. It is understandable that the company does not want to fiddle too much with the design of the bike because of its popularity. So surely they will try to build around it by keeping all of the original elements intact.
For everything related to Motorcycles, stay tuned to BikesMedia.
By:
Yetnesh Dubey