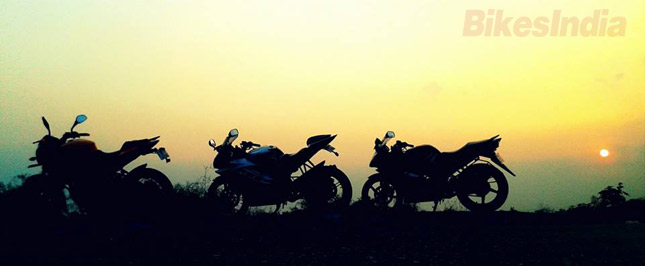 This ownership review is a part of ongoing
"Review Your Ride"
Contest, you can also take part in it and get a chance to win exciting prizes.
ABOUT MYSELF…..
Hi! Friends, myself Amit Kumar Chanda from Shillong, Meghalaya a beautiful place with mesmerizing beauty of Mother Nature also known as "The Scotland Of The East" & "The abode of Clouds"…. A true destination for the cornering junkies….
I am a fanatic about bikes and everything related to biking. My love for bikes started when I was in 4th standard. My eldest brother one day came home riding a YAMAHA RX100(My Grand Dad's) to show us the bike, I was so obsessed with the sound that I rushed out of my room to check out what is that scintillating sound all about. When I saw the bike I just fell in love with the beast, everything seemed to be beautiful about it. The more my brother do throttle the more I use to get excited… Gosh!!!
Since, that day itself I started collecting pics of bikes, whenever a bike passes by my head used to turn automatically to admire the beauty. I used to stand still with my mouth wide opened when I see someone zooming, popping up a wheelie or doing an endo. I used to wonder how on earth they could do that. I used to sit for hours with my brother's friends who had bikes to gather more knowledge about the bikes like how and when to release the cluch, gearing, acceleration, etc. For me they were my heroes… 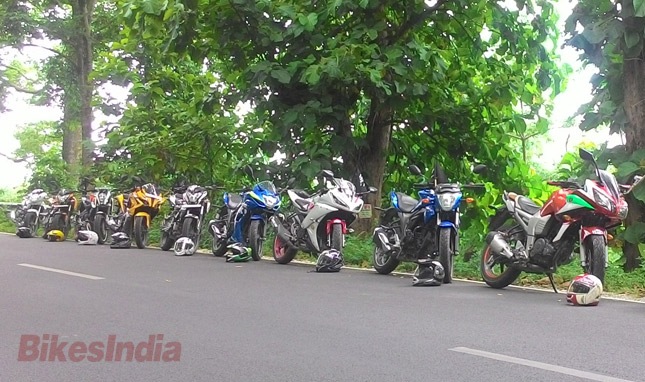 MY FIRST RIDE……
Days passed and I came across many new models of bikes from many other brands, but my love for Yamaha bikes was the same when I first saw the Yamaha RX 100. I laid my hands on that very Rx 100 after almost 5 years when I was in 8th standard without my Dadu's(Granddad) knowledge, got nice scolding and biting after that though Hehehe! :P I still remember my Dadu was supposed to wash the bike as it was weekend and he had some other plans. Haha! But to surprise the bike was not there in its usual place. Everyone thought it got stolen... After almost 30mins of searching my mother realized that even me I am not at home.. Gone case!!!
I pushed the bike for some distance from home so that no one would see. It took me about 10mins to start the bike only..lol :o… Finally, the bike started, theoretically I was aware of the mechanism of the bike, but never really did any practical's on it..Hehehe!! got stuck several times (as u know first timers). I put the gear down released the cluch gave a little throttle and way I go..( but that didn't happened).. I popped up an accidental wheelie on the first go and landed on the bushes.. I am gone today toh!!! I thought I will get scolding by any means why not give it a one more try.
I started the beast again for quite a number of times.. Finally got success and went about for 20 to 30 yards, this scene went for about an hour or so…. I was pretty happy about my first ride but sadly I came back home with bruises all over and with the broken headlamp, indicators and crooked handlebar lol!!!… Gradually time spent and I used to do the same whenever I got chance. I use to ask bike keys from Dadu, friends and whoever comes to visit our place with a bike (I believe each and everyone of us did the same) hahaha!!!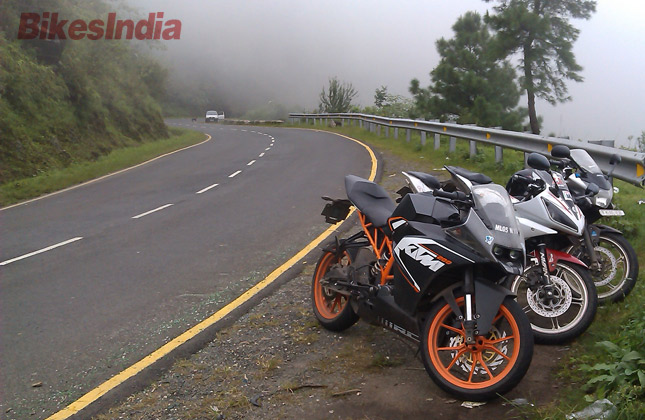 HOW I GOT MY RIDE…
After my matriculation I asked my brother to get me a bike as I had to travel for (18+18)36kms every day for my college. It took almost 3 years to make him and Mom realize that I really need a bike. For that every now and then I used to bring my friend's bike, used to do most of the household works at home to please my Mom. At last they realized after I met with an accident with my friend's bike for which Mom had to pay 13k + my treatment..Hehehe!!
She came to a point that, rather than paying cash every 1 week to repair other's bike and my son, it's better to give him his own bike only… After my 12th my brother finally asked me which bike I like and looking for :D… I had few choices then like Bajaj Pulsar 220, Hero Honda Karizma, Yamaha FZ, Fazer and R15… I had a look at almost all the brands, asked my cousins and friends which bike shall I go for, did lots of inquiries and gathered information about almost all the bikes.. Even Pulsar 200 NS was about to be launched but the waiting period was for 3 months.
Gosh! Can't wait for that long… in the meantime I was afraid that there might be some chances that my parents may change their mind. As I am very much into superbikes and all, I finally got what I was looking for, what I always wanted.. A beast with an eye-catching looks The YAMAHA YZF R15 V2.0.. Straight away I rushed to the nearest dealer, Frank Yamaha, Shillong and without any hesitation booked the bike (the Limited edition one).. it took exact 31 days to get the bike.. Man…. I can't really express how I spent those 31 days. Literally, I use to visit the showroom and call after every 2 or 3 days to inquire..hehe!!!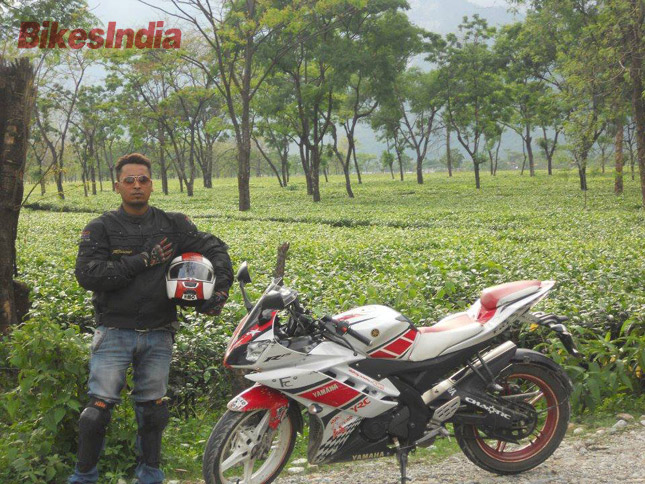 MY FIRST IMPRESSION….
Finally the day came 11th July 2011 at around 9:30am I got a call from the showroom that the bike is ready to be delivered. I was so happy that I really didn't know what to do at that moment. I called my friends took the cash from my brother and other necessary documents along and rushed to the showroom.. The moment I saw that white and red beauty and realized that it is really mine my eyes filled with tears. I didn't touched the bike until my friend took a test ride.. he came back and said, " Cholz bro your baby is ready to feel the breeze lets just take her home.." haha!!! 
I paid the remaining cash and did all other documentation and formalities which took an hour.. came out of the showroom went to a nearby temple did all the rituals and then for the first time I rode my bike since that day it's with me till date… never let me down in any circumstances… I can truly say that my decision to take Yamaha R15 V 2.0 was worthy as I got a full fairing eye-catching sports-bike which I always dreamt off… Even though its 150cc (displacement) but its raw power of 17bhp was more than enough for me to feel the freedom.. With its excellent power to weight ratio and aerodynamics it makes the life of a biker easier to take corners in pretty high speed.. No other bike can match its handling in curves in this segment I can assure that.. Superb machine built by the Yamaha..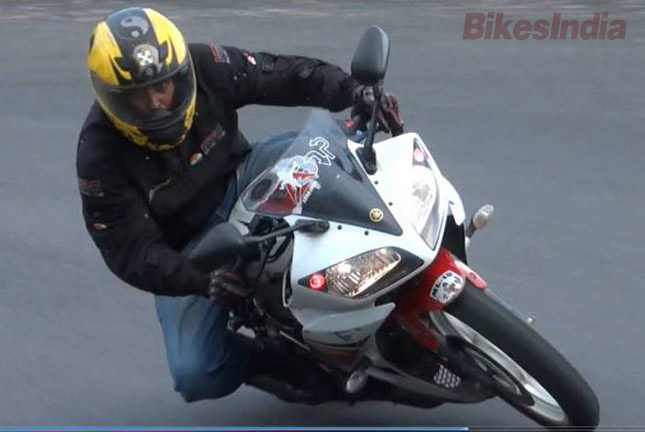 THE BEST PART…
I was too much into MotoGP and always wanted to take those butterfly bends and R15 is one exceptional bike to take those bends.. As I am a cornering junky I really love going into curves. Few of my friends call me cornering guru!!!! Lol….!!!!
We in Shillong have this habit of saying, "LABBOW"(when among friends only) on whatever we find interesting or astonishing.. So, when I visited my native where there are dead straight roads hardly any corners to take butterfly bends for miles. I was dying to see hilly roads with sharp bends. So, my friends from NBB( North Bengal Bikers) took me along for a ride in some out skirt where there was some really awesome bends.. The moment I saw that road and the corners my eyes lit up with excitement and I just said "Labbow!!" and started doing what I always do.. Since that day onward my friends here greet me as "Labbow"… Hahaha..!!  Now whenever we go for weekend ride and if any of the rider happens to see any corner they star shouting, "Amit Labbow wala bend paaya"…. LOL…!!! :D………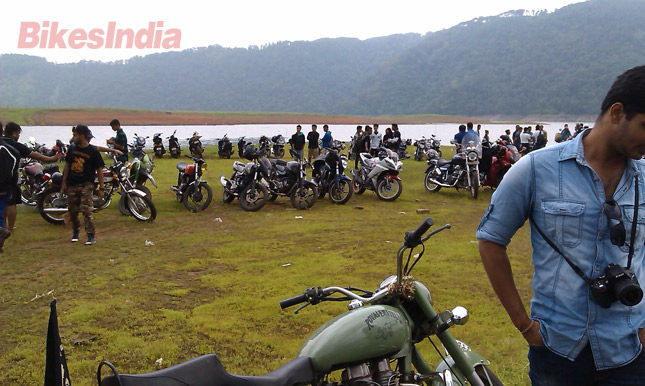 WONDERFUL MEMORIES…..
Had some really awesome experience after I become a part of The xBhp (Meghalaya chapter). Got to explore many unknown places, got to meet many fellow bikers from around India and abroad. Got a chance to check my skills and scrap my knees in BIC( Buddh International Circuit) thanks to my good friend and Meghalaya xBhp co-coordinator Mr. Jean Daniel Momin (Jdan) to give me that opportunity. A very special birthday gift in fact when I got to ride my dream bike The Aprillia RSV4.. Had some very good times with the NBBianz in West Bengal for a successful Bhutan Trip, Darjeeling trip, etc…. I' The Biker as the T-shirt says which I always wear while going for a long or short trip boosts me up and fills me with confidence in achieving my dreams…..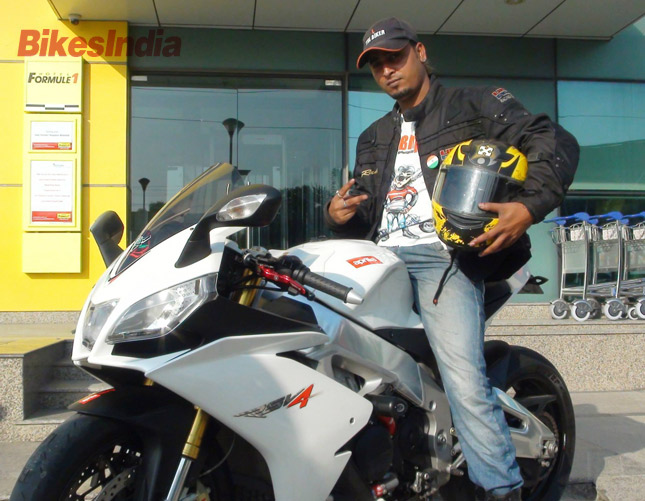 DETAILS OF YAMAHA YZF R15 V2.0 WITH PROS & CONS…..
Undoubtedly, Yamaha builds one of the meanest machines on earth. As per Indian market requirement Yamaha came up with its R15 V 2.0 which is powered by 149.8cc, 4 valve, liquid cooled, fuel injected single cylinder engine which pumps out 17PS @8500rpm and torque of 15Nm @ 7500rpm. This is the best beginners sports bike, it is pack of almost everything, got looks, descent power and torque and one of the best handling bikes.. last but not the least R15 V2.0 comes with a delta box frame(aluminum) costliest chassis among all other bikes in 150cc segment.
The braking department is taken care by 267mm disc at front and 220mm disc at rear, the brakes offered are one of the best in its segment. When it comes to tyres R15 v2.0 comes with MRF Zapper(90/80-17)front tyre and a broader rear tyre MRF Revz(130/70-17) which gives more of a sporty looks and offer great grip.. It weighs just 136 kgs which gives a decent power to weight ratio and helps in achieving a top speed of 135 kmph or above. Personally I was able to touch 141 kmph in a dead stretch road…
Finally, 'KITNA DETI HAI'.. Generally when you are talking about a sports bike mileage doesn't matter, but we live in India, so whether you buy a 150cc bike or a 1000cc bike we always have this curiosity to know more about the mileage..Lol..!!! So, overall Yamaha R15 V2.0 gives a descent and yet (affordable) mileage of 30-35kmpl….
Few drawbacks(CONS) that could had been taken care of… Firstly, the pillion seat which gives it a sporty look but pretty uncomfortable to sit on (few of my friends even complains about the pain in their back after few miles of ride)… Secondly, its riding position which can be a bit tough for the beginners due to its lower setup of handlebars but soon you will be comfortable with it..
Most importantly need upgrade is required both in terms of power and looks. So, I am really expecting YZF R15 V3.0 with atleast 200cc engine and minimum of 25bhp… Finger crossed.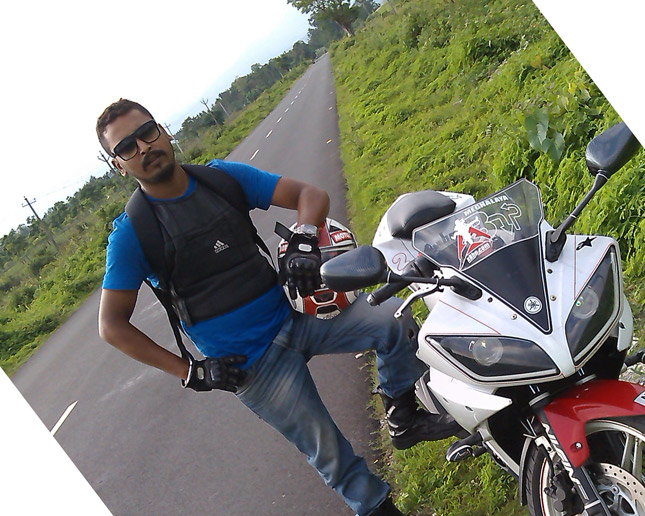 MESSAGE FOR MY BIKER BROS…
FRIENDS, it's really important to dream. Only when you will have a dream you will find out a way to make it come true as well…. Say NO to Drugs… Be a Helping Hand… RIDE SAFE! RIDE HARD! RIDE UNITED!
Whatever you ride(100cc or 1000cc) be your own angel.. Always wear HELMET and proper riding gears while riding. Respect and follow the 'Traffic Rules'.. Just remember that some other biker brother of yours must be following and learning from you as well… Keep yourself safe--- Keep others safe.. GOD BLESS….!!! 
Cheers to the Biker Brotherhood……..
-
Amit Kumar Chanda.