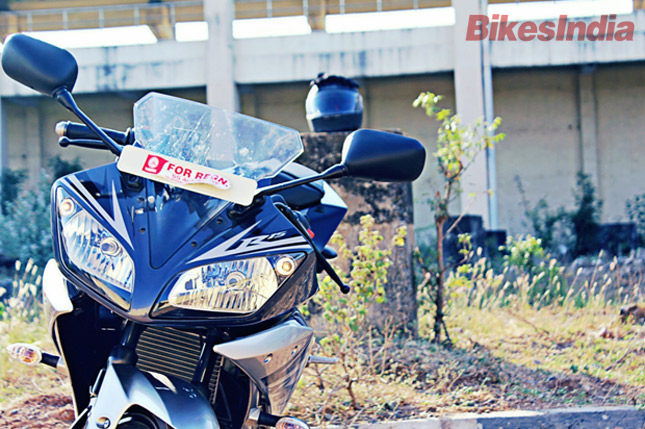 Every teenager's dream is to ride a bike, be it passion or showoff, so was mine. I loved bikes and cars not for their looks or brand, but for how they were built and how they rode. It was my daily task to look at bikes when I used to travel back home in the bus. I still wonder how machines can work at such high speeds and temperatures and can also run for days and years. So I wanted a bike too.
Well I didn't want it to be a burden for my parents, so I asked them as soft as I could and they agreed on to it. And there the hunt for my bike began. I walked into almost all showrooms riding all bikes and scooters starting from TVS XL up to Triumph Daytona 675R. I knew my budget limit was INR 1.5 Lakhs but still wanted to try everything in the market. Then I finally consolidated my list to 5 bikes, the TVS Apache 200, Honda CBR 150R, Bajaj Pulsar RS200, KTM Duke 200 and finally the Yamaha R15 V2.
Each bike has its own pros and cons, but every machine built by man is great. From the above I rode all the bikes except the R15. I loved the RS200 for its brakes (ABS) and its mid range power delivery, it was a bit bulky and over designed. The CBR 150R rode well, had a great seating posture but lacked a kill switch. The Apache 200 was the cheapest among the lot, it sounded great, was easily flick able and was surprisingly very light, I wasn't very impressed with the front brakes and engine braking as I rely more upon them .
The Duke 200 was a great bike with power oozing out from the initial stages of acceleration but it was nearly Rs.15,000 higher than the budget. So then came the R15, it was just then one of my friends got an R15 V2. I called him up to offer me a ride. The first time I rode it, it put up a smile on my face that no other bike could. So I decided to go with the R15.
Coming to the specs it is not the greatest but it is powered by an engine that produces almost 17 bhp at 8500 rpm and 1.5 kg-m torque at 7500 rpm. Torque is felt from the low end so riding in the city wouldn't be much of a hassle. Front (90/80 R-17) and Rear (130/70 R-17) tyres are featured by MRF and feel super sticky and grippy at corners. I don't want to go into the specs because most of them are familiar with it.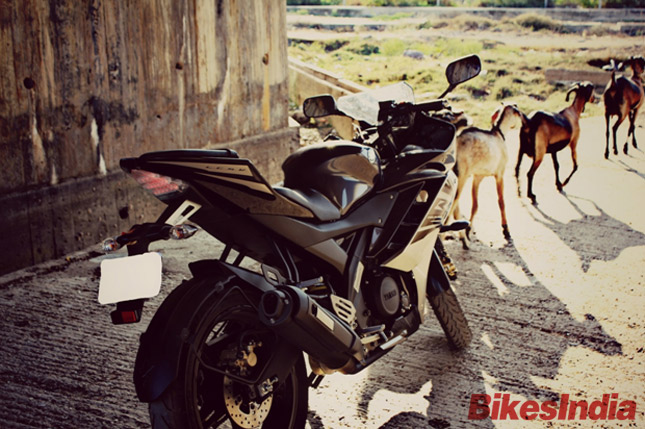 I wanted some good color apart from the blue or the matte colors that Yamaha was offering; I went into almost all showrooms to see if they have something else in stock. Surprisingly one showroom had the Invincible Black it was a color I had never seen much on the roads and looked very appealing and pleasant. I was so adamant that I wanted the same bike and named it "Kyra" too, meaning a baby moon.
But then one of my Dad's friends owned a Yamaha showroom, so we called up and spoke to him, I sent him the pictures and asked him if he could get me that color, he inquired and told me that there is one of them left in his friends showroom. I was still a little sad that it wasn't Kyra, but then I made up my mind saying my dad's friend can help out if the bike had any issues.
We finally booked the bike and I got it in a matter of 2 days. I was really excited so were my friends and the kids in my apartment who knew how much I loved bikes and cars. On 21st of April I rode home the bike it wasn't registered so I couldn't take it out much until it was registered. After 3 days the person called me for registration and I went there, I was given the owner's manual and the service book, it said the dealers name from where I saw Kyra, I had noticed that my bike had a small scratch on the front wheel rim, I opened my phone gallery and saw the pics I took of Kyra, ALAS! Both of them have a mark at the same place! I was so happy that it was Kyra that had come to my hands, ever since then I started calling it Kyra's birth mark.
Apart from me the kids in my apartment love Kyra so much that they miss her more than me if I go on a road trip for a few days. It has been 7 months I'm totally in love with the bike; it has clocked a top speed of 145 kmph without any vibration.
Pros

1. Amazing looks, it is always a head turner.
2. Phenomenal brakes, even the engine braking feels good.
3. Great handler at corners.

Cons

1. Visor vibration issues.
2. Riding posture feels tiring under traffic riding conditions.
Like me every man has a story behind his biking life, so no matter what happens keep the bike clean and safe, it will pay you off by keeping your daily ride safe and comfortable.
By:
Rishath Suresh