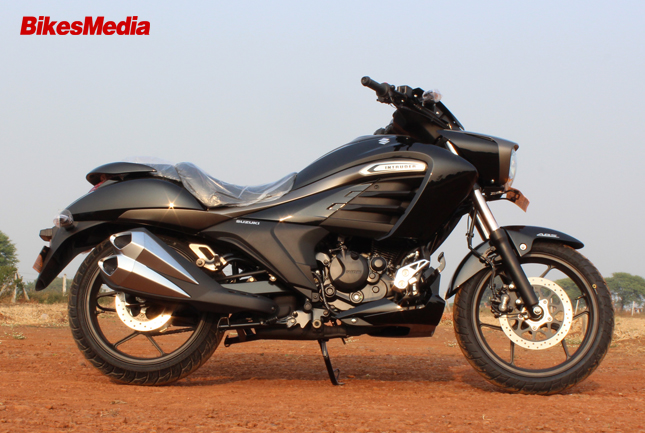 Last time we talked about the Suzuki Intruder was when it was launched. Now, even the Fi variant is out and we haven't paid any attention to it. So here are 5 reasons why Suzuki Intruder Fi is a good investment.
1: Unmatched Mileage-
The Average fuel efficiency of Gixxer SF Fi is around 50 km/l. The engine on the Intruder Fi is the same 154.9 cc air cooled motor but with a bigger rear sprocket for more low-end grunt. The bike is peppy, smooth and accelerates quickly up to 110 km/h. Combine the overall performance with a fuel-range of more than 500 km per fill up and you've got yourself an amazing cruiser.
2: Standard ABS-
The probability of unfortunate events occurring increases greatly when you're riding for long hours in the saddle. The Single Channel ABS on the bike which comes as standard, keeps you safe, no matter how hard you choose to brake.
3: Low profile Tyre-
The rear tyre on the Suzuki Gixxer is a low profile one. As a result, it has some advantages and disadvantages. Besides looking somewhat unconventional, the rear low-profile tyre offers relatively bad ride quality then its high-profile counterpart. But on the other hand, it provides great traction and improved grip on dry as well as wet surfaces.
4: Powerful Headlights-
Although LEDs are new to the Indian market and boasts of offering great night time visibility and spread, the projector headlamps are tried and tested. The Intruder Fi features a mix of Projector and Halogen headlamp which works in tandem to transform the headlamp into a Daymaker.
5: Fuel Injection-
Besides offering smooth power delivery and precise fueling. Fuel injectors also require less maintenance as compared to carburetors and give more fuel efficiency. In a time when Petrol is Rs 82/ liter. This feature is a must.
Suzuki Intruder Fi is overlooked by many because of its unconventional styling and a sort of skinny rear tyre. Well, the good news is that the rear tyre can be changed to a high profile one, to offer a more plush ride quality and bigger rear end look. Suzuki Intruder Fi retails at Rs 1.06 ex-showroom.
By:
Yetnesh Dubey