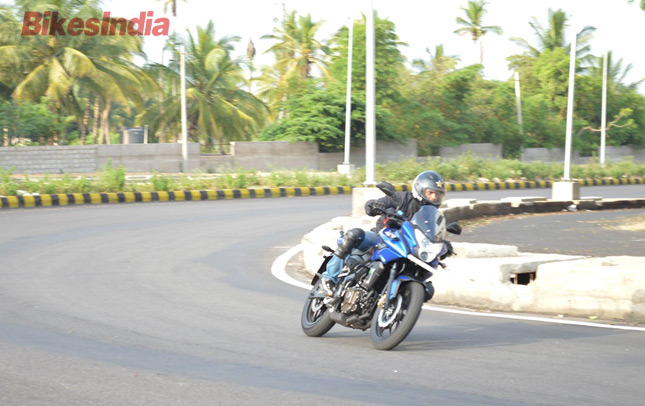 You are not alone if you are one of them who always think about racing, and feel the rush while hopping onto your bike, be it a 100cc bike or a sportbike the likes of Ninja 250/300 and KTM RC duos, and don't know where to begin and how to do it properly. Although, the two wheeler industry is booming in our country and India has become one of the fastest growing two-wheeler markets of the World, still there are very limited resources for taking the motorsport professionally. Despite of the immense talent and enthusiasm present in our youth for motorsports there is big lacunae present not only in basic infrastructure but also in our information system.
Indeed there is a need to educate people about the motorsport and their relevant activities taking place in our country. Taking motorcycle racing as career is one of the brightest dreams of our youth but due to ignorance and lack of information our youth hardly get what they otherwise deserve. And ironically most of them landed to the road racing or practice their skills on their own without any guidance, proper gears and most importantly they do it all on the public roads, which is highly risky for them as well as for the other passerby and absolutely illegitimate.
BikesIndia will try to guide those aspiring racers to a right direction so that they will not only live their dream but also pursue racing as their career if they are convinced to do so.
The Motor Sport Authority In India:
The apex central body which controls the Motor Sports in India is
FMSCI
( Federation Of Motor Sports Clubs Of India). It is the ultimate authority which is responsible for conducting motorsports in our country and granting licences to the individuals for participating in any of the motorsport. Fortunately, unlike the other Govt. bodies the FMSCI has got a reputation of very considering and unorthodox organisation. The rules and regulations of the FMSCI is also very humane and they are encouraging for the young motor racing aspirants.
Who can get the FMSCI Licence?
For obtaining the licence to participate in any of the professional motorcycle racing events conducted under the supervision of the FMSCI requires the licence, and for this anybody who holds the valid two-wheeler licence can apply. Those who are minors and do not have the two-wheeler licence but still wants to take up the motorsport professionally and intends to get the licence can also apply. In case of minors, an affidavit is required duly signed by the parents granting their permission. And the aspirant needs to give a test in front of the Club members (FMSCI) to satisfy them that he/she knows exactly what to do with the motorcycle, and after the certificate given by club member, the minor applicant can get his/her licence.
Note: Those who have the training certificate from the authorized racing schools of country can directly apply for the licence and can by pass the club member's certification.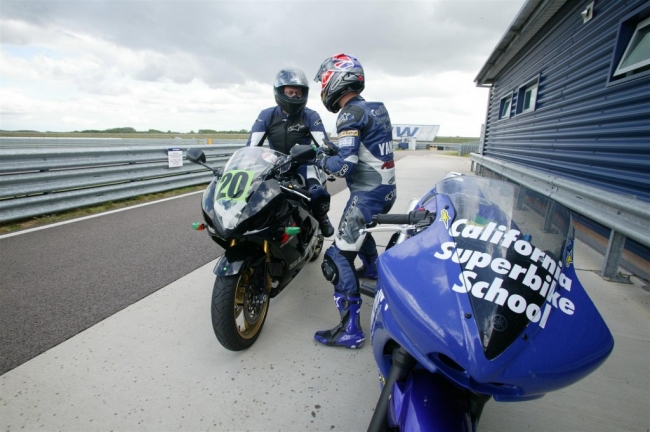 Training Schools In India:
But, before going for race one should get proper training and unfortunately there are not much training schools present across the country. South India is the Mecca of Indian motorsports has maximum infrastructure for motorcycle racing and there are proper Race Tracks and training schools like:
All of the above mentioned training schools are affiliated by the FMSCI and those who get the training certificate from any of these schools are recognized by the FMSCI and hence getting the licence to participate in any of the professional racing event becomes easier. There are race events organised by the manufactures like TVS, Honda, Yamaha and now recently Suzuki as "One Make Race" where they have made compulsory for novice participants to get trained first by any of these racing schools.
Taking proper training is the basic but foremost important step towards the dream to become a professional motorcycle racer come true. These racing schools have professional trainers and some of them are veteran motorcycle racers, who will teach you the basics of the motorcycle racing on track starting from the riding stance on the motorbike still stands on the paddock.
Schools like Apex Racing Academy and MMSC Racing Academy will train you at comparatively cheaper fees, one can start training from these schools and can upgrade later on to International racing schools like California Superbikes School (CSS), which could make a hole in your pocket by charging as much as Rs 52000/- per session and they wont even provide any riding gears, you will have to bring your own riding gears as well.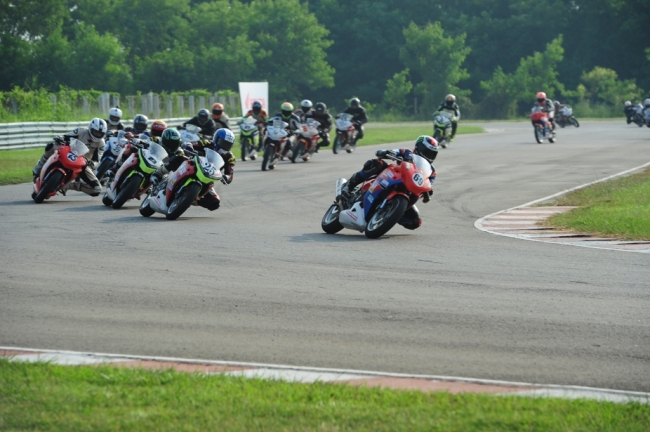 Racing Events To Polish Your Skills:
After getting trained properly and knowing not only how to ride on track but also how to RACE, you need to check it out yourself in a competitive world of motor sports and in India there are renowned two-wheeler manufacturers like Honda, Yamaha, TVS and Suzuki organizing events known as "One Make Racing".
One Make Racing Events:
In a One Make Race event, individual manufacturer organizes a race with the help of sponsor and in such event the bikes used are being provided by the manufacturer. Normally there are 20 or more units are provided by the manufacturer and all of them are Race-prepared. The participants can take part by paying very nominal fees, nominal in the sense, that the participants are need not to bring their own bike, they will be provided with the race prepared company fitted bikes. There will be a full fledged crew with the company mechanics available in the pit. If you think that is all, you are mistaken, manufacturer like TVS not even charge for the accidental damage done to the motorcycle while even practicing. This and more at the cost as low as Rs 4000 per weekend should be considered as Nominal- don't you think so?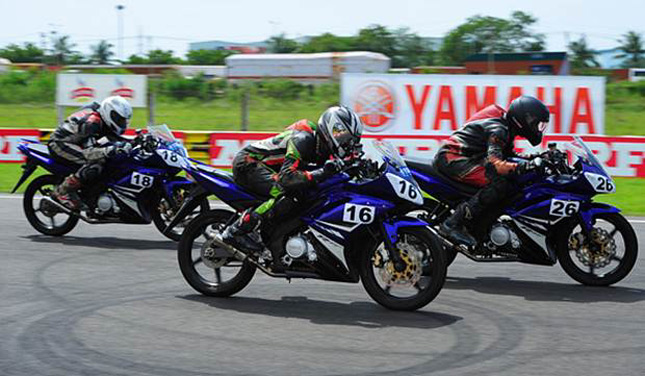 Are You Still Not Done?
So, after participating in One Make Race and getting podium finish or may be not, do you still think that it is just a beginning? then you are certainly in the league of men you are born to make their name in motor racing. Now after graduating from the race events like One Make, you have "Two Wheeler National Racing Championship", but from here the game would get real serious and expensive as well. In National Racing event like this you need to bring your own bike, get it modified and make it fit for race, you also need your mechanic by your side and not to forget loads of knowledge about your machine and the regulations of the sport.
All these along with spare parts, extra bike, fuel and other expenses will take this sport out of hands of many talented young champs of our country. To overcome this situation you need sponsors who can take care of your expenses and in tern you can concentrate on your skills rather than freaking about the finances. But in a country like ours where people go crazy about Cricket, it is still hard to find crowd for motoring event where people will actually buy tickets to watch the race. That's why finding a sponsor is a hefty task and often considered as difficult as digging out another "Kohinoor" from the ancient mountains.
With so much of raw talent across the country it is needed that there should be more racing schools open to cater the hidden talent at every nook and corner. Government should also encourage the manufacturers to organize the motorcycle race events on grand level. Once the sport becomes more popular among the masses, finding out sponsors would not be as difficult as it is in the present scenario.
I hope, this article will help all the motorbike enthusiasts of the country, specially those who really wants to take the sport seriously. If I missed out any point or you find any discrepancy in the write up, please contribute your knowledge in the below comment section. After all, it is for the enlightenment of the our fellow biking community.
By:
Farhan Kashif