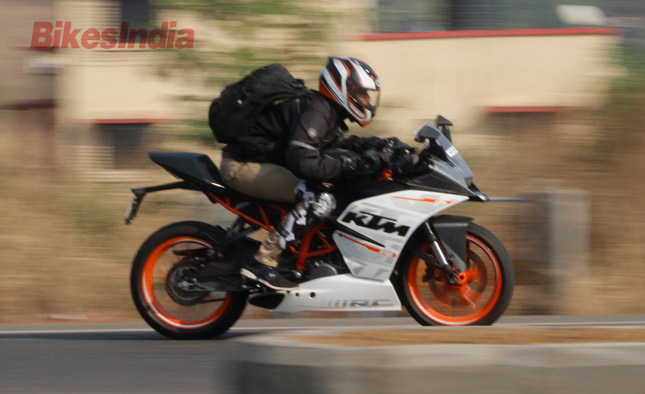 The old RC 390 was and still is the best entry level supersport in the market. When I say entry level I mean which can do a top speed of 178 km/h and a 0-100 in 5 seconds. I had never imagined that single cylinder bikes can be that good until RC 390 came along. Yes, it had a supersport riding position and rock hard seat but we are not so old to be suffering from the lower back problem. Just replace your breakfast with 3 cans of red bull and you're good to go. Anyways the bike has spent some time in the Indian market and is quite old now. You can easily find it in the second-hand market for a price of Rs 1.5 to 1.6 lakhs, but there are a lot of factors to consider when buying a second-hand sub-middle weight supersport. Let's look at them one by one.
1: Uninformed owner-
People might overlook the fact that where a motorcycle is coming from if they are getting it for a good price point. Remember Ryan F9 from fortnine once said "capable motorcycles are owned by capable owners", so if going through the ad listings you find an error in specifications, dimensions, and terms like "Very fast bike" "Bilkul nahiin chali hai" etc, then there is a good chance that it is not a well-maintained bike. Still, if you want to look away from this and consider it as an innocent mistake, do ask about the internals and specifications of the bike from the owner. If he has maintained it throughout the years then he'd tell you everything which went wrong with it in the past and how he managed to get it fixed. Never believe anyone if they say that the bike never needed any thorough service. If his odometer reads 2000 km, then it's an exception.
2: Visual and internal conditions:
If a bike looks good then there is a good chance that it runs the same. Don't take any chances though, if any of your friends have an RC 390, take him with you during the meet and ask him to test ride the bike so he can give his honest opinion about it. If you don't have such a friend or no friends at all, then go to a nearby showroom and ask for the test ride of RC 390. Yes I know it's a new model but the basics of the engine remain the same. Make a note of four things, throttle response, acceleration, vibrations and braking. Sure there would be a difference in all of these factors when you will ride the old bike, but the overall feel of the bike needs to be same.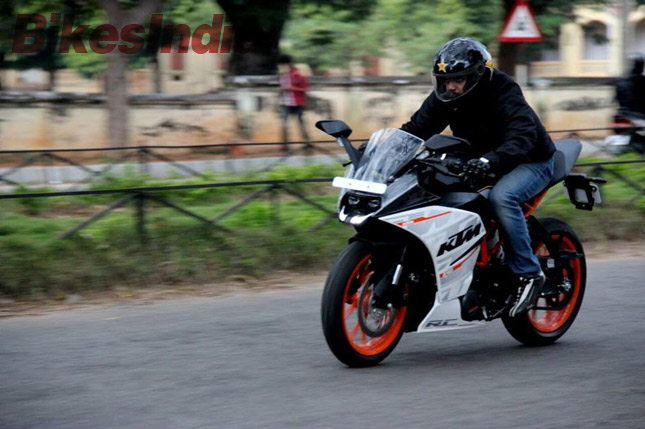 3: Equipment and accessories:
If there are any aftermarket pieces installed, then ask why are they there. There is a good chance that the owner would have broken the original parts during some accident. If they say there was a crash, check for other areas which could have been in the way of potential impact. Switch the key and make sure that all the lights are glowing. Start the ignition and note if the bike starts instantly. If it doesn't then either the battery or the crank, which is messed up.
Keep the bike idle for some time, until the radiator fan comes on to check if the heat sensor is working along with the radiator fan. Keep a list of specifications of the same model and check for tyre sizes. If the owner has replaced the original Metzeler with a cheap rubber ask him why. Make sure that the tyre sizes match. if he has upgraded to a bigger tyre then compare the new tyre's circumference with the old one. There shouldn't be a difference of more than 2% between them. Note: There are online calculators available for this don't worry.
4: Test ride:
Is the steering too heavy to steer? is the engine making more sound than the cylinder or the other way around? The suspension on this bike is stiff and it doesn't bottoms out easily, touch the forks with your hand to verify for any oil leakage. Check for brakes as soon as you get on because if they can perform when they are cold then they can perform anywhere. If they are screeching then the pads are gone, if the feel is uneven then the disc has warped. Ride for at least 5-6 km, then stop and notice any fluid leak beneath the engine. Keep your helmet open for any burning smell from the cowl. Check for the ABS too, go up to 40 km/h and slam the brakes hard. Note all the things that feel out of place as they might help you in bringing the price down.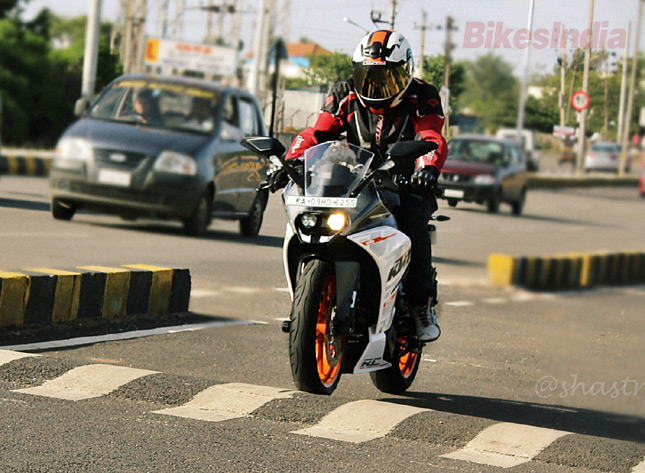 5: Papers:
Last but not the least, check for his papers. Inquire the names on the paper and ask for the ID. Review the insurance papers to check how many months are left and whether he is going to renew it or not. Use this too in price negotiations.
Buying a second-hand bike is a tough task and must be approached with caution and a cool mind. Many of these points differ from bike to bike but many of them are same. I will try to make a list of almost every popular second-hand bike, so you guys can enjoy the Need for speed IRL, even if you don't have that much cash.
For everything related to Motorcycles stay tuned to Bikesmedia.
By:
Yetnesh Dubey