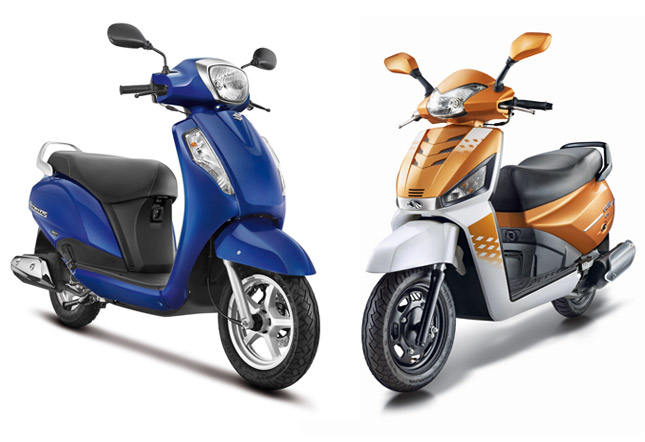 Reviewing two of the recently launched 125 cc scooters in a single week, we are up with a comparison between the much to be talked scooters of the town. We are as excited as you guys are to compare these two scooters. Testing them individually we consider that we could make noticeably differences between the Japanese giant and the Indian scooter makers.
The very first aspect in the scooter population is styling, well we all show-off our vehicles don't we!?? So let us take a look at how they really look.
Style & Looks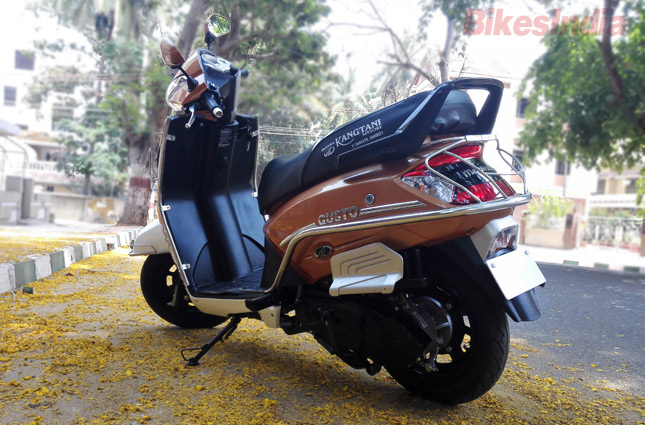 Gusto actually is a representation of a 125cc machine, looks exactly like what its displacement number says. Well there has been majority no changes from its younger sibling except that there is more chrome and body colour mirrors provided in the elder version. Not to forget the few changes made, like false air vents, 6 intake splits on either sides of the fender. Gusto looks more edgy than the curves which makes it look manly scooter. Dual colour is available in Gusto 125, two out of four shades out stand the crowd.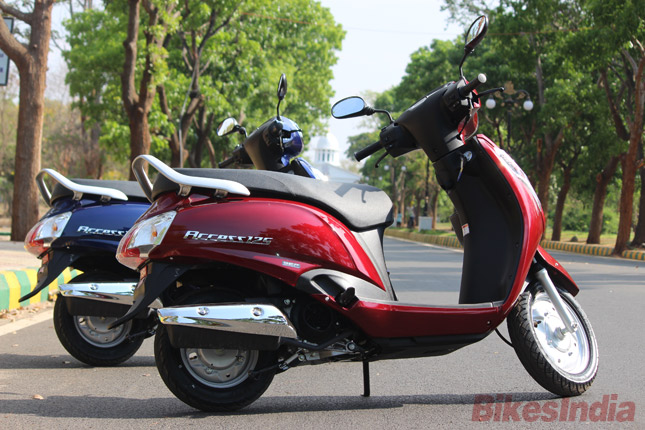 On the other end Access is completely new design, one would notice new stylish curvy side panels, new head light design, the from direction indicators also have noticeable changes from the previous generation. Front end design takes us back to history - retro style body work has been done on the front end. The introduction of alloy wheels will strengthen its design cues. While the mono colour is eye catchy for a major population. 3D logos are available on either scooters. But YES!! Colours, style is left to the perception of the buyer.
Instrument Cluster & Switchgear: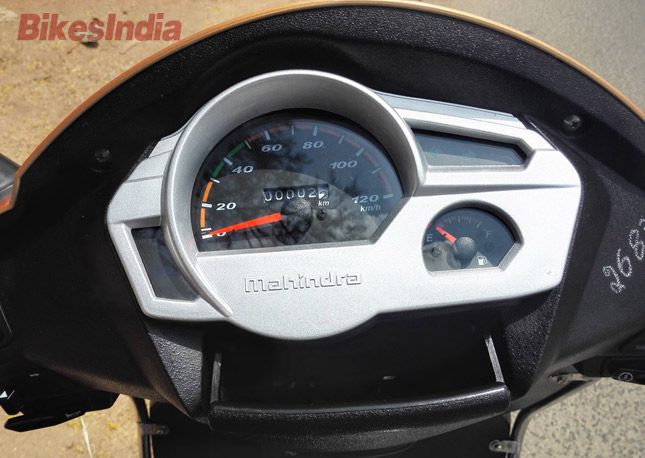 When it comes to man machine interaction both the scooters have provided the best they could to stand out in the crowd. The Gusto has made separate Sections for speedometer, fuel gauge, direction indicators. Everything is analogue and all the dials are clear to the eyes. It also houses a quick storage at the end of instrument cluster. The switches are easy to reach and works good.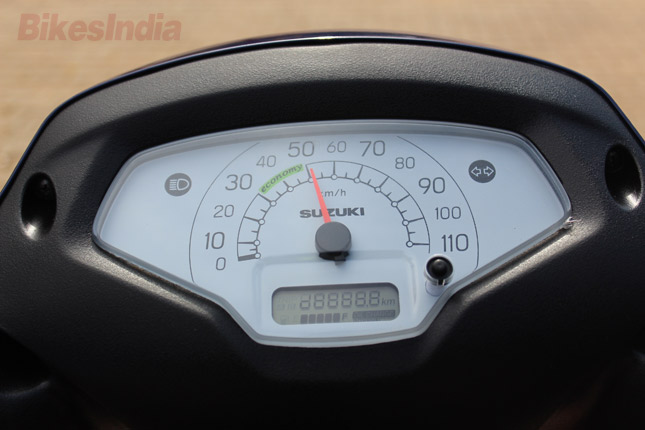 The new Access 125 has a white background which has a reason for it, the very bright colour would easily make any dark object 'project' to the rider which intern makes him read the dials easily. It also houses a digital console which combines 2 trip meters, fuel gauge, oil change indicator. Well the oil change indicator is something new in the segment which helps you keep a check on the scooter health. Access 125 has something unique in this part of the scooter which many would like to have.
Ergonomics: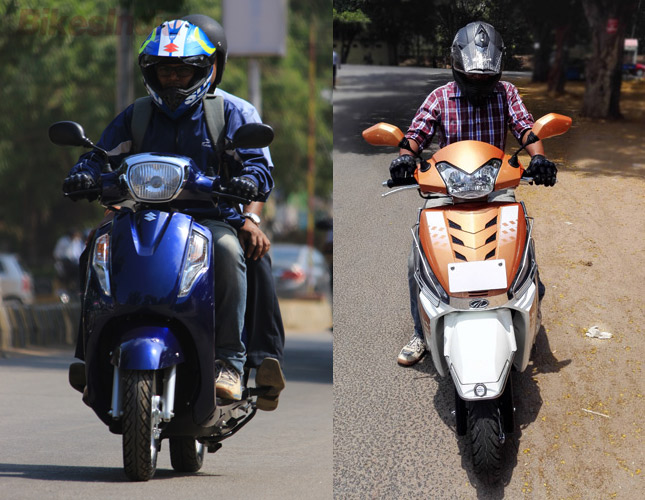 Both vehicles stand apart in terms of ergonomics, Engineers at Mahindra have done some decent job on adjustable seat height which is done keeping anthropometric data of all average family members with adjustable seat height of 4 inches up and down. One scooter but multi user concept has worked out very well for them. Alongside seat height, the view area of the rider towards the instrument cluster is also good. The reach to key, switchgear are easy. Comfortable seat which is real soft and wide, good for two people to ride along with some stuff to carry home.
On the other end Access seat is bit tall for the female gentry. While the interaction with instrument cluster is fun, it includes analogue and digital meters. The quick rear storage is right below speedometer and can be accessed at ease. It is a much improved machine from the previous generation and the seat is also comfortable as its counterpart.
Engine & Performance: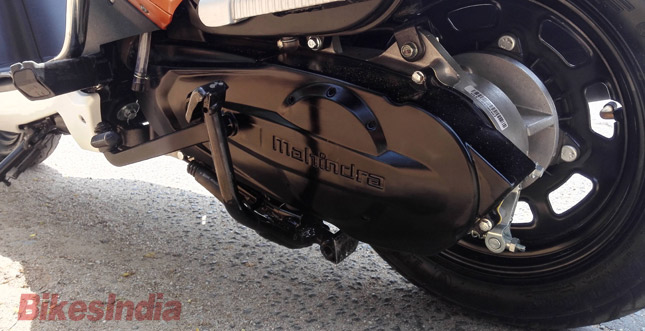 The air cooled and carburetor fed fuel system in the 125 cc M-TECH power-plant of Gusto 125 is more developed than the younger version and produces power of 8.5 BHp @7000 rpm and max torque of 10N-m which is somewhat same in all the vehicles of this segment. As the company says one can take out the scooter with confidence and smile. The acceleration is up to the mark and an easy going feeling is found. The micro igniter chip embedded in the engine doesn't waste any power that has been generated while you increase the throttle. The unused power will be stored and then utilized when there is need of power again when throttled. The engine is mated to CVT transmission.
Cruising at 40-50 kmph is as easy as walk in a park considering less traffic roads, also equally handles good in traffic areas. So does it cruise at over 70 kmph on highway, consider it to be powerful too.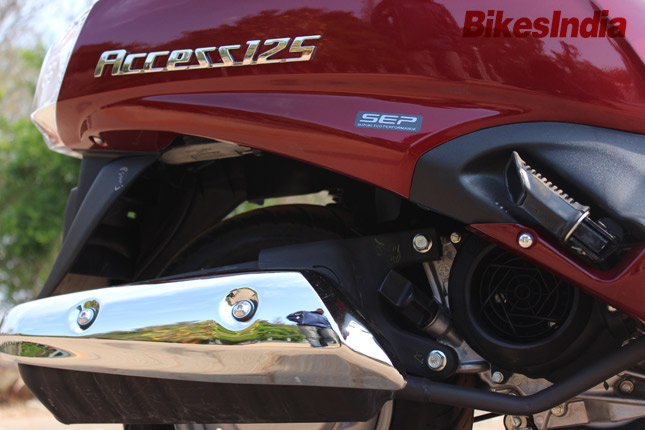 On the other end the new Suzuki Access 125 gives a good fight to Indian auto maker with its home grown SEP (Suzuki Eco Performance) engine, which enhances power as well as mileage. Engine sounds and runs smooth, which produces power of 8.7ps at 7000 rpm while the pulling capacity is 10.2 N-m @ 5000rpm. At an ease the Access can reach 75kmph with pillion rider without any vibration on 'highway'. Well the mileage would return in good number in economy mode and style of riding. One can expect 50+ kmpl. The heart of both the makers are equally good in their own terms.
Riding Dynamics: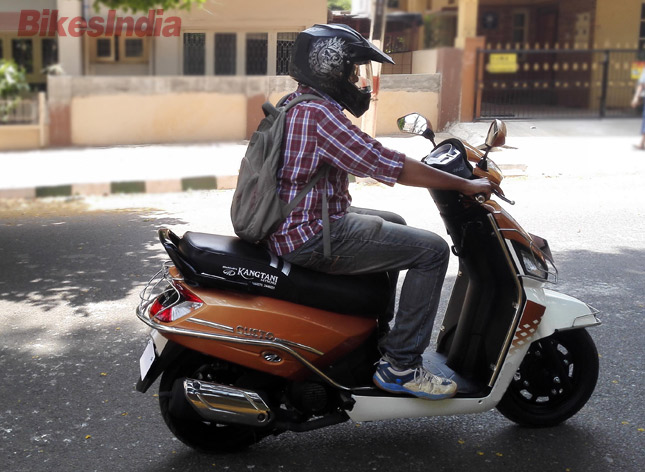 Making scooters and pitching up what it just needs to do, to satisfy the scooter population is a challenging task for the manufacturers. The Gusto 125 has telescopic suspension with air springs at front end which makes the ride comfortable even with pillion rider. They just work perfect at every given instance, roads with potholes, uneven surface roads, it just goes like that with an ease. This is one major point to be highlighted in the 125cc Gusto.
There has been noticeable improvement in the suspension from the previous gen Access, but putting in competition with Gusto 125 there is slightest improvement that needs to be made which one can feel while passing through uneven surface, while it can handle highway and clean city roads at an ease. Apart from suspension the engine gives you a smooth feel of the ride.
Price & Verdict: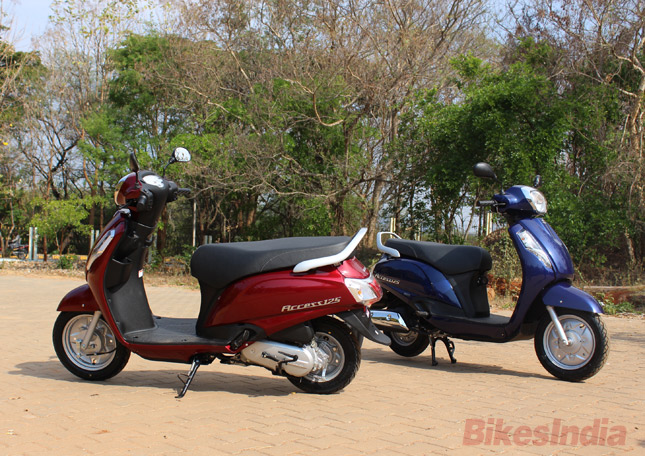 Mahindra Gusto 125 comes in two variants, DX is priced at 50,680/- and VX at 53,680/- while the all new Access 125 is priced @ 53,887/- (All prices Ex-showroom, Delhi). There hasn't been much difference in terms of price, but Gusto has an advantage of 3k less for remote less model. We expect both the competitors to chuck out over 50kmpl, while both the companies claiming almost similar mileage figures of 63 and 64 Kmpl.
On one hand there is Mahindra Gusto 125 which comes with loads of features, few of them are in fact industry's first, on the other hand there is Suzuki Access 125 which already proven its name in the 125cc scooter segment and now has come with improvements. Apparently there will be two major factors that will come into play while making buying decision by the buyers between these two new scooters in the market- one is the features what you get at a given price point on Mahindra Gusto 125 and the already established brand image of Suzuki Access 125 along with Suzuki's bigger sales & service network which is evenly available across the country.
So if you are looking for a scooter with a difference and you are one person who loves to enjoy the features on your ride as much as you actually love to ride your scooter, then you should choose the Mahindra Gusto 125. But if you are looking for a no nonsense scooter with lots of improvements from its previous generation model then the new Suzuki Access 125 should be your choice.
By:
Rakshit Shastry