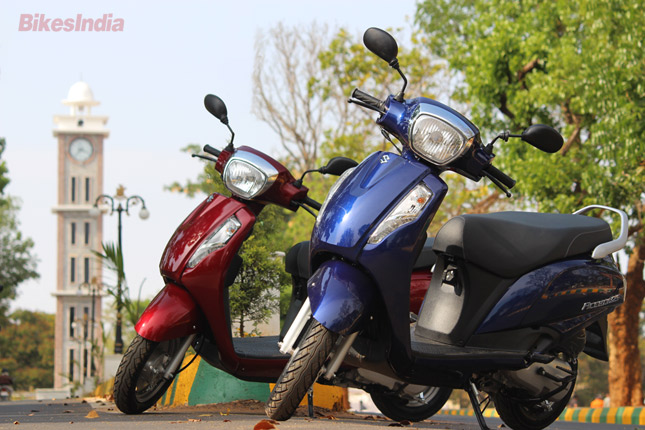 The all new Suzuki Access 125 was launched in Delhi last week and as we expected it's a brand new scooter from every possible angle, chassis, engine, electric start, everything is new. The manufacturer has kept the scooter class in mind to overtake competition from all leading scooter makers in India.
With competition increasing day by day, there is some serious revolution going on in scooter segment. Every other manufacturer would turn up with some new features never seen and heard. The very product design work of every competitor makes them stand out of the crowd. So we chose to ride and review the all new Suzuki Access 125 and see how really it does well on our roads. Let us take you a walk through about its looks, built, performance and every bit of the new entrant.
Design & Style: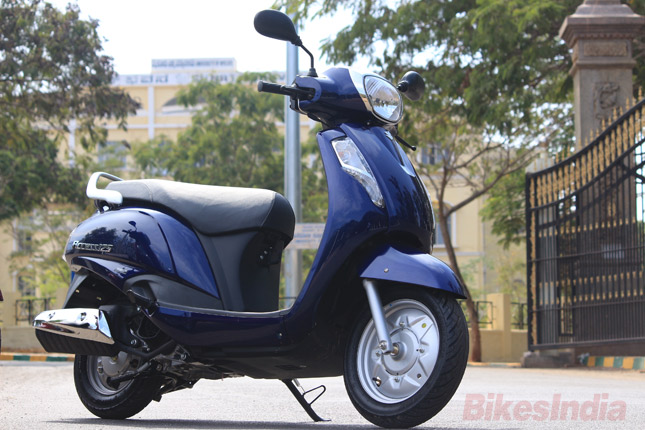 As said previously, who doesn't like to own a stylish scooter for one's own use? The very first thoughts of an average Indian commuter will be the looks, price and the mileage. More often these days' people are opting for retro style designs just like Yamaha Fascino doing decent numbers.
There lies a pocket right next to the mobile charging unit which is optional. The front part of the scooter has been designed to a retro look which really is eye catchy. The side fenders are kind of aerodynamic which also houses 3D ACCESS 125 logo and SEP sticker on it. Muffler has been covered with chrome which major population looks at. The Mirrors supports should have been added thickness to look good. The thin support makes it look for the spectacular body design. The tail lamps are something to look at; they are eye catchy and stylish. Though one might not notice seriously the alloy wheels are not standard but optional which might be introduced later this year.
Engine & Performance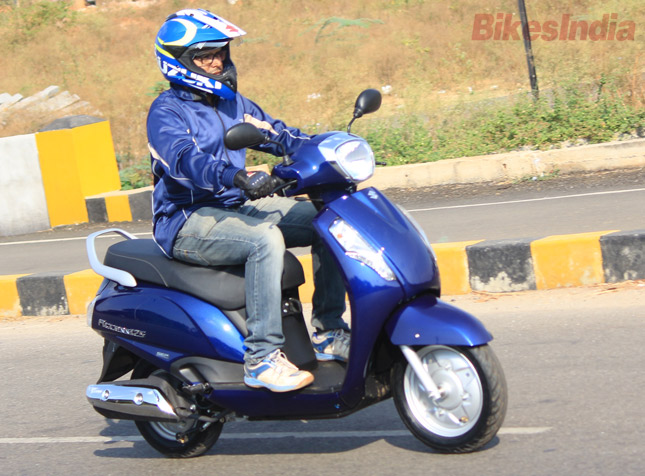 Engine is something which most of us worry about while buying any vehicle. But as the history says Japanese are good at their machine job, one would like to really see how it works, even if the machine doesn't deliver what is expected they get back to their labs to get what they want. The all new SEP engine by Suzuki done for Access has been refined and given to the market.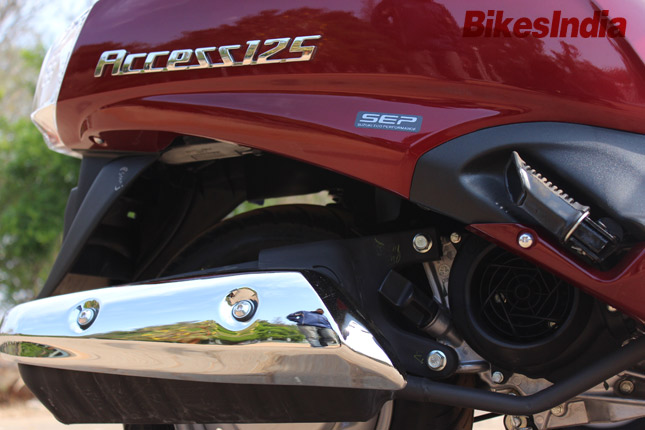 Engine sounds smooth and it runs smooth too, which make the numbers as follows, at 7000 rpm new Access 125 produces 8.7ps while the pulling capacity is 10.2 N-m @ 5000rpm. The displacement is 125cc powered by Suzuki Eco Performance which has increased the fuel efficiency and stability. At an ease Access can reach 75kmph with pillion rider without any vibration on 'highway'. Well the mileage would return in good number in economy mode and style of riding. One can expect 50+ kmpl.
Ergonomics & Riding Dynamics: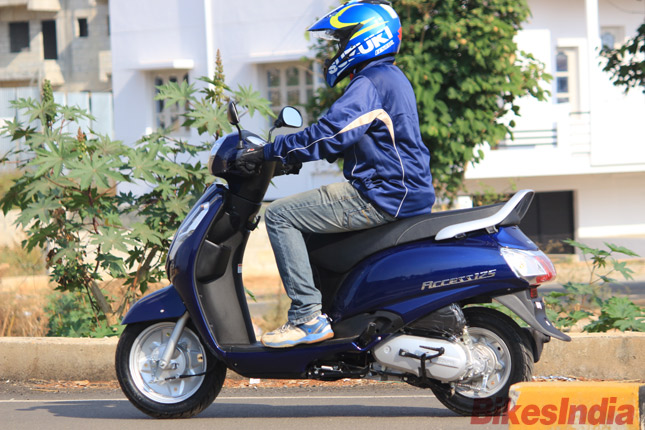 The major concerns of a scooter are its ergonomics and ride quality. How comfortable is one while riding, do I get to see things properly in the instrument cluster, are my legs reaching ground when I stop? Is the space enough for two? Well majority YES, but the female population might feel difficult to rear ground when stopped or while stopping the scooter. We felt the seat height should have been less for the female population.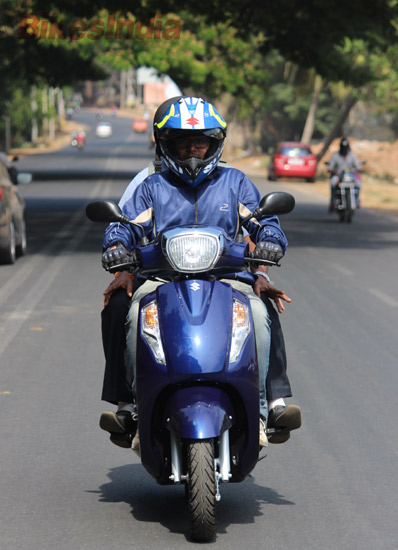 While riding the instrument cluster and switches are reached easily, easy to look at the digital speedometer, indicator lights. The seats are comfortable for two. Suspension is normal nothing exceptional in its smoothness when comparing to its competitors. While it is improved from its previous generation machine. There is scope of improvement for Access to make much before the update is given by year end.
Instrument Cluster & Switchgear: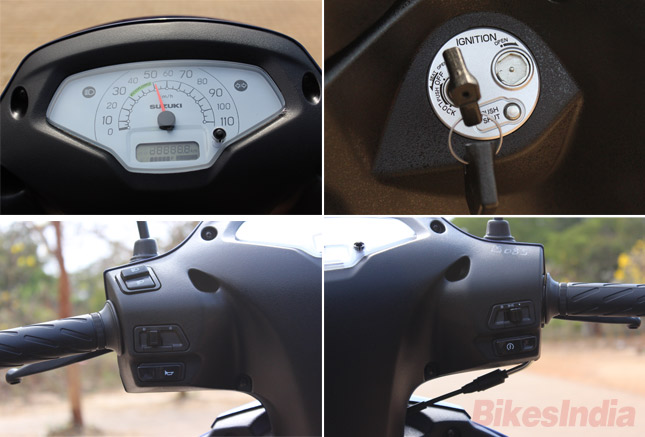 The instrument panel in plain and neat, easy to find the numbers in the digital meter which also includes two trip meters A & B. It also has space for fuel meter and the unique feature of Oil change indicator which helps the rider to keep an eye on the regular health check up of the scooter. This is something the customer might look for while buying a scooter packed with unique features. It also houses high beam indication and direction indicators. One can reset the trip meter also.
All the plastic switches are of good quality and are reachable within the boundary. The easy start button is user friendly, no need of accelerating once you press the switch. The dip dim switch is present and a pass switch is much needed which would allow them to be a complete package.
The Ride: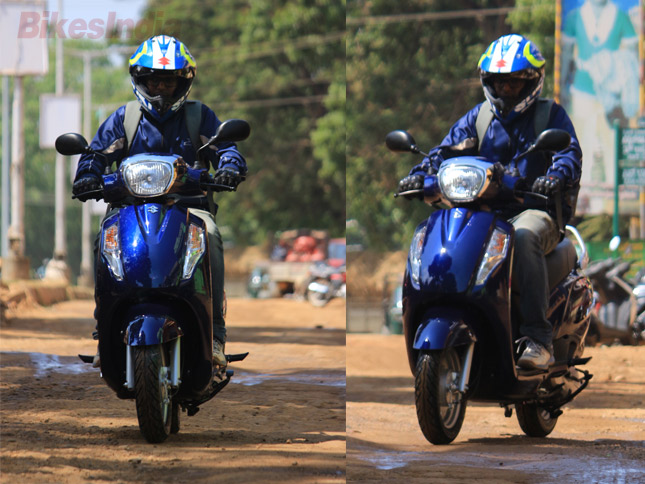 The motive was to test the scooter's overall capabilities, so we planned for a ride which had to cover couple of terrains. Once the PDI was done the very first terrain was muddy and gravel road. The suspension was put to work; this is one place we found that it needs to be improved a bit. Though it handles decently it needs to be refined in future for better comfort.
Next up was the normal city roads which tested the braking and acceleration capabilities of new Access 125. Acceleration is good for two in city traffic not too much not too less; we guess this is to do with the mileage hike and better handling. While the braking part is good when both the brakes are applied together. No complaints by the pillion rider about the comfort.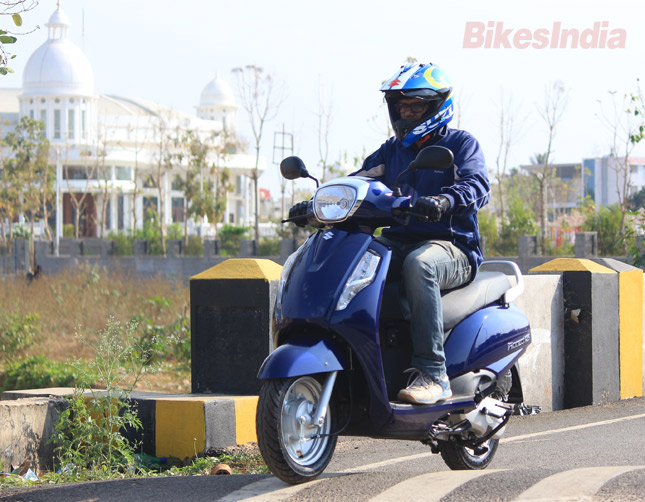 Moving away from the city the spacious, traffic free ring-road and highway welcomes you which had something for us to smile. Such a smooth ride it was cruising at 70 odd kmph was noteworthy. Stable at such speed with pillion rider and it added nearly 10 more to 70 during solo ride. The initial pickup with solo ride is too good, just made for the family chaps to go ringa ringa. We expect the scooter to deliver progressive mileage of 50kmpl which also depends on ones riding style, maintenance and road condition.
Added Features: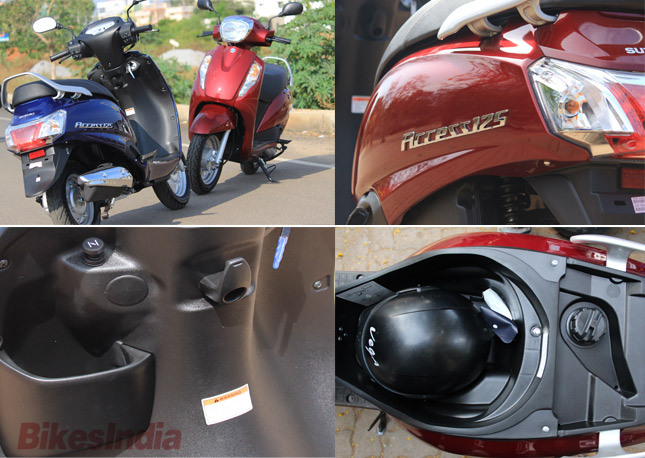 The seat height might be a question for the average Indian female population. Be it a 125cc scooter but when it comes at a price of a 110 cc vehicle one can definitely give a thought about new Suzuki Access 125.
As the number speaks the engine is refined and gives a good exhaust note too, pleasant to hear. There is an option for USB below the instrument cluster which also houses a pocket to place the mobile phone or water bottle for immediate reach.
Need to carry more luggage?? There is enough space for keeping a full face helmet below the seat which makes it largest in the segment. These features might attract customers who want to see something new in their scooters.
Verdict: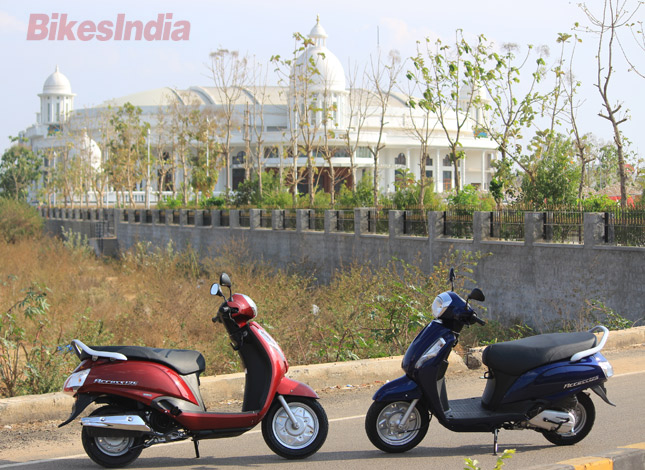 Having couple of options already in the market can one buy new Access 125? Well it's a mixed feeling at couple of things, but there are many more positive things to look in the scooter, which makes it strong contender in the 125cc auto scooter segment especially at a given price tag.
KPR Suzuki is located at heart of the city in Mysuru, an easy reach for the customers in the town. They expect the new product to roll out in good numbers.
Review By:
Rakshit Shastry
Picture Credit:
Veeresh Veeru
Scooter Credit:
KPR Suzuki, Mysuru
.