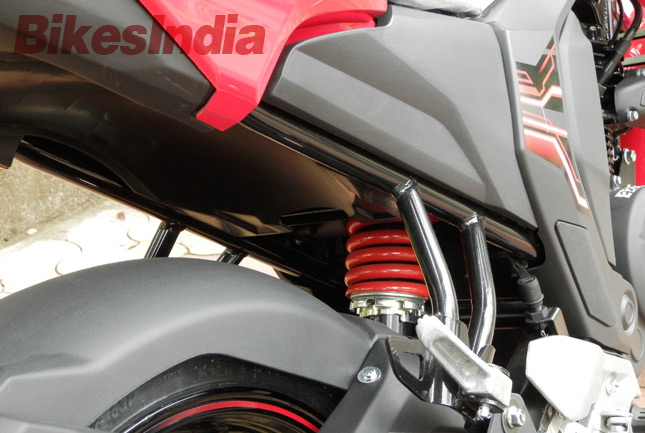 In a brand new series of "Do It Yourself" today we are discussing about adjusting rear Monoshock suspension of Yamaha FZ-S Version 2.0. The latest 150ccc fuel injected version of FZ from Yamaha has 7-step adjustable rear Mono suspension. The feature of adjustable Monoshock on one hand is very handy and on the other hand due to ignorance it is seldom utilized by the rider in real world scenario.
In reality you often feel the necessity of adjusting the Monoshock setting as per the payload on your bike and while you are running on different terrains. The 7-step adjustable monoshock of Yamaha FZ-S is very useful in the above mentioned situations and with proper tool and guidance doing it is even more easier than you presume.

For adjusting the Monoshock on different settings you need to get a special "Puller" or wrench and that you can obtain from any authorized spare parts dealer of the company, if it has not come with your regular tool kit. Keeping that Puller with your tool box is a must for altering the suspension setup as per your requirement, the puller is not expensive either. You can inquire your nearest spare parts dealer (Service Center) about the pricing of the tool.
The Monoshock comes with the stock setting of level three "3" which is a medium setting, neither too stiff nor too soft. The Number of the setting goes from 1-7, where 1 being the softest and the 7 is the maximum hard setting for the suspension.
If you want your suspension setup to be stiffer you need to turn the puller "Clock Wise" and for softer suspension setup you need to turn the Puller "Anti- Clock Wise". It is recommended that you should alter the suspension setup one by one to find the suitable setup for your ride.
Watch the video for getting more real life experience and don't forget to tell us how did you find our latest series of- Do It Yourself. Do let us know what more you would like us to include in this series.
By:
Farhan Kashif