This ownership review is a part of ongoing
"Review Your Ride"
Contest, you can also take part in it and get a chance to win exciting prizes.
How I Got Her….
It all started as usual "Dad, I want a bike". And the reply was quite predictable from a father's perspective "Noo … , never!!!! Besides you do not even have a motorcycle riding license." So I decided to get a license and got a trial learner within 3 weeks. Now to give the riding test at Asansol court after a month and I did not have a bike to ride. So again the same nagging with my dad happened for one week till he finally agreed but in 50k-60k INR range. Now I searched for the bikes in the range and came up with options like Hero Splendor, Passion and Glamour along with Honda CB Shine. I did not go for Bajaj products.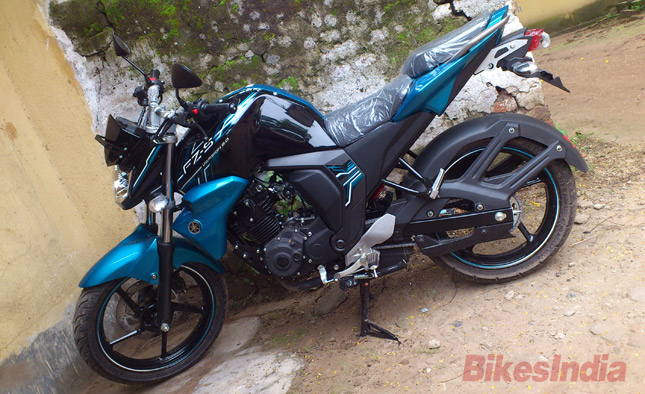 However one day when I went to a Yamaha showroom I saw an Astral Blue FZ-S V2 showcased. The sculpted tanks and the Blue Core emblem caught my attention. On inquiring the sales person I got the details like 149cc engine combined with a 5 speed gear box producing raw power of 9.7kw/8000 rpm and a maximum torque of 12.8 N-m. The rear wide tire and the front 41mm hydraulic suspension were awesome and I FELL IN LOVE WITH HER. I went back home with a heavy heart knowing that the price was 95,500 INR then.
When I finally told my dad the price he ruled out any possibility of buying that bike. But there I was again with my shameless nagging skills and he finally irritated gave me the permission. So on 20th August 13, 2014 I got my FZS FI V2. I wasn't a good rider then so a friend of my father rode it all the way home.
Learning Her Likes And Dislikes
In the evening I went to a local field to familiarize myself with the single shift gear mechanism and the controls. It was difficult first but soon I got a hold of that easily. After a few laps the bike felt really smooth and crisp and I could control her with just a flick of the handle. It became a head turner soon and felt very proud of owning her. I was the only person in my city to own this bike for an entire month, later other people bought it.
I did not ride a quite lot and in the first servicing I barely clocked 308 kms on the odometer. The regular maintenance jobs and the engine oil change, Teflon coating, double horns etc ended me up on a 1200 INR bill. On returning through the highway I clocked 115kmph and got quite excited. But then I started to think of the riding gears. So during the time I bought a Helmet, gloves, riding jacket, knee guards and biking boots. This is a pic to show how I look on highways now.
Over the time I have myself learned to do the minor things like washing the bike's typically unaccesable areas, cleaning the chain and sprockets, airfilter, checking on the wiring etc as the showroom guys charged for everything and that was pretty annoying.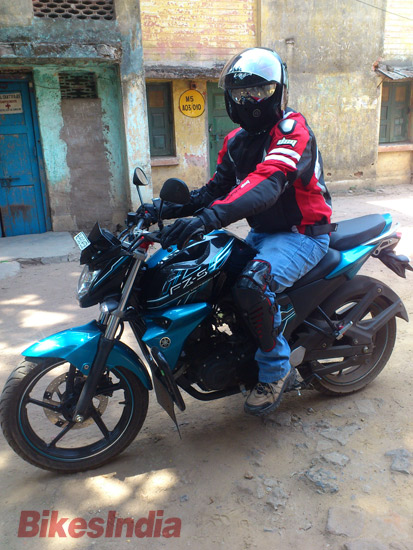 My Experiments And Cares
I ride around quite a lot nowadays. I changed my engine oil and I am currently using the Yamalube 15W-50 though the company recommends 20W-40. I find that the pickup increased a lot. The 15W is also a better variant as this is semi-synthetic oil compared to 20W-40 mineral. The fuel consumption also reduced giving better mileage of around 50-60kmpl when I ride on highways at steady rpm of 4 to 5000. In the city ride I mostly ride in 3rd gear due to traffic and end up at 40-45kmpl.
I often thought of upgrading to K&N air filter or free flow exhaust but it would void my warranty so I kept her the way she was. I clean her at regular intervals with AMWAY CARWASH and use AMWAY SILICON GLAZE to polish her. I love and so I use only the best for her curvy body. The drive chain requires a special attention as it is exposed to open so I clean it every 500kms with petrol and then with a mild detergent. Then I thoroughly spray the front rear sprockets and the chain with Motul chain lube.
Bike Parts
The meter console is fully digitized and helps u to read the various info effortlessly even in the bright sun. The eco indicator is helpful to maintain the fuel economy. The headlamps are okay and so are the indicators and tail lights. The front disc brake is powerful and comes to play in congested traffics and to do burnouts and stoppie!!! The rear is just up to the mark but together they do the job of braking very efficiently.
I corner on long highway curves at 80-90kmph and the bike is very stable due to the wide rear tire. The minor potholes are effectively dealt by the front 41mm suspension and the rear 3 way adjustable monoshock. The bike vibrates a little between 60-70kmph range at 5-6000rpm. But crossing it, it becomes road biter again. The panels are prone to scratch as they are made of fiber so I handle her delicately. In this one year I damaged by clutch plate due to excessive burnouts and revving hard on roads sometimes. I got it replaced with a new set costing me 800 INR. The rear brake pads are to be replaced next and they will cost me 300 INR. The rear mudguard was huge and felt blank so I stickered it with the racing number of my idol VALENTINO ROSSI- 46.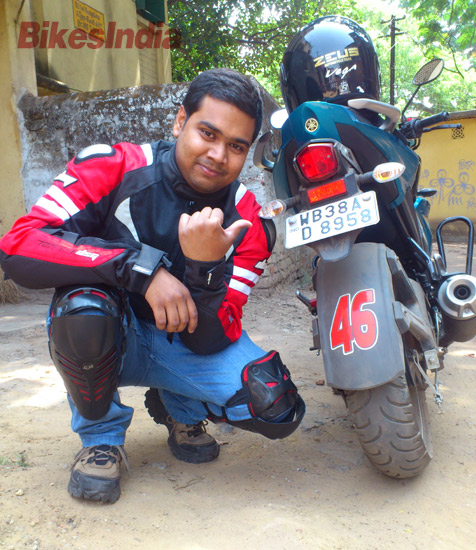 When She Nearly Killed Me
My bike back stabbed me quite recently when on highway at 105kmph my fuse in the relay coupler blew off and all the systems went offline. I called the showroom guys and they guided me on phone how to replace it with a spare one. The short circuit occurred due to the additional 2nd horn I put. So I would ask all bikers to keep the add-on electronics wiring to a minimum.
Over this one year relationship with my bike I have learned her quite a lot and I travel with her to many places often. I love her for the awesome performance fuel economy and low maintenance cost since the beginning of our relationship. I will love her till she breathes the last puff of petrol fumes… VROOOOMMMM…!!!!!!!
-Koushik