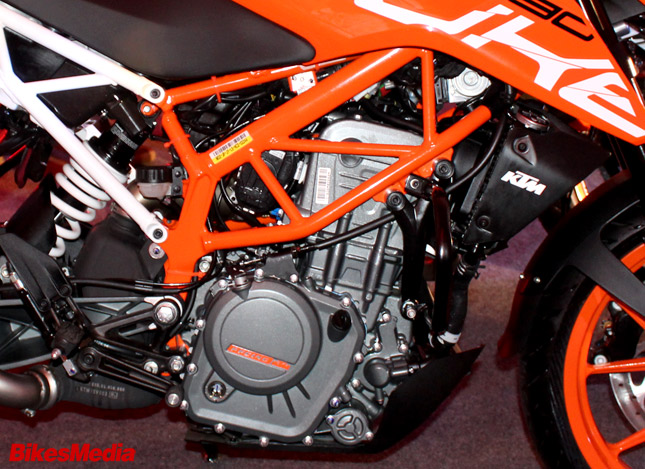 It is great when we grow, bigger and better; and as BikesIndia has turned a new leaf towards a new era as BikesMedia, I feel proud to have been a proud contributor in whichever small way that was possible. It is my bad luck that I have not been able to contribute to BikesMedia as actively as before, but you can never take a member out of a family just because they missed some moments. And with the same enthusiasm, I am back with some more biking "gyaan" for our avid readers, bikers, and fans.
I had covered the launch of the new BSIV and updated range of the KTM Duke and RC series of bikes and one very prominent feature in all the new bikes was an EVAP system which did catch my eye. It was a very small contribution for a large impact for the environment and the bikes. So I felt like sharing my thoughts and some information about the EVAP system and its functioning in bikes.
EVAP is an abbreviation which stands for Evaporative Emission Control System; yes, the name doesn't really match the abbreviation, but sometimes you have to go with things the way they are. Anyway, the main role of the EVAP system is to ensure zero fuel loss from the bikes through evaporation either from the fuel tanks or the fuel lines. It is bad enough with the rising fuel prices that you have to pay more for fuel and your bike is drinking it all to run, but losing more to evaporation, hurts even more. It is estimated that a bike loses about 2-5% of its entire fuel load over a period of a month if kept idle. Now do not hold me on those numbers, but it is a pretty rough estimate.
RELATED ARTICLE: Effects Of Sunlight On Your Motorcycle
What I do know is that the bikes should not lose that as fuel when evaporated has the potential to cause greater harm as it can contain nearly 150 different types of compounds in it such as Benzene, Toluene, among others. Here is where the EVAP system comes handy. In an EVAP system, greater care is taken to make the fuel tank lid airtight, and the fuel lines absolutely leak proof. This way, if there are any fuel fumes that might form in the fuel tank, they get routed towards a charcoal canister which has the capacity to absorb the fumes and store them until necessary. This system is actually present in cars since the 1970s; bikes have received them recently, but better late than never. The EVAP system does add weight to the bike, but this is one weight that one can live with.
RELATED ARTICLE: Utility Of Motorcycle Breather Hose Explained
Not only does the EVAP system restrain the fumes from escaping, but overtime, the fumes from the charcoal canister can also be reused back to burn. This provides improved fuel efficiency for the bikes, though not by much, but every drop counts. And if you calculate the overall savings from the EVAP over a period of say a year, it is quite substantial, especially if you are a medium to heavy bike user.
RELATED ARTICLE: Motorcycle Air Box De- Snorkeling Explained
Now coming to the maintenance of the EVAP system, this is the best part; they are virtually maintenance free. There is no regular maintenance or cleaning of the charcoal canisters required. Moreover, the cost of changing the charcoal canisters is not that high, the owner would not even feel that much of a pinch either consider the large interval of change. So all in all, it is a win-win situation for the bike owner and the environment as well.
RELATED ARTICLE: 5 Tips To Get Maximum Mileage From Your Motorcycle
And that is the wrap on EVAP; small things like these have large real world impacts which we take for granted. With the new BSIV emission laws being enforced in India, EVAP system has been made mandatory on bikes. This is expected to drive up weight and cost of the bikes, but in the long term, it is going to pay for itself through fuel savings and improved vehicle efficiency.
By:
Pratik Patole