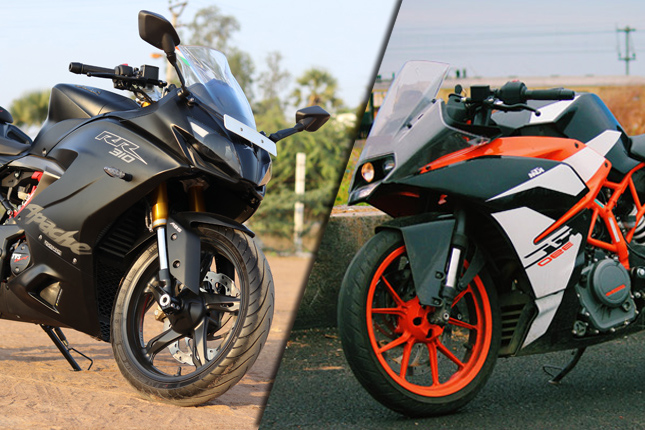 The 300 cc segment is becoming crowded every month. We have Benelli, KTM, BAJAJ, KTM, Kawasaki, TVS, Royal Enfield and much more competing for a piece of the growing middleweight segment. In here, we have several classes of motorcycles, ranging from cruisers to classics, to café racers. But it's the entry-level Supersport class which has raised the roof in terms of outright performance. Earlier the crown of the best supersport in 300-400 cc range was associated with KTM's RC 390 but the recently launched Apache RR 310S offers almost the same performance at a better price point. Now, instead of just comparing the specs, let's compare their everyday functionalities and decide which one is better worth your money.
Ride quality and comfort: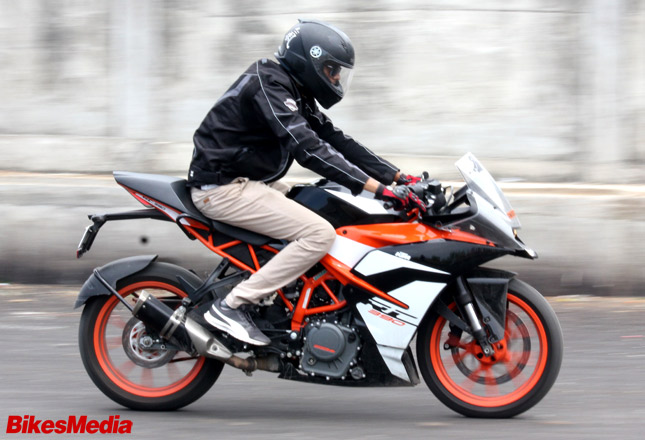 The seating position of the RC 390 is super aggressive. You sit fairly bent forward with your arms positioned way down because of the lowered handlebars. It's a sure shot way to suffer from back pain because just after riding 30 minutes in traffic your lower back will start screaming. Not to mention you are sure to visit a physiotherapist if you plan on touring this bike.
Apache RR310 S has a comparatively more upright stance and the overall seating is less aggressive. The raised seat coupled with slightly raised handlebars gives you a sporty yet comfortable posture. It's like the seating on a Pulsar 180 just more performance focused. This point is important because only a few of us who buy an entry-level sports bike, take it to the track. Rest of us just spends our day's riding it in traffic and on the highway. If you are one of those "track guys" then ignore everything I have just said.
Petrol fill-ups: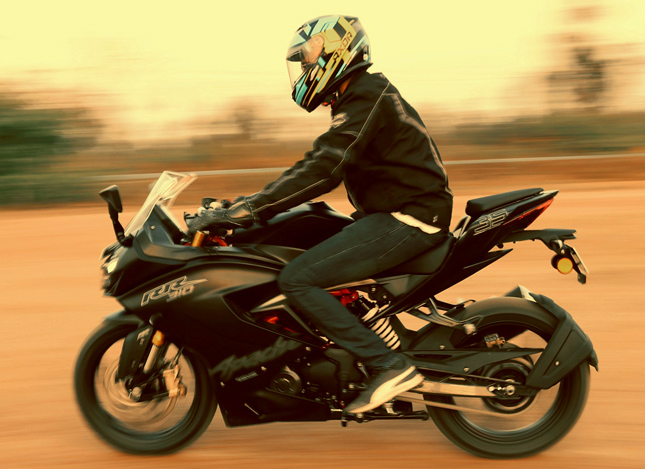 The phrase that "We are a country obsessed with mileage" is stupid because petrol costs around Rs 75/liter and many of us are severely underpaid. So Fuel efficiency and petrol filling are important topics. Now, The KTM RC 390 has a 9.5-litre fuel tank and it returns a fuel efficiency of 25 km/l, this gives us a range of 237.5 km between fill-ups.
The Apache RR 310S, on the other hand, holds 11 liters of fuel and gives a fuel efficiency of 30 km/l. Thus giving us a range of 330 Km/l. It's pretty clear who the winner is in this department.
Flickability in Traffic: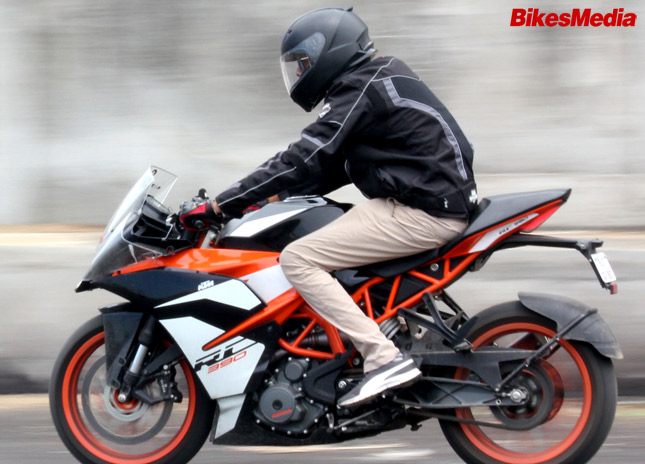 Every normal human being hates traffic; we just want to get away from it as quickly as possible. The RC 390 has comparatively more torque than Apache RR 310S so naturally, it is the bike to choose for in stop and go traffic. The aggressive seating position becomes a bane, especially in traffic. So much so that you wouldn't even mind using the 27 NM of torque present on the Apache RR 310S. It is more than enough at 27 NM. The fact that it's an Apache ensures that the bottom end torque is sufficient and readily available.
Pillion comfort: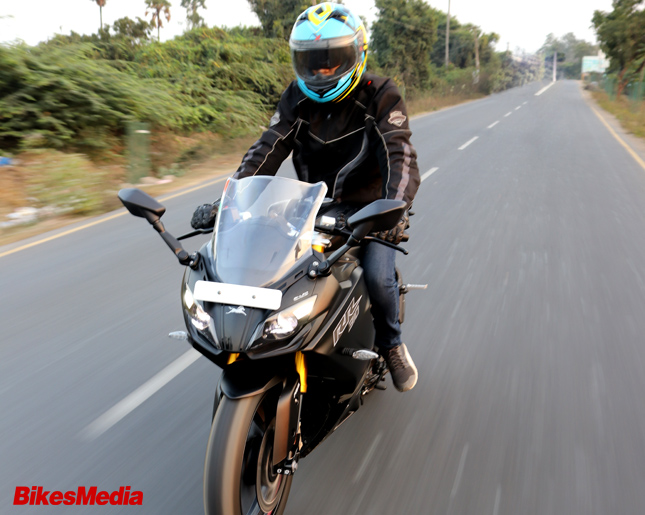 If you don't have a girlfriend who is petite and small then no need to bring them on either of the motorcycles. In short Pillion comfort on both of these motorcycles is not good.
Servicing:
Both the bikes are same in terms of Servicing because both of them use top of the line quality equipment on their motorcycles and they have almost the same number of service stations. The last sentence might come as a bit of a shock but it's true. Though TVS has a number of service stations many of them are not equipped to service the Apache RR 310S. It is confirmed by many Dealership owners, especially who are based in small towns. KTM, on the other hand, doesn't have showrooms in small towns and cities. Thus TVS and KTM almost have an equal number of service stations.
Value for money: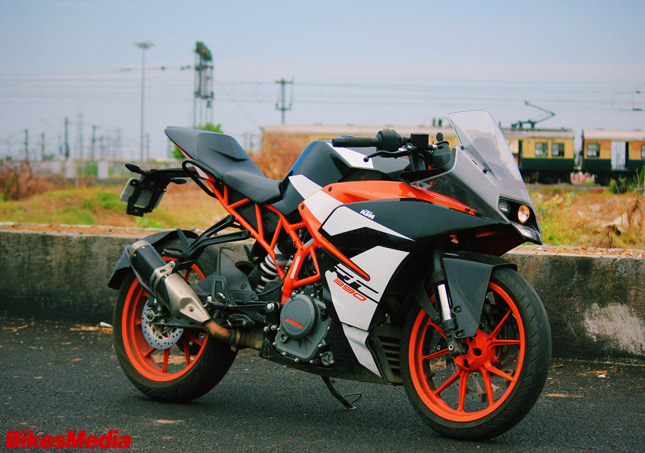 The RC 390 gets adjustable levers, USD, a powerful engine, and supersport ergonomics at Rs 2.36 Lakh showroom price. The Apache RR 310 gets USD as well, the engine is a little less powerful than the RC and instead of supersport and adjustable levers, it gets a slightly forward stance and TVS' own version of the quick shifter.
The specs of both of these Bikes are as follows:
KTM RC 390:

• 43.5 PS of power @9000 RPM and 36 NM of torque @7000RPM.
• Liquid cooling with Fuel Injection
• Trellis frame
• Slipper Clutch
• Adjustable Levers
• 170 Kg kerb weight

Apache RR 310S:

• 34 HP @9700 RPM and 27.2 NM OF torque @7700 RPM.
• Liquid cooling with fuel injection
• Trellis frame
• Patented Shark Gill fairing
• 169.5 Kg kerb weight
If you want an easy going city sports bike and a comfortable sports tourer then there is no better choice than an Apache RR 310S. If you want to beat Toyota Fortuner in a drag race and put BMW's to shame on the highway then buy a KTM RC 390 and mod with a custom ECU mapping and performance exhaust, you won't exactly win but it will be a lot of fun.
By:
Yetnesh Dubey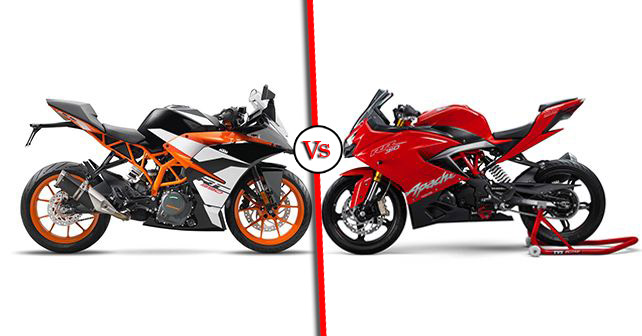 With TVS Apache RR 310 being launched, the KTM RC390 now gets a rival in terms of pricing and capability. Both machines are bred for the track with sharp handling and killer looks. While the KTM RC390 has sharp aggressive lines the Apache RR 310 has smooth curves with chiseled bodywork. Here's a quick head to head comparison between both the motorcycles.
Looks and Design: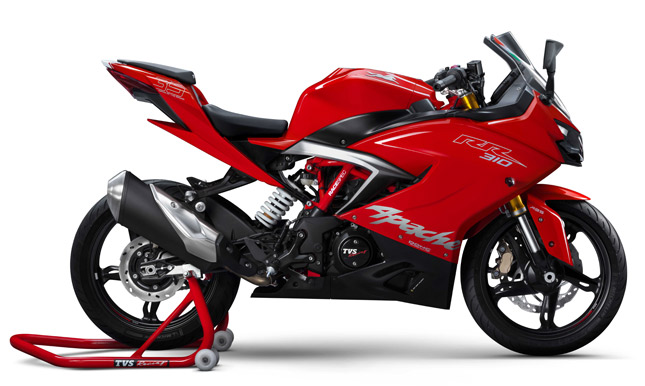 The KTM RC390 has a super aggressive design using all those experience gained through Moto3 championship. The bike is sharp and very much compact to give the rider a good feedback. On the other hand the TVS Apache RR 310 is an indigenous design inspired by Shark. Though the motorcycle seems to have taken some inspiration from the Ducati 1199 Panigale, the design looks fresh coming from an Indian manufacturer.
The rear end of the motorcycle looks a bit overdone as it gets very thick below the pillion seat. The Apache RR 310 retains the design cues from the concept Akula motorcycle. The motorcycle is curvy with smooth lines over the fairings, while the RC 390 has a sharp and aggressive design.
Engine and Performance: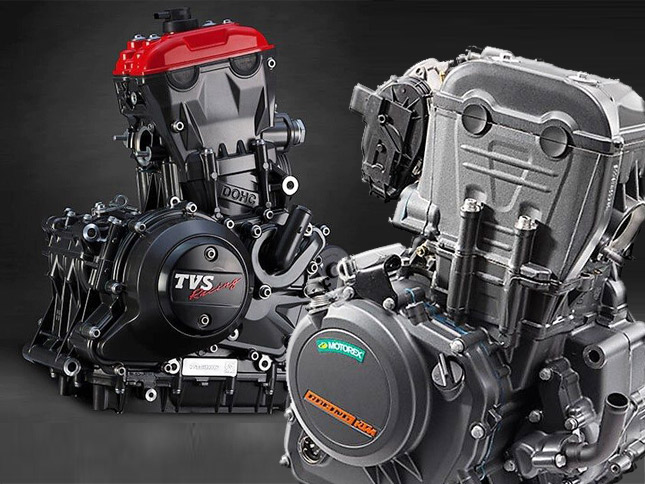 The KTM RC 390 has an advantage by a large margin, as the motorcycle gets a 373.2cc liquid cooled which makes a good 44 PS at 9,000 RPM and 36 Nm of torque at 7,000 RPM. The Apache RR 310 gets a 312.2cc liquid cooled engine which churns out 34 HP at 9,700 RPM and 27.2 Nm of torque at 7,700 RPM. The RC 390 gets a slip and assist clutch which is missed out on the RR 310. Both motorcycles get Fuel injection system and ABS as standard. RC 390 also gets a much advanced ride by wire throttle system while the RR 310 has conventional throttle cables.
Brakes, Chassis and Suspension: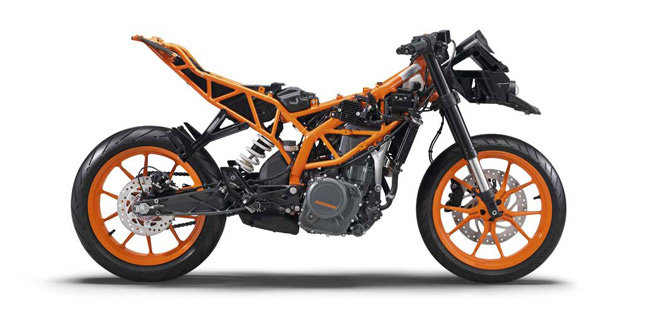 The KTM RC 390 has a steel tubular powder coated trellis frame, while the RR 310 also gets a steel trellis frame. Braking duties are carried out by 320mm disc four pot calipers and 230mm disc on the RC 390. The Apache RR 310 has a 300mm petal disc up front and a 240mm petal disc at the rear. The RR 310 is suspended by inverted cartridge telescopic USD forks from KYB at the front and the rear gets a KYB gas assisted mono suspension. Both motorcycles have similar tyre profiles at 110/70-R17 and 150/60-R17 respectively. The RC 390 gets Metzeler M5 rubbers while the RR 310 saves some money with Michelin Pilot Street tyres.
Find Out Detailed Technical Specification Comparo Of TVS Apache RR 310 and KTM RC 390
Final Verdict:
Both RC 390 and Apache RR 310 are exceptional motorcycles to ride, be it on the road or race track. When put together head to head, the KTM RC 390 has a slight upper hand over the RR 310 in terms of specifications. The RR 310 is still close to the Austrian baby, while offering superb ride quality and comfort which is missed on the KTM. The RC 390 is priced at Rs. 2,34,300 (ex showroom Delhi) and the Apache RR 310 retails at Rs. 2,05,000 (ex showroom Delhi). As far as pricing is concerned the new Apache has a good 30k advantage over the RC.
OVERALL WINNER:
50:50, We leave the choice to you. Meanwhile wait for our RC390 vs Apache RR 310 road shootout to know which bike takes the crown.
By:
Aravind Rb