There are different categories of motorcycles - cruisers, sports bikes, offroaders, tourers, café racers, scramblers, bobbers, sidecars and even mopeds, but in India only the naked street bikes rule the roost. My review shall be of one of the most formidable competitor in this segment: the TVS Apache RTR 160.
Amidst all the reviews of KTM's, Pulsar's, Ninjas, Enfield etc. there is only a few bikes which had maintained its legacy like that of the legendary TVS Apache RTR series. Available both in 160 and 180 cc variants, it is the most affordable commuter-cum-street racing bike in the sub 1 lac/- segment. It is for this reason that this bike is still selling in good numbers without any technical modification since long. The word RTR (Race Throttle Response) lives upto its name of unleashing the beast within this monster on two wheels.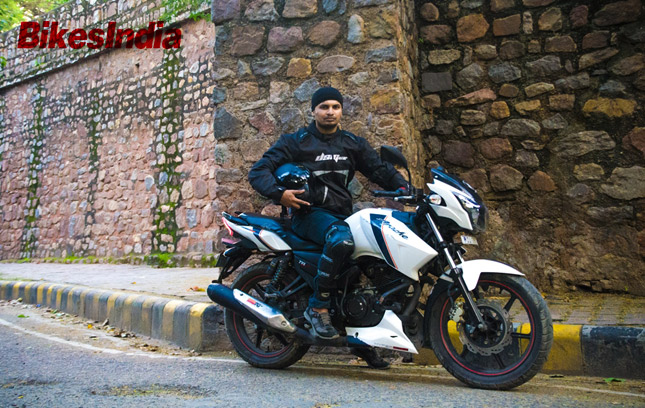 Hello friends, I am Sabi from New Delhi and here is my long-term ownership review of Apache RTR 160 aka "Beast" post 12,500 kms. I had purchased the Apache back in September 2014 after selling my 3 years old Bajaj Discover 100cc. The prime reason for selling the Discover was because it was basically a commuter bike with average power which forced me into feeling that an upgrade is necessary keeping in view the power and looks quotient. So after extensive research, I finally zeroed in on the beast because it was the bike which was light on the pocket (yeah, only Rs 82,000), high on power, good mileage, hassle free maintenance and a rev happy engine. (This was the period when petrol prices were too damn high and performance bikes of the likes of KTMs, Ninjas, REs were too costly).
In 2009, TVS introduced a bigger capacity update to their first member of the family, Apache 150. The almost similar looking TVS Apache 160 provided the masses with those crucial extra horsepower that the RTR's DNA really deserved and thus the RTR of today was born. Taking the fight straight to the Pulsar 150, the RTR 160 proved to be a worthy candidate for TVS to stake its claim. However, ever since then there has been a curious lack of updates from the Hosur based manufacturer, besides of course some major cosmetic changes in 2013 (including the new beast visor and the DRLs, i.e. Day Time Running Lights) but that one big change belied its impact. It was given dual disc brake option to help its braking duties and TVS left the ENGINE KILL switch open to the rider. The model I am reviewing here is the single disc brake version. The TVS RTR advertisements claim its racing DNA unleashed. Lets find out what lies beneath!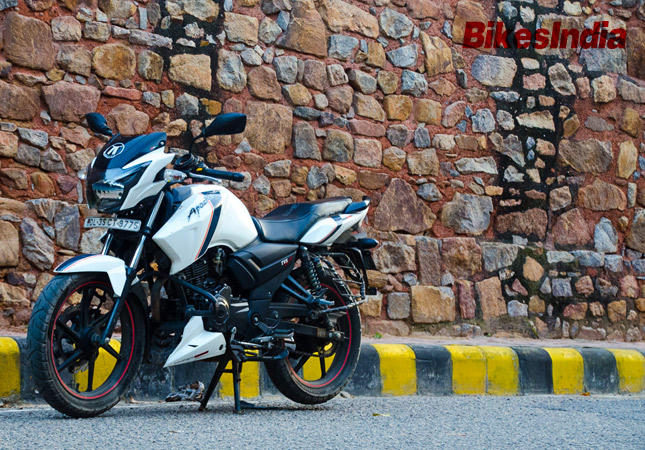 LOOKS:
The RTR line-up's looks either makes it or breaks it for a rider. There is no middle way; you either love the looks of the RTR or you hate it. As aforementioned, it is a naked street bike, as such it lacks fairings. The bikini fairings (in case of the 2013 onward versions) lends quite a contemporary modern look to the bike in contrast to the plane-jane old looks of the pre 2013 line-up. However, the looks department is always a matter of perspective and I am pretty sure that there will be quite a few detractors of this opinion holding that there was no match to the looks of the old Apache – which was one of the most discreet looker of its time.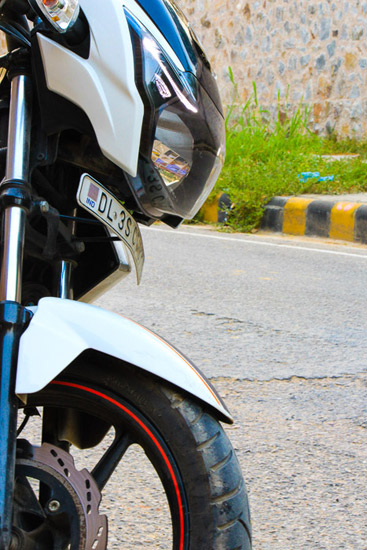 The bike had been provided with an always 'on' LED (DRL) also known as beast eyes. The only difference from the old Apache is the all new bikini fairing and DRL head. The bike comes with curvilinear fairing which definitely attracts second look with aerodynamic advantage. While there are many who felt that the big headlamp, coupled with DRLs and a steeply devil-may-care visor, blessed the bike with some new found aggression, others felt that the manufacturer has gone a bit overboard and the designing of the new fairing is just too flashy for its own good.
Whatever be the case, I however, believe that a distinctive styling such as this grows on you with time and the new fairing doesn't rob the Apache of its aesthetic appeal. Not to forget the large tank scoops and the engine cowl which are neatly done and are a lot edgier then the old version. Both of these are complimented with discreet designing involving stickers and vinyls.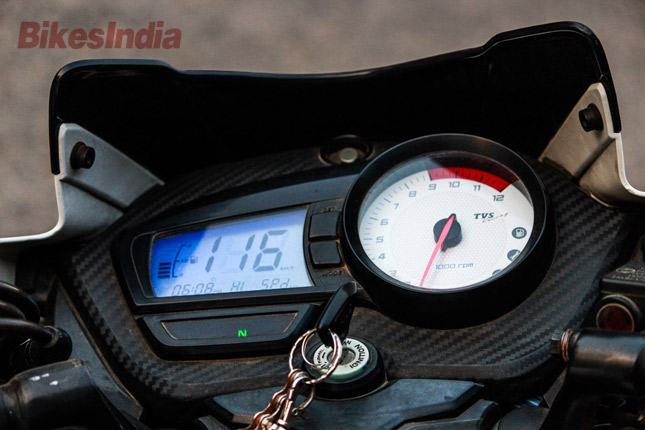 On the inside, bike had the racing style instrument panel consisting of both digital and analog information. The blue backlit console shows digi speedo, time, Odo, 2 Trip Meters, Top Speed, 0-60 timings and a RPM analog. The cool blue back light of the console is soothing and looks good at night. Also the rear pillion footpegs and clutch and brakes levers are aluminium alloy adding to the racing genes. To protect bike from muddy splash in rainy season and to display its racing prowess, detachable dual mudguards comes with the bike.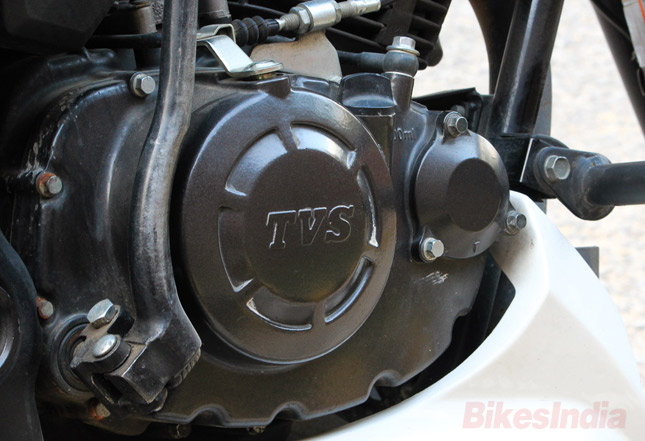 ENGINE AND PERFORMANCE:
This is where the bike stands class apart from its competitors. The bike is powered by a 159.7cc carbureted engine which emits a peak output of 15.2 BHP @ 8500 RPM and a more than enough pulling power of 13.1 Nm @ 4000 RPM. Start the engine and you will sense the immense raw power and torque at your immediate disposal. The engine isn't about the grunt, it growls like a true beast. Step on the first gear and there's a nice buildup of revs. Engine responsiveness is damn good and the icing on the cake is the low end torque- 0 to 60 can easily be reached in merely 5 seconds!!!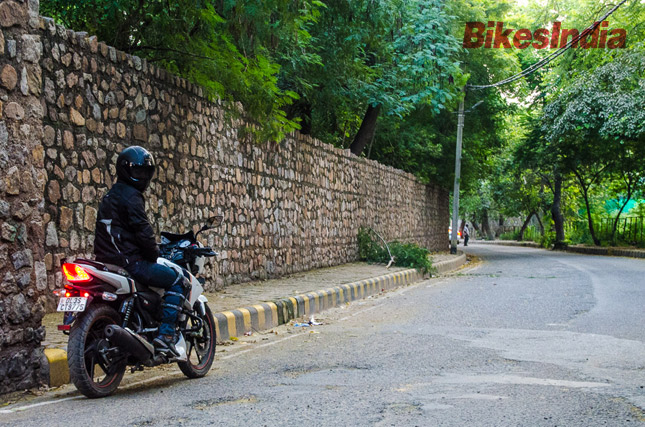 Although you may not find engine as smooth as in FZ's, Honda's, Hero's but the power and efficiency of this bike will make you forget that. Also the engine is peppy and responsive till 6k rpm and after that the infamous "vibrations" crept in making the engine exhaustive reaching 100+ kph. But hey, remember its just 15.2 BHP!!!
RTR
The so called term as given by the Tvs engineers refers to the racing-throttle-response of the bike hence the name "RTR". A slight twist of the throttle and the bike jumps in like a beast. Unless you don't have KTM standing next to you on a traffic light, you can easily outdo the rowdies on their modified pulsars, CBZ's, Bullets and give them a chase of their lives. The best thing is the RTR works in all RPM ranges.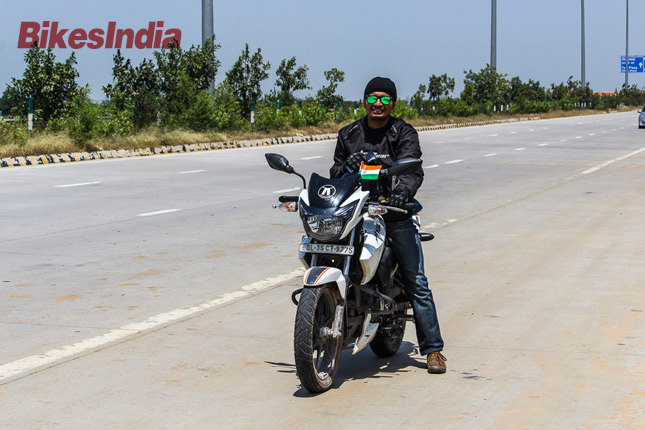 COMFORT
The comfort zone is taken care by front telescopic forks and rear monotube inverted gas filled shockers with spring aid. The rear shockers are adjustable and you may adjust it according to your riding style. But I suggest you don't interfere with adjustment because its company adjusted which is just good for both low speed and high speed maneuvers. The shockers are good enough only for a road with less potholes and convulsions but when it comes to bad roads and stiff speed breakers it will send shocks through your body. Unlike FZ's and Hero the Apache doesn't speak highly of its shock absorbers. Like it or not, but getting this much power and efficiency without compromising on comfort is impossible in this price range. Also the riding posture is sporty which makes the long distance touring a nightmare with back and wrist pain.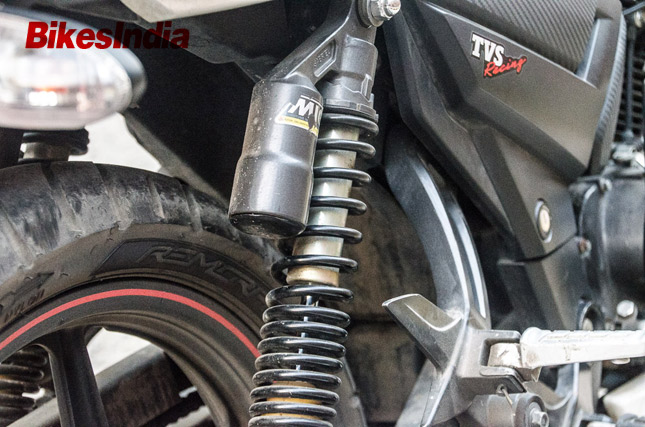 HANDLING
If I were to give 5 stars to an Indian motorbike for handling, the Apache RTR is the one. No bike can cut through traffic or cruise high speed with such tremendous handling and stability. You won't feel a bit that you were riding a 136 kilogram weight. Engine promptness combined with superb handling can make any heavy traffic situation to normal. In the case of the brakes, the bike had the best I have experienced so far. Very progressive and bike comes to an abrupt stops whenever you want. The unique petal discs help to dissipate heat faster.
The only downside is the notchy gearshift which are irritating at sometimes with lot of false neutral. But with time one can get used to it. Also the stock TVS tyres makes it dangerous to ride on sandy or wet road. Dry tarmac is the only place where it is good for speeds and the other road conditions do not inspire any confidence.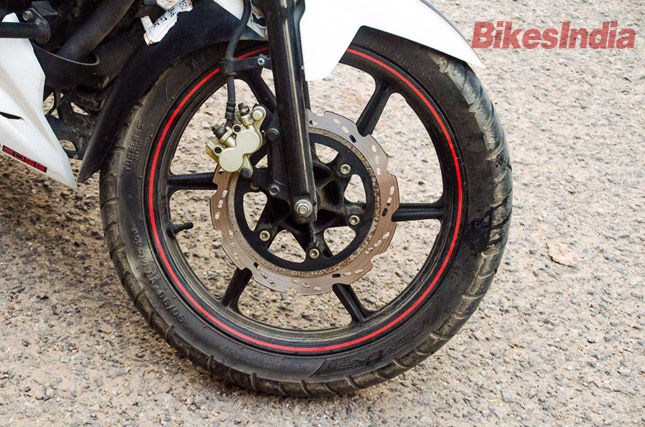 QUALITY
The quality of plastic and metals in the bike is good considering the price. Not a single piece of any material seems like that cost cutting had been done. Even the engine air scoops cum mudguards are sturdy despite having getting bump multiples times into speed breakers.
MILEAGE
Yes, the most common question asked by every Indian before buying any vehicle- "how much is the average". Well that's mostly depend upon your riding style and the maintenance of the bike. Same in this case, Apache RTR 160 gives out a mileage of 48-55 km/l in normal riding condition with periodic maintenance. Even you if you rip it, you won't get anything less than 38 km/l. For me it had given me a minimum average of 40 km/l when I ripped it and a maximum efficiency of 54 km/l when I rode it in city within 50-60 km/hr with less traffic. On highway it usually gave me an average of 49-53 km/l because of constant high speed riding. So overall, the mileage is good enough for such a powerful bike in its class.
EXHAUST NOTE
This is the reason where expression on the people face gets "wow" after hearing the sound when the Apache's engine is started.
The exhaust note emitted by the bike is good on ears and makes the Pulsars and KTMs looks like pony.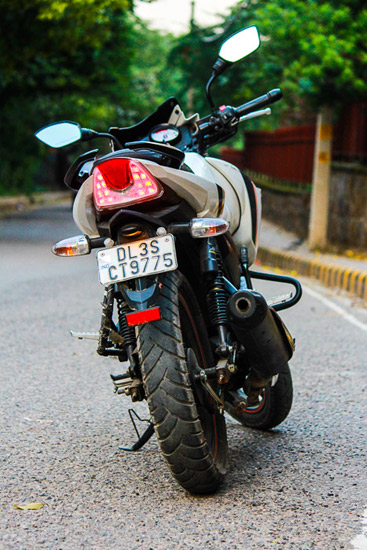 So to sum it up, before buying it the pros and cons should be kept in mind. These are-
Pros

* Revv happy engine and low end torque
* Fuel efficient
* Good exhaust note
* Value for money


Cons

* Vibrations after 6k
* Stiff suspension
* Hard stock TVS tyres
* Engine not so refined
So to conclude the TVS Apache RTR 160 is one hell of a VFM bike for you if you are a speed lover and love to tackle through traffic quickly with a good looking ride in hand. But if you are looking for something which is good for touring, comfortable, soothing on body, refined engine then I suggest you look somewhere else because Apache is all about unleashing the beast inside!!!Keep riding fellas.
- Sabi Ahmed