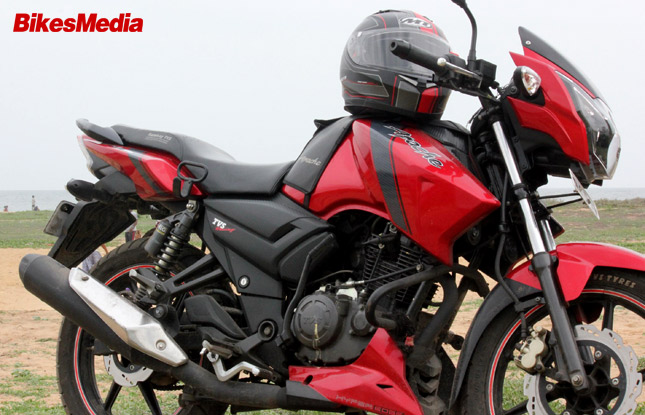 I am pretty sure you would have read the news about the new RTR 160 coming up, sometime around this year. Its launch, signifies the end of the old era Apaches which have been with us since the starting of 2006. Since then it has received its share of upgrades, including a complete design overhaul in 2012. What TVS is trying to do now, is to configure the design of the original RTR 160 and 180 to be similar to RTR 200.
I personally, don't think that it's a great idea, as TVS is one of the few companies out there that believes in innovation. They rely on proper upgrades instead of just slapping a fairing on a naked model and calling it a super sports. So I am going to talk about 5 reasons to back up my opinion, to not simply discard the old Apache series.
The first point is that both are designed for different type of users. The design of both the bikes has been developed according to the type of performance they offer. RTR 160 is an everyday street bike, that can be ridden around in any way possible. RTR 200 deviates more towards the performance-focused crowd. It's for those who want a high maintenance machine and intend to keep it, as well maintained as possible. I am not saying that RTR 160 owners don't care about the maintenance of their bike. What I mean to say that it can be used in a more rugged way than its cousin, the Apache RTR 200.
The second reason is to maintain, the distinction between different models. Even a layman can easily spot the difference between RTR 160 and 200. Changing the design of RTR 160 to be similar to that of 200, will dilute the brand name and the cash value which customers shell out to upgrade to a higher capacity motorcycle. What you pay should always be what you get, and design of every bike is among one of those things. In no way, the design of the RTR 160 looks worse than the RTR 200, but there must be a distinction between these two motorcycles based on design, performance and everything else, to properly justify the cost difference.
The third reason is that RTR 160 is more than capable to be upgraded on its own, instead of borrowing cues from RTR 200. TVS have proved their mettle in designing the new Apache RR 310S, every piece of design on that bike serves a proper purpose. The shark-like engine cowl directs cold air and the instrument cluster is vertical to make the overall design more compact. In the same way, they have designed the old RTR series, as the engine cowl, keeps the engine 10 degrees cooler, dual shocks at the back provide better loading capacity. Even the tank of the RTR 160 is specially designed to hold 16 litres of fuel.
Besides a few minor problems, there isn't anything much wrong with RTR 160 and 180. A better quality chain, a monoshock suspension, fatter front forks, better stock tyres and a smoother engine, all this can easily justify the upgrade on the old generation series of Apaches. Still, I am just a guy yelling his views in front of you, I would like to hear what you guys think? Should TVS launch the new RTR 160 with RTR 200 like the design? Let me know in the comments until then I am off to my nearest TVS dealership to take a last look at the old beast.
For everything else related to motorcycles, stay tuned to BikesMedia.
By:
Yetnesh Dubey