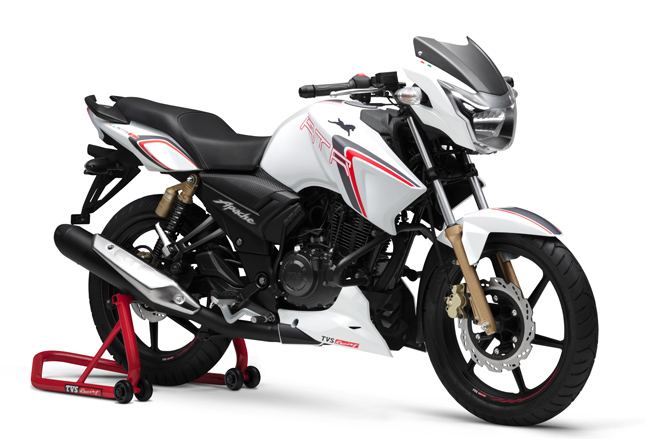 From Honda to Bajaj, Colour update or as the Motorcycle Industry likes to call it "Graphical Update" has been the Ultimate tool for Manufacturers to justify releasing a "new" model of the same bike. It has become nothing short of a half-baked attempt to lure in more customer, in order to hand over them the same old product. We think its about time that this whole "process" must update itself, as no longer a simple colour update supports the definition of a revised Motorcycle. Recently RTR 180 received a race spec colour update. So instead of just reporting it to you guys, we have come up with a list of actual upgrades which the company can probably use in their next iteration of the bike.
1: Better Tyres-
TVS Ramora sits between a low spec MRF tyre and a Eurogrip one. The compound used in the tyres is hard and offers little to no grip. TVS should at least offer an MRF Zapper tyre which can provide confidence to the rider in corners. A size upgrade too can spell good grip as the current 110/70 tyre is severely thin compared to the 17 PS which the motorcycle has to offer.
2: Fuel Injection-
Apache RTR 180 already has dual disc brakes and dual-channel ABS. The addition of a Fuel injection will completely seal the deal. Not only will it make the initial power delivery more crisp and free of jerks, it will also smooth out a lot of vibrations in the top-end of the bike. Increased fuel economy and relatively less maintenance of the Fuel injector are some of the other advantages of a Fuel-injection over a normal carburetor.
3: Better quality chain-
The Chain on the bike has been kept exposed considering the powerful nature of the 180 cc engine. Such a chain is naturally expected to stay more resistant to dust and dirt present on the road. Sadly it's not the case, on various TVS service forums you can see long lists of problems related to the poor quality of the chain. It loses lubrication way too quickly and requires tightening after every 300 km/s. In its case, a better quality, durable chain can really make a lot of difference in user experience.
4: Fat forks-
Recently Pulsar 150 was upgraded with thick 37 mm front forks but the RTR 180 still comes equipped with thin front forks. They not only rob the ride quality of the motorcycle but also fail in providing good highway stability.
We understand that given all these changes, as standard features, in one update is not possible. What is possible is offering them as options, just like the company offered them on RTR 200 4V.
Apache RTR 180 has been in the market for a long time and for good reasons. The performance of the bike is still one of the best. The addition of twin-channel ABS and the fact that it has a 16-litre fuel tank makes it a great bike for touring. TVS has done a great job by not discarding the "Hyperbeast" design, despite launching the new Draken concept models. It can do one even better by offering some of the above-mentioned changes. That's it for now and for everything related to Motorcycles, stay tuned to BikesMedia.
By:
Yetnesh Dubey