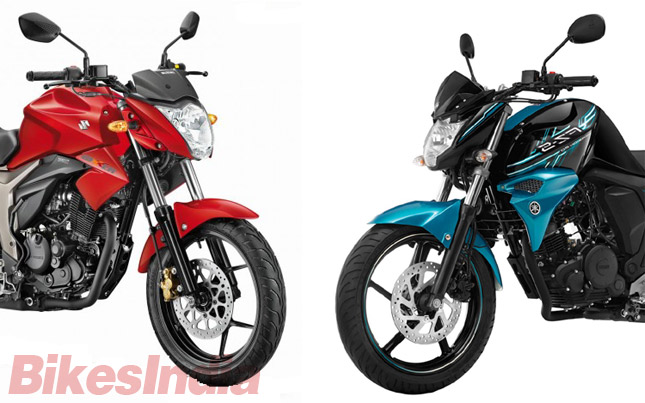 While BikesIndia has already done Test Ride Reviews of the two most talked about bikes of the country the Suzuki Gixxer and new Yamaha FZ-S Fi Version 2.0, we are as excited as you are to compare the two brilliant products of Japanese giants. After test riding and reviewing both the bikes we now consider ourselves in a position to compare the bikes on the same parameters we had tested them individually to get a fair and unbiased conclusion.
Yamaha FZ has to defend its title of "Lord of the Streets" where as Suzuki has to establish itself as "The Street Sport Bike" of India, lets find out which one of these bikes will eventually get the title of top street bike of country.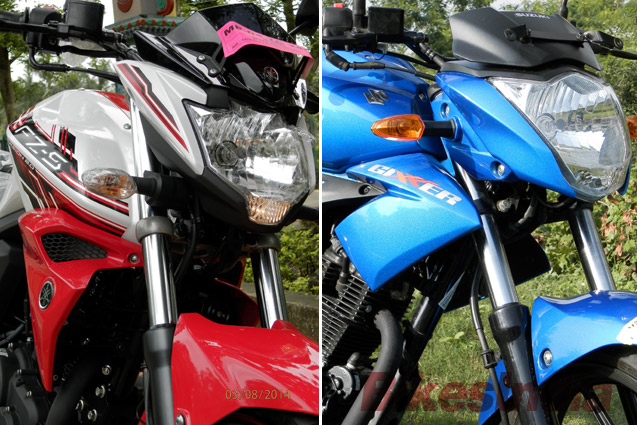 Styling:
Yamaha has done some serious job on the styling element of new FZ Fi v2.0, this time Yamaha has redesigned the entire rear end of the bike, the bike looks younger and bulkier than before. Yamaha has also changed the exhaust muffler which they called as "Midship Muffler". The bike looks stylish but sticker job looks a bit overdone by Yamaha specially in case of FZ-S.
Suzuki Gixxer is on the other hand looks inspired by the older version of Yamaha FZ mainly from the front where the beefy front fork and the triangular headlight resembles to the older model of FZ. Although the bike has muscular stance it appears a little smaller than Yamaha FZ in spite of being lengthier than FZ. May be the low overall height and the lower positioned headlight of Suzuki Gixxer as compare to Yamaha FZ is responsible for the illusion of Gixxer's small size. The bike looks bulky specially from the rear end and the very stylish Twin Exhaust compliment the killer look of Gixxer. Although personally I found Gixxer more stylish the looks are subjective and purely depend on the personal choice.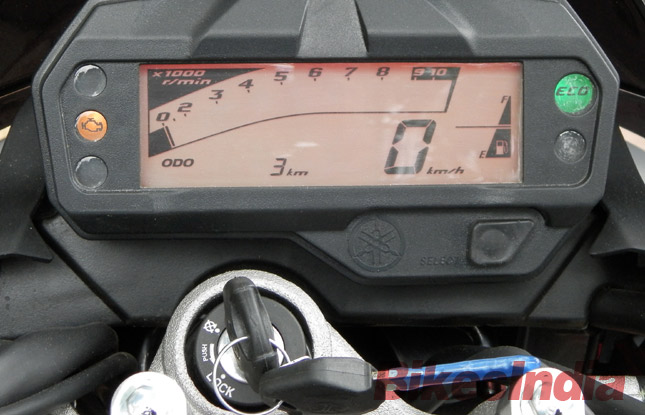 Instrument Cluster And Switch Gears:
Both the bikes have digital meter consoles on board, the design of instrument console is also almost similar, although the console of Gixxer is little broader and looks more up-market. The information displayed on the digital console is equally clear and legible on both the bikes but Gixxer's meter console shares more information than Yamaha Fz's, for example the console of Gixxer indicates Gear Shifts prominently whereas Yamaha FZ is not provided with this facility.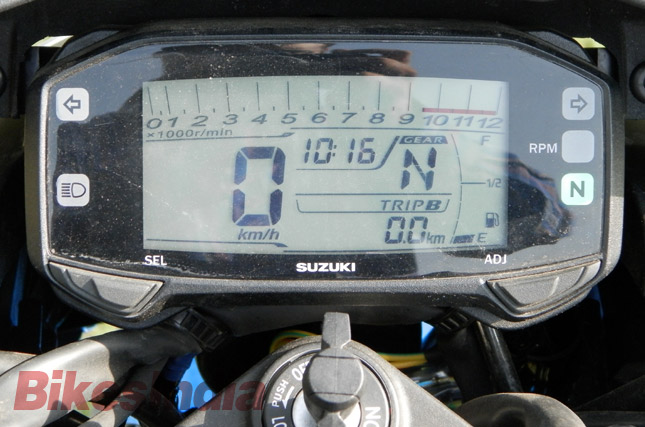 As far as Switch gears quality is concerned both the bikes have used good quality of plastic and both of them have almost every important switches on board, for example Engine Kill Switch and Light Pass Switch comes standard with both Gixxer and FZ.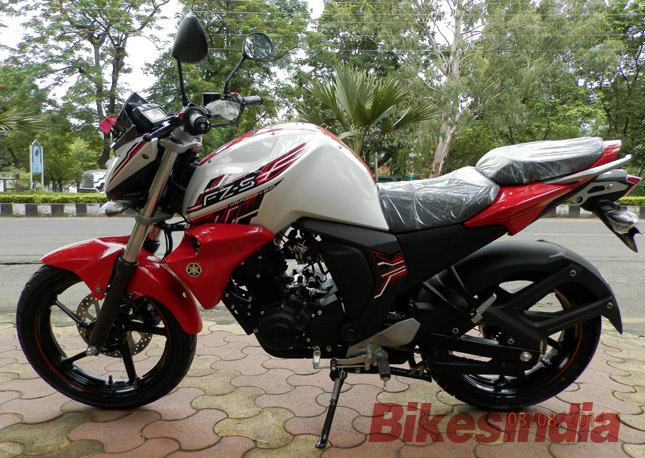 Ergonomics:
Both Yamaha FZ and Suzuki Gixxer have little aggressive sitting position, the Yamaha FZ has flat and wider handle bar with rear set foot pegs while Suzuki Gixxer has shorter and flat handle bar with more rear set foot pegs as compare to the Yamaha FZ making Gixxer more aggressively stanced and apt for the city riding condition.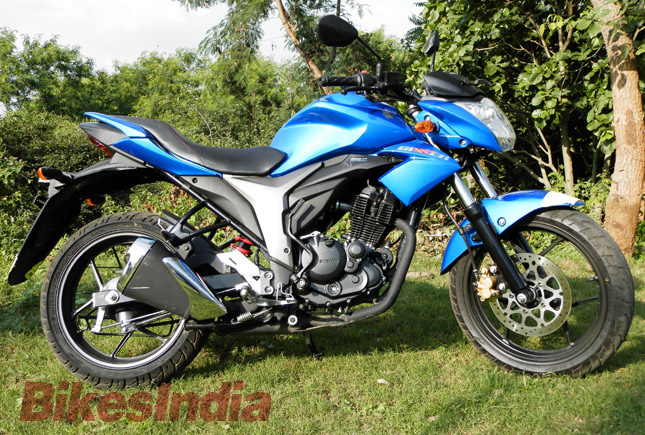 The Yamaha FZ has new split seat whereas Gixxer comes with single seat. The split seats of Yamaha though come with thin padding but they are comfortable for both rider and pillion, whereas Gixxer has single seat beautifully laced by red color thread is equally comfortable for rider but at the same time the space left for the pillion is less as compare to Fz making the Yamaha FZ more comfortable for pillion.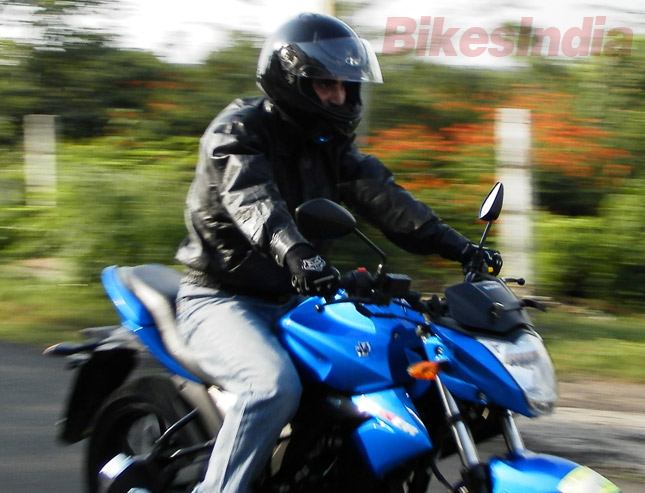 Performance And Gearbox:
Yamaha has plonked new 149cc engine in FZ V2.0, the engine with reduced cubic capacity gives linear performance with the help of Fuel Injection System which comes standard. The Yamaha engine is as usual refined mated to 5-speed gear transmission whereas Gixxer is equipped with 154.9cc carburated engine churning out 14.1 Ps of power, the Gixxer is certainly more powerful machine than Yamaha FZ and coupled with fantastic ergonomics it is more fun to ride bike.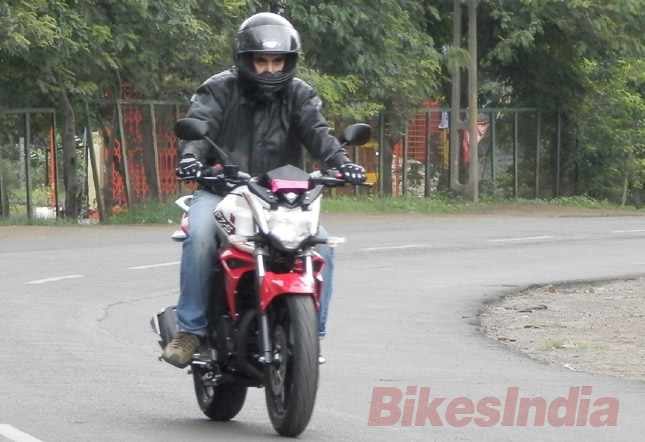 Riding Dynamics:
Both Yamaha FZ and Suzuki Gixxer have good riding dynamics, both of them are street fighters so they are more focused on city riding conditions, both FZ and Gixxer have similar tyre dimensions and they have tubeless Tyres. But Gixxer tyres have more rounded profile.
In brakes department both Gixxer and FZ comes equipped with front "Bybre" disc brakes, both has decent stopping power. Both Yamaha FZ and Suzuki Gixxer come with 41mm front Telescopic Shock absorbers and rear Monoshock, whereas Yamaha FZ has 3-steps adjustable rear Monoshock and Gixxer comes with 7-steps adjustable Monoshock absorbers. However Yamaha FZ has more plush ride than Gixxer which has rather stiff ride but that again can be taken care by adjusting the 7-steps Monoshock.
Update: Yamaha FZ Version 2.0 starts coming with 7-steps adjustable rear monoshock as of Gixxer.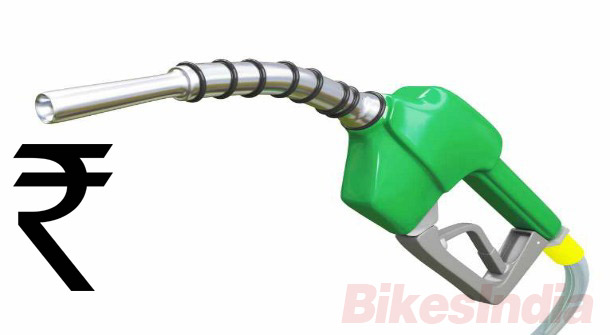 Price And Mileage:
Yamaha FZ-S Fi Version 2.0 is available at Rs 78,250 (ex-showroom, Delhi) and Suzuki Gixxer is priced at Rs. 72,199 (ex-showroom, Delhi). So the difference of Rs 6000 is all you get if you go for the Gixxer with increased power output but at the same time you won't get premium feature like Fuel Injection System which is further responsible for linear power delivery and better fuel economy.
Yamaha has claimed 10% better fuel economy than its older carburated FZ, on the other hand Gixxer with carburated and bigger engine is tend to give less mileage as compare to Yamaha FZ.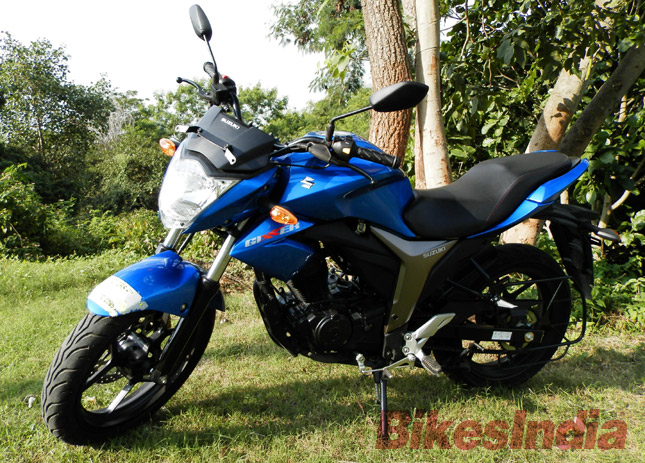 Conclusion:
Based on the above points discussed Suzuki Gixxer seems to have better proposition and value for money. However the competition between both the bikes were neck to neck and the difference between them were marginal but even with margin Gixxer is a winner.
Pros:
Yamaha FZ Fi V2.0
More space for pillion
Better Mileage
Softer Suspension
Fuel Injection System
Suzuki Gixxer
Superior Performance
Better Riding Dynamics
Kick Starter
Value For Money
Cons:
Yamaha FZ Fi V2.0
Little Over Priced
Lack of Kick Starter
Suzuki Gixxer
Stiff Suspension Setup
Less Space For Pillion
Compare Technical Specifications Of FZ-S v2.0 And Gixxer
So, what do you think about it? please do share your mind with your fellow motorcycle lovers.
By:
Farhan Kashif