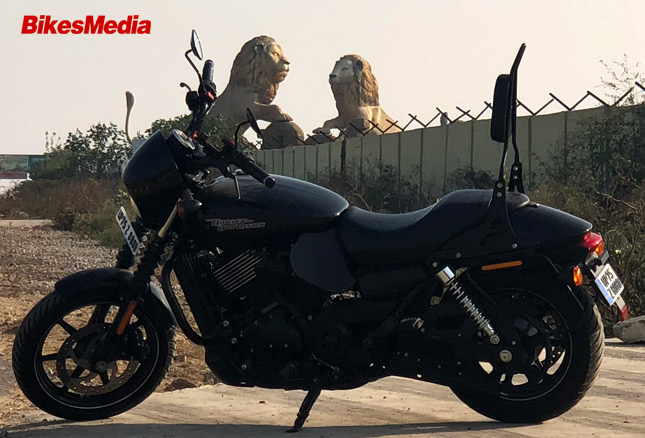 Since the day of the launch of Harley Davidson Street ROD 750, we have been trying so hard to get our hands on the old Street 750, because unlike the Street ROD, this Harley has a place. It is a cruiser, it has a low slung seat, front set footpegs and raised handlebar. This bike doesn't seem like a half-done job, it rather feels like the perfect piece of the puzzle, which got overshadowed by a bike out of place and meaning.
Ride Experience and Ergonomics:
The bike doesn't feel very eager to turn because it isn't supposed to. The straight line stability is just perfect. Low seating poster coupled with an even lower center of gravity gives this bike a massive grip while cruising. There is no problem in keeping your foot down either. The position is so that you will automatically drop knee further away from the engine, which you really should because it gets very hot very quickly. An added heat deflector, above the engine, does work quite well.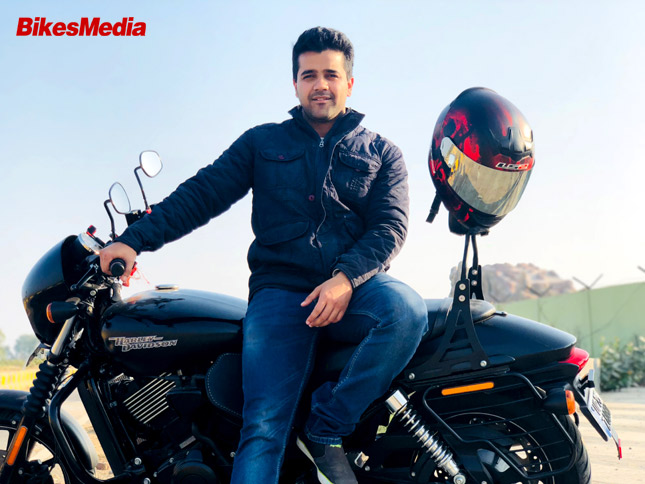 Raised handlebars keep your shoulders relaxed and the back straight. Legs are adequately covered by a leg guard. Front set foot pegs prevent the legs from being in an attack position, exposed to the high wind blasts. This further inspires you to go fast.
The bike doesn't lean much, courtesy of its low stance and ground clearance. But even riding so low, 2 heavy riders can easily pass over almost all the potholes. The suspensions at the Street 750 are on the stiffer side, surprisingly on both the ends. Although it does inspire confidence you will feel sore on a bumpy road very quickly. The saddle is wide enough for a heavy rider and pillion seat is smaller even for an average one, so if you don't have a size zero model as your girlfriend, then she'll not fit.
Engine and Performance: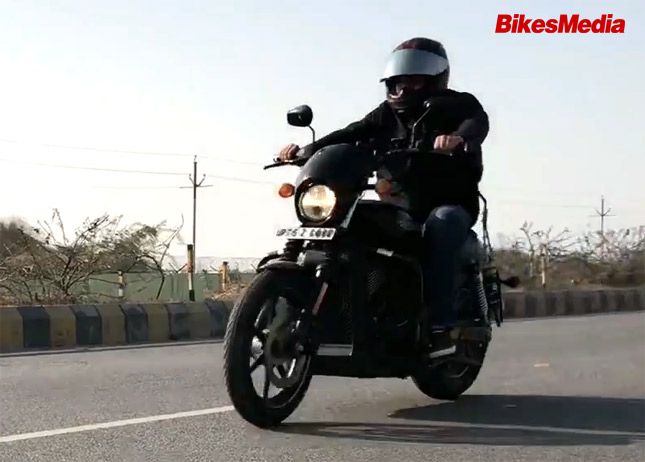 As far as technical figures of the bike is concerned they are as follows- 47 Bhp of power, 59 Nm of torque produced by a liquid-cooled 749cc twin cylinder engine which is fuel injected and coupled with a belt drive system.
The Engine vibrates after 4500 RPM in first and second gear but it manages to go up to 7500 Rpm in 5th and 6th gear. 0-60 kmph time will feel quick for first 5000 kilometer, after that you'll start searching for weight reduction and performance enhancement mods. The weight of the bike is less if you'll consider it through Harley's standards, but it too only becomes apparent when you're backing up the bike. Clutch is hard and the travel is a bit long, fueling isn't precise at first but it does get better once you pile up kilometers on it.
The low fuel light serves its purpose well, the reading is most of the time accurate but there cannot be a good enough excuse from Harley for not giving a fuel gauge in the first place. Same goes for you too Royal Enfield.
ABS works just well and so does the massive rear brake, I often found myself using only the rear brakes even when I was doing 70 km/h. The front also has enough bite for your every use. For a 750 cc, it's not as fast as expected but it does give a decent enough fuel economy, it averages out between 20-22 km/l, under various riding conditions.
Unlike many neo/retro café racers and scramblers, Street 750 doesn't suffer from an existential crisis. It knows its place along with the things it can and cannot do. It was one of Harley's son which didn't become a movie star either a low life, it rather just worked, worked itself, climbed up and reached home.
Review By:
Yetnesh Dubey