Honda CBR 650F is a Sport-Tourer motorcycle which is bound to be launched in India by next financial year. Honda showcased this bike at 2014 Indian Auto Expo. The Middle-weight sports bike segment is the most loved sports bike class. The bikers upgrading from quarter litre class have their eyes on this segment. This segment basically has 600cc motorcycles which are lighter and much easier to maneuver for rookies.
Honda CBR 650F is basically a Sport-Tourer motorcycle targeted at those customers who want a mile-muncher with an inline-4 cylinder motor. The motive of Honda behind developing Honda CBR 650F was to develop a bike that can be taken to winding roads and produce usable power within usable rev ranges. It weighs 20 Kgs more than the CBR600RR, but it comes cheaper as compare to the Honda CBR 600RR in the international market. Comparing the power figures we get that the bike does produce its high power figures at early RPMs. It does not share the same chassis which is used in Fireblades but it comes from a new background.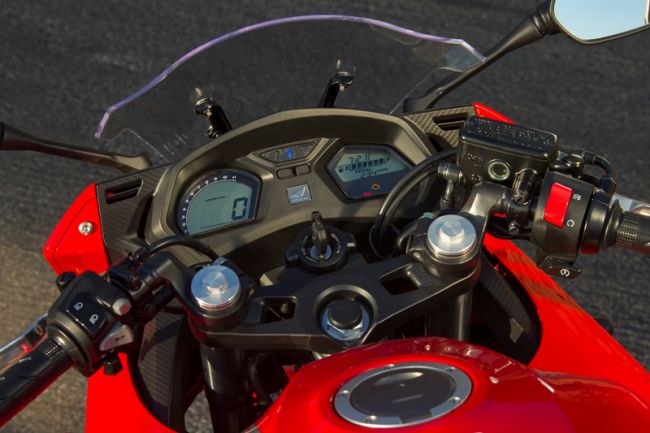 Styling:
The Honda CBR 650F is designed for Asian market, however they are sold in western countries too. The styling is conservatively aggressive. There's no erect wind-shield as in other sport tourers. The full-fairing panels which does not have gills, lungs or any other disturbances in free flowing panels like the BMW S1000RR. If you love to keep your bike free from the decals, then yes, it'll look nice without them too. The visible exhaust manifold looks damn killing. While the under body is stubby yet beautiful and keep a check on center of gravity of the motorcycle. The rear is done in a very simple way, yet turns out to be a sexy ass. The fully digital console is really make you feel like riding a plane. There are 2 LCDs, one for the Speedo and Tacho, while the other is for Fuel gauge, Time and Trip. They are finished neatly in carbon-fibre texture.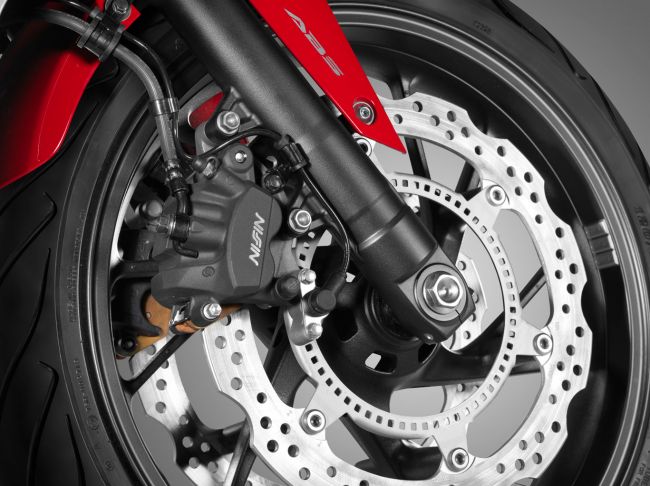 Chassis, Engine And Braking:
The bike sport a twin spar steel frame instead of aluminum, it also gets conventional non-adjustable damper and the liquid cooled inline-4 DOHC 649cc engine. The cost-cutting features are also done in a very neat way, that doesn't make you feel so. The 649cc engine churns out its max. Power of 87HP at 11000 Rpm and its max. Torque of 62.36Nm at 8000 Rpm. The bike tips the scale at 210 kgs and the rider will sit at a height of 810mm from the ground. The bike is equipped with 320mm dual discs up-front and a single disc 240mm unit at the rear. The six speed gearbox will provide the fun-feel at the tip of your claw. The full-aluminum swingarm is the reason for its responsive cornering fun. The bike's engine and chassis combination will completely blow your mind, because you would be happy to have something that delivers the CBR's aesthetics with interceptor's charm and royalty. There are even optional ABS on offer.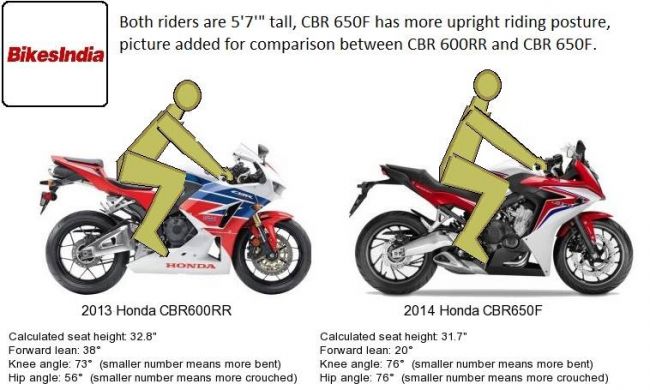 Ergonomics:
As we can't say about handling now, coming to ergonomics, so let me tell you this bike is neither a tourer nor a track-machine it is something in between. It is something that will mostly be used by the matured and soulful audience, who needs a full-faired bike sporting four pots in line to use daily on their way to home and then on twisty roads on weekdays, without compromising on comfort, style, passion and sharp handling. The single seat will offer great comfort and the non-dominating almost straight riding posture will be icing on the cake. There are clip-on handle-bars used when compared to single-piece upright handlebars as its main rivals. The handlebars are fitted above the top-triple-clamp instead below it, to raise the riding posture.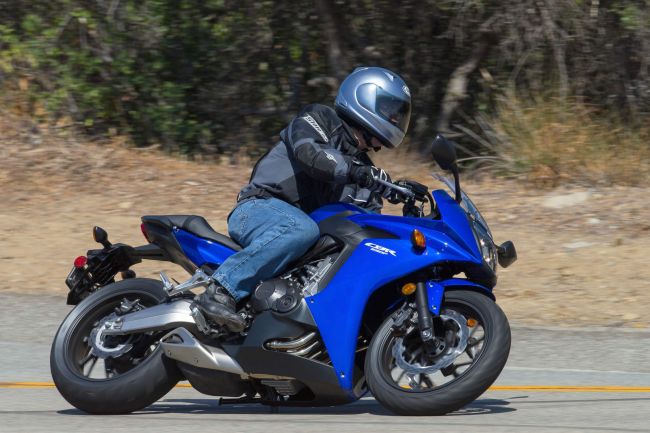 Verdict:
The Honda CBR 650F is a fantastic bike to keep as a treasure, the bike will be launched in 2015-16 as the Auto Expo suggested , so it is worth a wait. The overall design element, chassis and development done by Honda Will come out to be ultimately better than the Kawasaki ninja 650R. We've done all our efforts for this story to make it easier for India to get all the knowledge about it. Please share your thoughts about the Honda CBR 650F.
By:
Mohit Bhardwaj