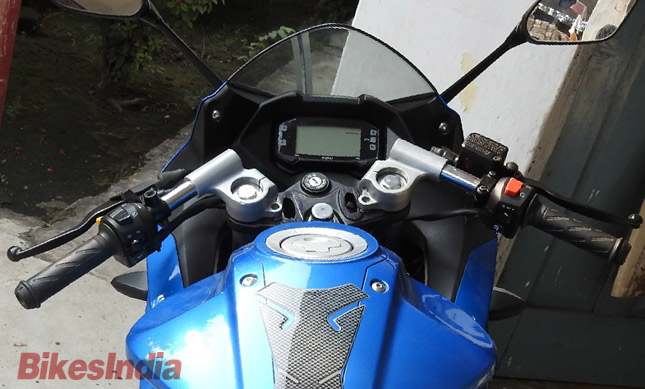 Do you want to install Clip-On handlebars on your Suzuki Gixxer SF? The desire to install the clip-ons on the Suzuki Gixxer SF was never that intense until you must have seen those race ready Gixxer SFs used in the Suzuki Gixxer Cup. On many forums and groups on Facebook in particular you can find people talking about their wish to install the Clip-on handlebars and those rear set footpegs on their Gixxer SF. The same urge of making his beloved Gixxer SF into a super sexy track bike took this young lad-
Ravi Utkarsh Kujur
into stride.
Ravi after going through many ups and downs while modifying his Gixxer SF's handlebar in DIY style, finally got success in transforming his gixxy. In an exclusive write up submitted by Ravi to BikesIndia, he explained how he actually installed a set of true Clip-Ons on his Gixxer SF:
After owning Gixxer SF I was happy with the bike, the only thing I was missing on the bike was committed ergonomics. But when I saw Gixxer Cup I was happy and wanted some of its element on my bike like clip-on Bars and Rear set footpegs. These two slight modification will not void street legal issue and can transform the entire bike into a one dream bike.
The first thing that came to my mind was to procure them from Suzuki itself as they have not only successfully installed them on their race version Gixxer SFs but also tested them. So I wrote a letter to Suzuki Motorcycles India for providing these two parts to me. They replied and asked my contact number and then no response from there side. After sometime I reminded them, they said they need more time and they will contact me but till now no response. Then I decided to arrange those Clip-on handlebars on my own from after market or go for what we Indian call "JUGAD" or DIY for me.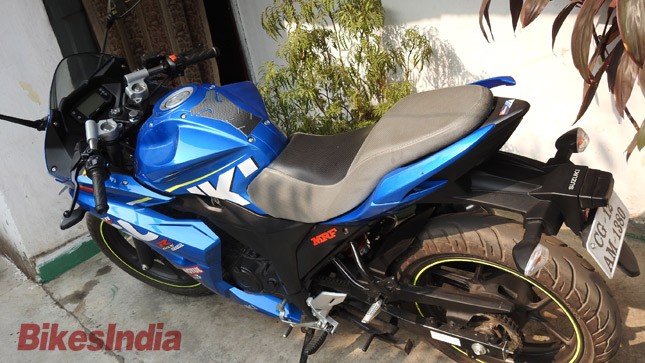 The Gixxer SF has 41mm front telescopic fork, when I searched the only true clip ons available on market was of 37mm on ebay. The clip-ons for 41mm fork was available in international market but my debit card was not permitted for any international transaction.
After this disappointment I decided to search for bikes having 41mm front forks in India and to my another disappointment they were limited in numbers. The Royal Enfield Continental GT And now the Yamaha YZF-R3 are the models available in India featured with 41mm front forks with true clipon handlebars. The KTM RC390 was also there with 41mm front forks but the clip-ons featured on it is actually not true clip-ons but faux clipons.
So, finally I decided and ordered the Clip-on handlebars of Continental GT from Royal Enfield spare parts. However, it took about 2 weeks to reach, now after getting the set of clipons the next task for me was to fix that onto my Gixxer.
After taking closer look at bikes used in Gixxer Cup series and reading some details about the same I got an idea to lower down the ground clearance of my bike to fit the clip-ons. In fact I had to lower down the ground clearance of the bike upto 10-20mm for getting the fork up on the triple tree for clamping clipon bars. This was not a rocket science for me as I had to loose only 4 bolts and it was totally reversible. But to do so I had to take another triple tree as I had to chop off the stock clamps from the triple tree.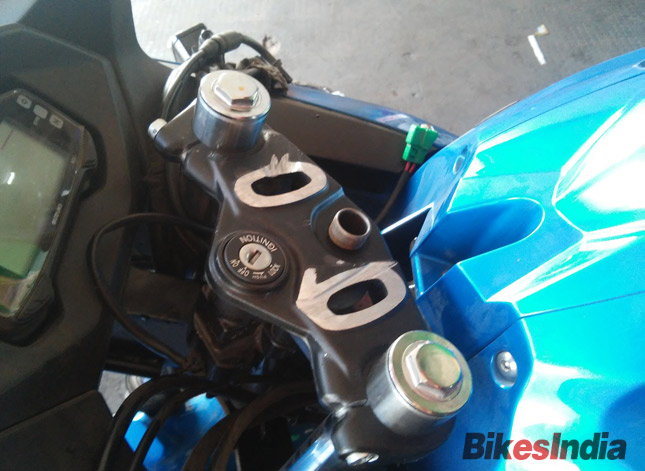 And the best part of these clipons is that they are almost like true clip-ons and you don't need to fix any screw on triple tree to hold them. The clip-ons can now be directly clamped on front forks itself.
Now the ergonomics of my Gixxer are more sportier than before and now I have to bend or lean forward to reach the handlebars. My ride has become more committed and now the bike also handles like a true sportbike. But the committed riding ergonomics is not always as per the taste of every rider, although I love it. So before installing the clip-ons think thrice if you can live with it or not.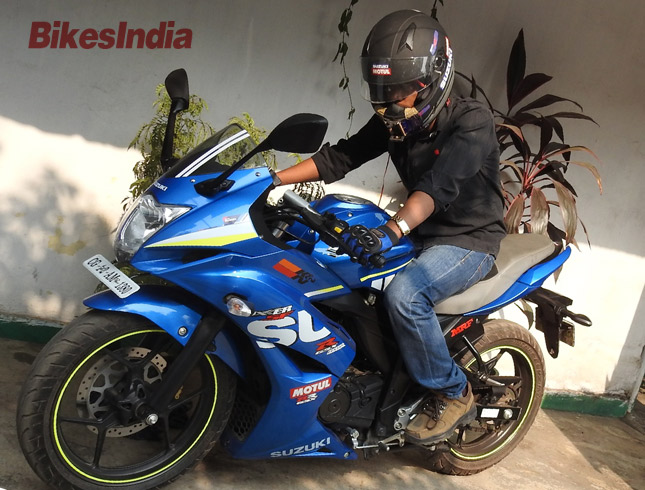 As these clip-ons are from Continental GT and not meant for Gixxer there are few problems that come with the package and you have to seriously think about them before you decide to go for the modifications for the Clip-on handlebars on your Gixxer SF.
1. Now the handle does not steer fully.

2. The handle hits to the front fairing when steered to its limit.

3. The last but the MAJOR PROBLEM is that now I can not lock my handle.
Now, If you can live with all these problems then go for it, here is the video link of clipon bars instillation. Ride Hard and Ride Safe.
- Ravi Utkarsh