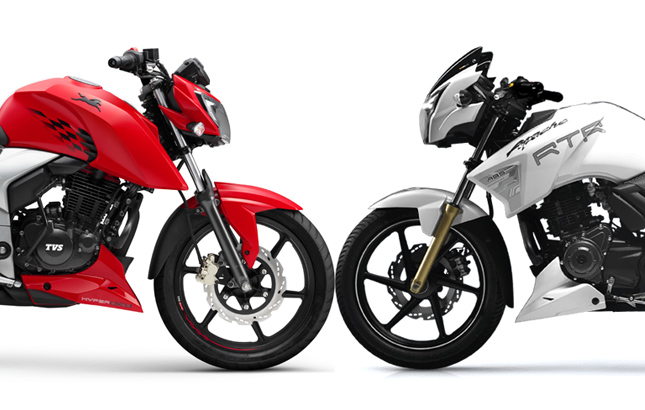 Complying with the Draken concept TVS has already brought in two bikes, RTR 200 4V and RTR 160 4V. Only recently TVS has launched the new colour variant of RTR 160 which means that the old series bikes will still be in production. With the RTR family already consisting of so many members, does it makes sense to bring out a 180 4v model? Let's compare RTR 160 4v and RTR 180 to see how much different of the on-road performance do these guys translate.
Engine and Transmission: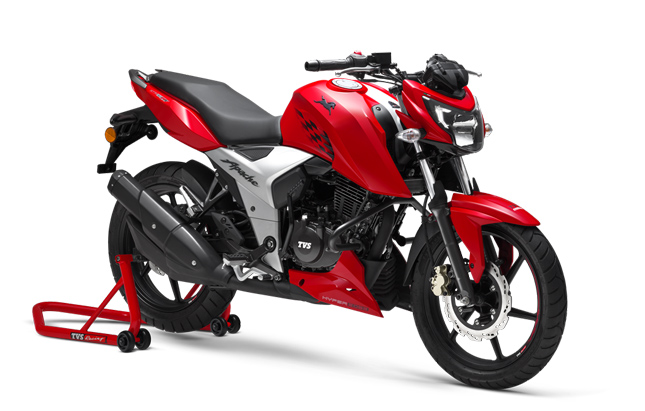 The Engine on RTR 160 4V is an all-new engine hosting 4 valves and having a stroke to bore ratio of 0.85. The ratio has been increased from the previous model to reduce stress on the crank during high-speed motion of the pistons. It also allows greater a number of valves which are larger in size, to be easily installed. Such an Engine favors a high revving nature by placing both the torque and horsepower way up the rev-range. Since the stroke is shorter on this engine, it can run at higher RPM with the same amount of engine speed. This also means that thermal efficiency of the engine is increased and the overall mileage figure will be better than RTR 160 engine of similar size.
The Apache RTR 180 has a stroke to bore ratio of (0.92), meaning it can't rev as high as the engine on its competitor and it will have less thermal efficiency and will return lower fuel economy compared to what power it produces.
Compare Detailed Technical Specifications Of TVS Apache RTR 4V and RTR 180
Although RTR 160 4V needs a Fuel Injection increases precise combustion, RTR 180 can do well with a carb unit only. The overall performance of the Fuel injected version of the RTR 160 4V and the Carb variant of RTR 180 is same. The same point can also be proven by looking at the compression ratio of both the bikes. RTR 160 4V has a ratio of 10.15:1 while RTR 180 has one of 9.5:1. Higher compression ratio, meaning despite making low power than the RTR 180, the 160 4V can deliver the same amount of performance.
Chassis and Frame: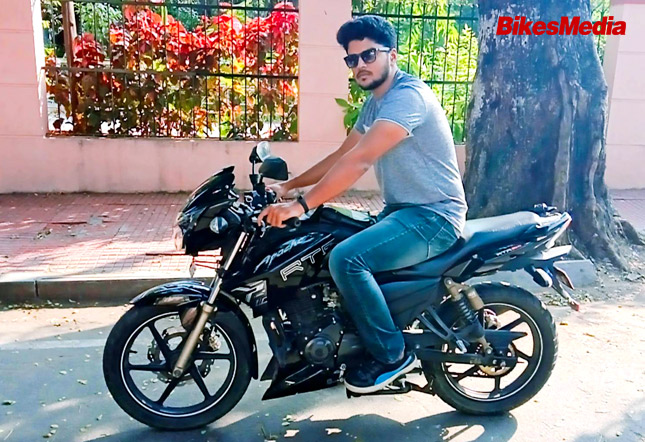 The Apache RTR 180 uses a double cradle synchro stiff chassis which gives the bike a sporty commuter design. It is almost flex-free because its performance in corners is great. The overall weight of the bike is 139 kg. Seat height is 790 mm which is good for shorter riders and ground clearance is 165, which in my opinion has become less nowadays.
Talking about RTR 160 4V, we have the patented Double cradle split syncro stiff which is 25% more stable in corners than it's the last generation. The bike has a weight of 147 kg. The ground clearance is 180 mm and the saddle height is 800mm.
Brakes and tyres:
The RTR 180 has skinnier tyres but has ABS as an option, which translates to precise braking during emergency situations. RTR 160 4V has bigger tyres but lacks an ABS. This means that the 160 4V has better grip but 180 has no problem in finding grip because of ABS.
Verdict:
The Apache RTR 180 sits in a very confusing spot in the current TVS line up. On one hand, it suffers from Vibrations but on the other, it has a bigger fuel tank, more power and ABS. If you want an Apache which can perform in an adequate manner and is safe for the highway then go for RTR 180, else go for RTR 160 4V.
For everything else stay tuned to BikesMedia.
By:
Yetnesh Dubey