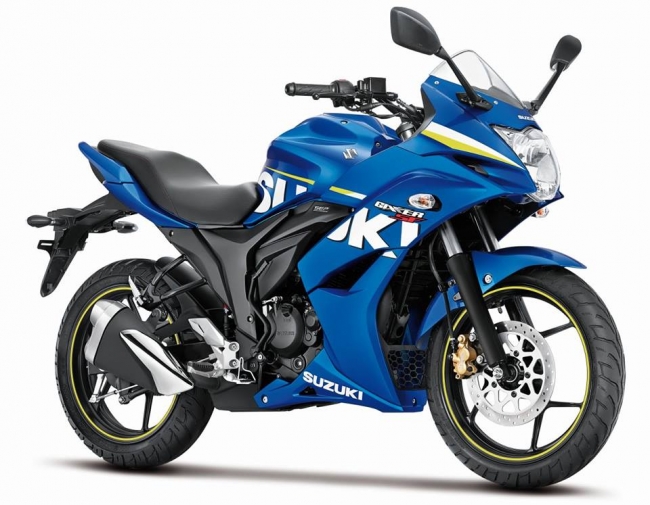 Suzuki India has launched the faired version of their already successful model Gixxer with the prefix "SF", which stands for Sports Fairing. So as the bike is already launched, here are the few differences which set it apart from its naked sibling.
* Aerodynamic Sports Fairing
* Extra kerb weight of 4 kgs heavier than its naked version.
* New aluminium muffler cap for twin-port exhaust
* Suzuki logo with chrome finish on key
* Side mirrors with long stick

Except these changes the bike shares all the elements with its naked sibling like Chassis, engine, twin port exhaust etc. which means the bike produces 14.8 Ps of power @8000 Rpm and 14 Nm @6000 Rpm of torque with 155cc single cylinder, carbureted engine which is same amount of power and torque which naked Gixxer produces.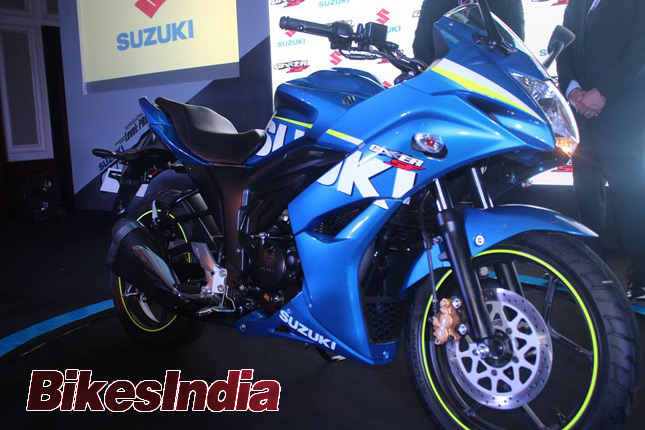 So it is clear that the major change in Gixxer SF is aerodynamic fairing which gives maximum wind protection to the rider and all other changes are nominal. But according to Suzuki the Gixxer SF has gone through the same wind-tunnel test with which their legendary Hayabusa, GSX-R and MotoGP machines are used to be undergone.
Many of them have compared Suzuki Gixxer SF with CBR 150R, R15 version 2.0, Fazer but Suzuki stopped all the rumors by launching it in a mouth watering price and putting it into altogether another class. The Gixxer SF is available at 92,596 INR (on-road Delhi) in White and Black color and the Special MotoGP Edition Blue colour is priced a bit higher. However, just by looking at the price we can say that it is a direct competitor of Fazer version 2.0 which is not even fully faired bike, but it will also eat up some of the sales of R15 version 2.0 as it a full fairing model. People who are more obsessed with fairing rather than performance will go for Gixxer SF (that doesn't mean Gixxer SF lacks performance).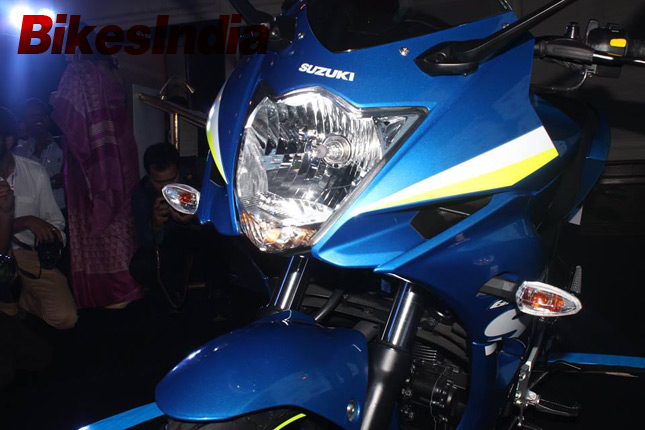 Gixxer SF doesn't have clip-on handlebar which is a disappointment but we think Suzuki wanted to give comfort to the rider. The single piece handler isn't that bad as it will be good for daily commuting as well as weekend fun. This bike will attract youngsters with the help of beautiful fairing as well as family people due to its not so aggressive riding posture, single seat and comfort.
So we think this bike will get the taste of success like it's naked sibling and will give a tough fight to others. Suzuki is following the footsteps of Yamaha but now it starts looking like they are doing better than Yamaha and they have already proved it with naked Gixxer which is giving tough competition to FZ-S version 2. We are delighted by the effort which Suzuki is doing for Indian two wheeler market and wish them luck.
By:
Shafqat