This ownership review is a part of ongoing
"Review Your Ride"
Contest, you can also take part in it and get a chance to win exciting prizes.
Hi Riders, I am Sanchit(Sanchez)Bhatnagar, 27 years old from capital city New Delhi. I am a professional football player and working with CBRE South Asia Pvt.Ltd. as Sr.Facilities Executive. I am a biker by heart and a huge fan of Legendary Valentino Rossi a.k.a VR/46 and I am riding bike since I was 14yr old. I am a part of one of the best biking group in capital city named as Brawn Riders Delhi (B.R.D) since last Two years.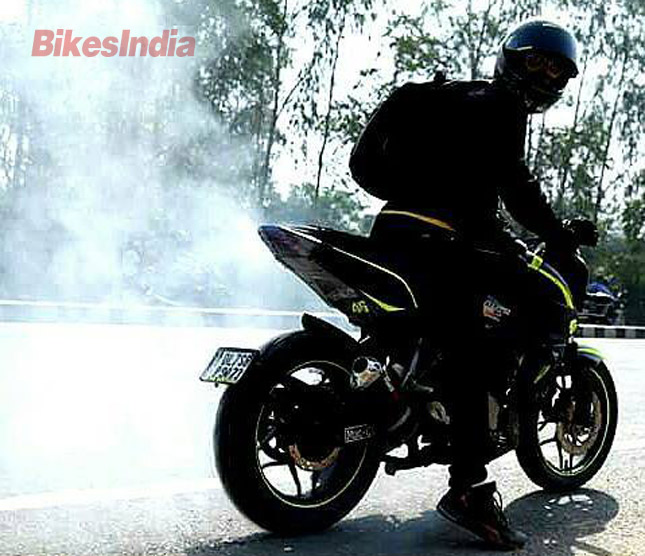 The First bike in my life you can say "First love" was Yamaha Enticer in 2002, that bike was one of the best in that era bought by my dad surprisingly for me. Then after 4 yrs with Enticer I moved on to Hero Honda Karizma though this bike lasts with me for only 2 months as my friend took it for a date and crashed it completely then after this I bought Hunk, Honda Stunner and now currently owning Pulsar 200NS since around 3 years. It is the bike which caught my eyes at first glance, it was like love at first sight but it is not easy not at all easy to convince my parents to buy a new bike after every 3 years but still somehow I managed to do so and took my mom to nearest Bajaj showroom and then finally my wolf came home after 4 hours of documentations and formalities.
This bike is very special for me because I majorly started touring on this bike only. Now my mind wants something more and looking to hit the track as well, so right now I am again planning to buy a new bike probably in an year. My next aim is to buy a bike in 400 cc segment. Though right now My preference is RC 390 because of its raw power and this time I want to go for some super sports styling rather then naked as I always believe in riding something unique and different but apart from that I am waiting for Bajaj to launch their 400 series which they shown in 2014 auto expo like 400 SS and CS.
I was waiting for the launch of R3 which is already launched few days back but its pricing disappointed me because of non inclusion of abs, down-fork and low grade MRF tyres. So this time I have to convince my parents again and I know my mom will surely agree on my next purchase after all she loves me the most. Though My Dream Bike is Kawasaki Ninja H2, BMW S1000RR and Ducati Panigale 1299. For me bike riding is all about skill, safety, passion, determination, respect, fun and of course brotherhood. Real Bikers should always respect the laws!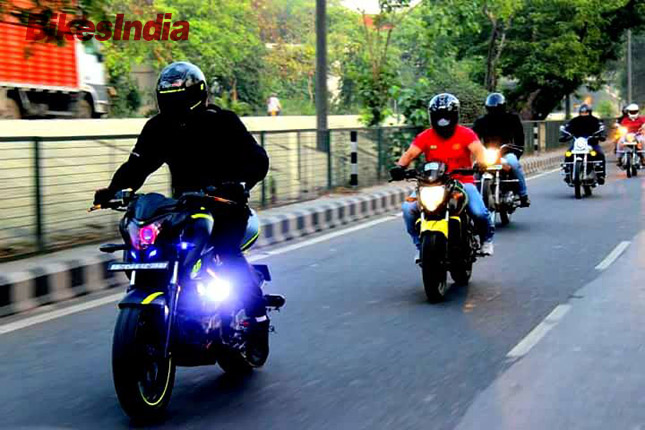 About My Riding Group
I am a part of Brawn Riders Delhi from last two years since I bought my WOLF (That's what I call my bike) Pulsar 200NS and my riding experience took totally different dimensions. In the past I prefer riding as solo, but since I am part of this group I started exploring places more all together and made new friends .For me biking is all about BROTHERHOOD and RESPECT .We always ride in a proper two-by-two formation and we always respect laws and wear proper riding gears while riding.
I have achieved 163 kmph so far as a top speed on my 200NS, when I was coming back home from Murthal to Delhi in a stock bike with k&n filter fit in. But The best riding experience for me was the ride from Delhi - Jaipur(Amber fort) - Delhi of 600kms which I did in less than 13 hours. So far I have clocked around 52,000 kms on my bike and I have never faced any major problems with it.
I always prefer safe riding so whenever I ride I make sure that I ride with proper safety riding gears even on daily basis while going to office like Scoyco knee guards, LS2 riding jacket, LS2 helmet and always keep my bike papers updated.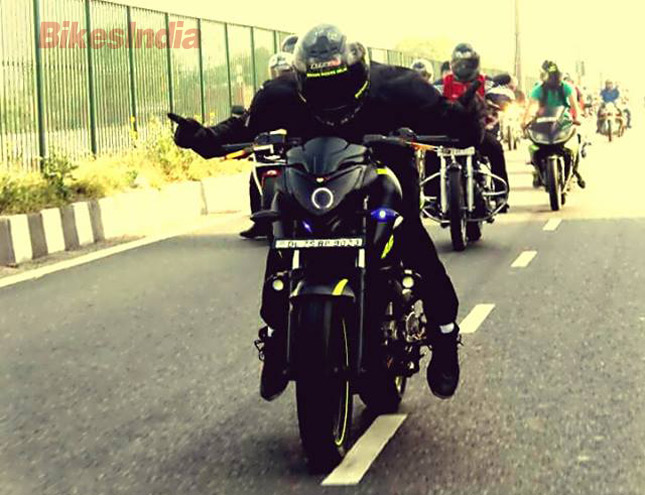 Pros of Pulsar 200NS
The major reason I bought Pulsar 200NS is that I was getting a complete package of power, looks, mileage and performance in one single bike and the 200NS is one of the finest version of Pulsar produced by Bajaj. It is a value for money bike which gives you non-stop fun with just a slight twist of the throttle. It feels like you are ruling the streets all over and no one can ever catch you. This bike gave me 40kmpl of mileage when it was in stock condition but since I replaced the exhaust with a customized racing exhaust, change in front sprocket to 13T and wider tyres, of IRC ROAD WINNER RX-01 140/70 rear and IRC ROAD WINNER 110/70 front, the mileage dropped to 35kmpl. These changes gave me the benefit of better pick-up and top end speed as well.
1. Touring – The bike is comfortable for long rides and has enough torque & power for touring
2. Brakes – It is a value for money bike and has very good disc brakes which provides excellent braking in any conditions, they have never disappointed me
3. Value For Money – At this price point you get lots to brag about. The bike is the most powerful in its segment and loaded with features
Cons of Pulsar 200NS
1. The thing I don't like about this bike is the stock Eurogrip tyres. These tyres are vulnerable to slip anytime you ride your bike at any conditions
2. Engine cut off while riding – It happens once in a while I mean rare but sometimes I feel like it as risky as well.
As far as my bike's service is concern, I always prefer to do it from Bajaj service center and always prefer to use high performance Motul 7100V synthetic engine oil for my bike.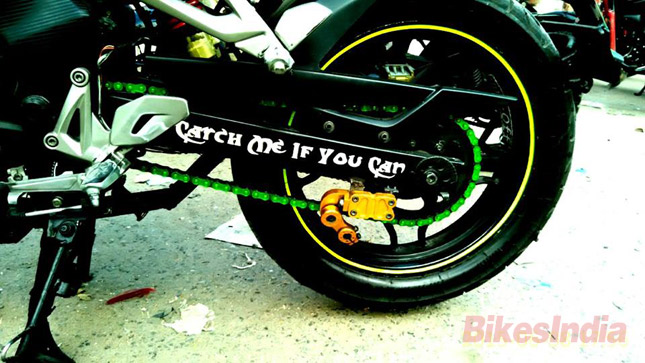 Customization And Modifications Done On My 200NS Are As Follows:
Front Dual circle and triple color Led projector lamps
Rs. 2,800
Whole body carbon fibre wrapping with neon wrap combination
Rs. 4,500
LED indicator and parking bulbs
Rs. 400
Front Tyre IRC ROAD WINNER 110/70/17
Rs. 2,450
Rear Tyre IRC ROAD WINNER RX-01 140/70/17
Rs. 4,000
Customized racing exhaust
Rs. 4,500
Chain Tensioner
Rs. 2,500
Custom made clutch and break levers
Rs. 2,500
Brake Clutch Lever covers with integrated LED Indicators
Rs. 1,500
Gas Cap
Rs. 300
LED strip floor lights under swing arms
Rs. 200
Fog Lamps with integrated floor lights
Rs.1500
13T –Front chain Sprocket
Rs.200
Hazard Lights system machine
Rs.300
Frame Sliders
Rs.600
Limited Edition VR46-THE DOCTOR Handle grips
Rs.800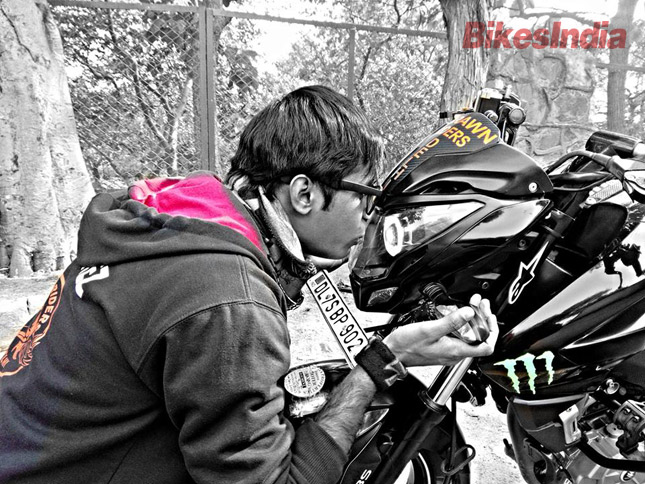 For me this is the best Pulsar available in the market, so guys if you are thinking to buy this then go for it. It's a VALUE FOR MONEY BIKE. Ride hard and ride safe with all your proper riding gears on. Bikers have three things in life that they can never turn their backs on – The Motorcycle, The family and RESPECT
-
Sanchit