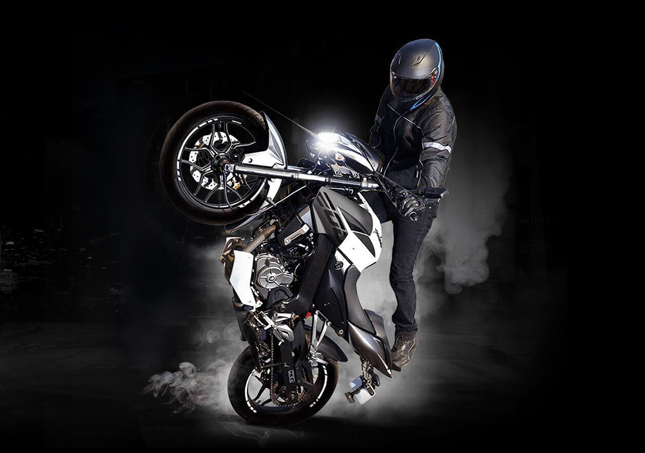 The bike launched by Bajaj in 2012 was way ahead of its time. So much so that the company decided to stop its production and relaunch it in 2017. I am talking about the Pulsar 200 NS. It is the most successful concept to have ever come out of Bajaj's R&D. The bike sits on a perimeter platform which has extensively been used in Pulsar RS 200, AS 200, NS 160, AS 150 (NS = Naked sport, AS = Adventure sport, RS = Race sport) and Dominar 400. Despite branching off to so many genres, the NS 200 still remains the most preferred bike in the sports series of Bajaj motorcycles and rightly so, Let me explain why.
The Triple Spark:
When Bajaj acquired a huge stake in KTM, They got access to the company's super successful 199 cc liquid cooled engine. The engine used a single-spark plug and Bajaj already had been using DTS-I tech in their street series motorcycles. The engine from Duke although returned good power and torque figures, offered less mileage and upon realizing that a 200 CC motorcycle with 25 km/l mileage is not feasible, they decided to rework on it. Already the DTS-I tech had done wonders in extracting a mileage figure of around 40 km/l from the Pulsar 220, so Bajaj stepped up a level to include 3-spark plugs.
RELATED ARTICLE: Multiple Spark Plugs In Motorcycle Engines- A Boon or a Bane?
The increase in spark plugs was also due to the 4-Valve nature of the engine. Since more air and fuel mixture was able to get in, more spark plugs can be used to burn every last drop of them efficiently. The result of this design was immediately apparent, as not only the mileage figure improved but the emission of Carbon mono-oxide and Hydrocarbon reduced to a significant amount, in both loaded and unloaded conditions. The engine now made 18.3 NM of torque @ 8000 RPM and 23.17 BHP @ 9500 RPM. The engine was also not electronically limited so speeds of around 140 km/h are achievable today.
The Mass centralization:
What many people do not talk about is the stable nature of the bike. It is the most planted and stable bike on the highway, in its segment. The underbelly exhaust and pressed
Perimeter Frame
does the job of keeping the bike flex free and acting as a single unit which can respond to stress. This is one of the reasons why it's also a great stunt bike. The wheelbase is indeed long but The distance between the rear swing arm and the rider seat is less, combine it with peppy power delivery and peppy clutch, and you can easily steer from the rear wheel. The
Underbelly Exhaust
also gives you similar lean angles from both the sides, so you can forget about exhaust scraping forever.
Practicality:
Indians, We, are pragmatic people. We don't value any feature unless it is not able to blend in with practicality and the Pulsar 200 NS does just that. It makes sport-riding an everyday business. The bike offers monoshock for better control in corners and increased life of the suspension. The bike sits tall with an 805 mm seat height to make room for 170 mm ground clearance for any bumps and rock that you may encounter. The plastic parts are placed high and stay safe during a crash. Already the bike offers around 40 km/l and the engine stays cool during long highway runs. All of these bits add to a big picture which describes how practical Pulsar 200 NS really is.
Pulsar 200 NS, with its engine alone, is the most value for money bike in the 200 cc segment, add to it all the other features and it instantly becomes a cult phenomenon. This proves again that no other manufacturer except Bajaj knows, how to put together a perfect package.
The bike now comes with a
Single Channel ABS
at an ex-showroom price of Rs 1.11 lakh.
By:
Yetnesh Dubey