We Indians have always got his nagging thing in the head to compare a motorcycle to any other one. Be it RD 350 vs. KTM Duke 390, Himalayan vs. the Impulse, Kawasaki Ninja H2 vs. the H2R and the list is literally, endless. But what do you get out of these comparisons and questions, especially if you don't intend to buy either of the motorcycles? Does it solve the problems caused by an opened Pandora's box? Actually, I think these 'tests' give rise to some more questions and doubts which ultimately play with our little, primitive minds, similar to how a little girl plays and throws around an old doll she doesn't like anymore.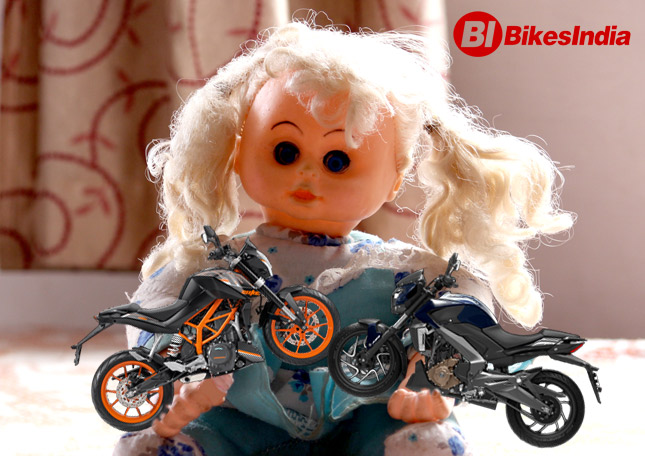 Hence, in order to make more sense of that, I thought I should speak of the most famous and funny comparison of 2016 that almost everyone has been jacking off about- KTM Duke 390 vs. Bajaj Dominar 400! How could you?
Firstly, The Dominar 400 spawned off the KTM Duke 390, so it definitely has got a lot of similar features. Secondly, it's got a totally different Engine head and THREE spark plugs which don't make sense to me. Thirdly, it's got a different suspension setup, and a lot of detuning done to it to make it more Indian. Fine! But, if you look at a lot of the other things hidden beneath, then you'll see its wearing different shoes, different springs, different clothing, a different skeleton. Naturally, it carries a different behavior, different characteristics, a different poise and rhythm. Consequently, expecting it to behave like the KTM Duke 390 would be like expecting our ex- Prime Minister to behave like Donald Trump. Not only that, the pricing of the Dominar is way off from the selling price of the Duke 390 so they fall under different pricing categories too!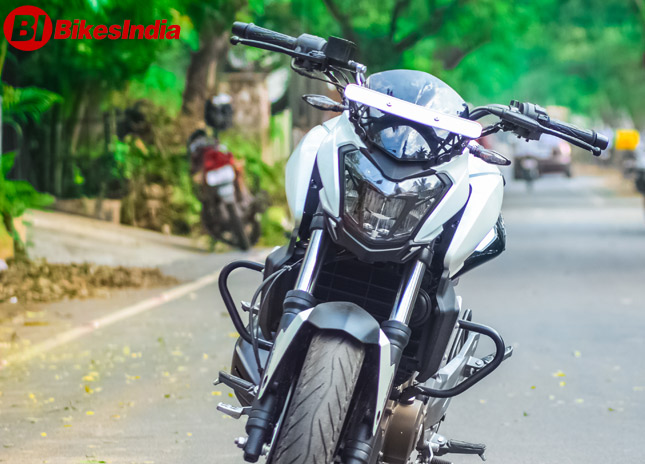 The Dominar 400 does share a lot of parts with the Duke but again, it's a whole new motorcycle that acts differently and presents itself, differently. The Dominar is not similar to the Duke in terms of acceleration, handling, weight, looks. In fact, some of those things are opposite on the Dominar. Only some of those things, alright?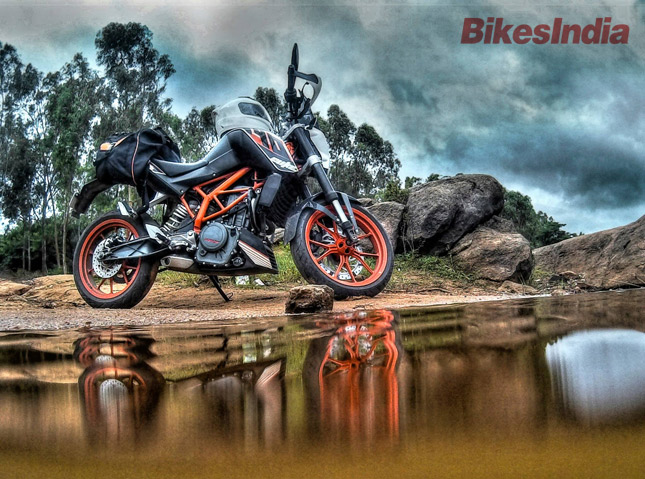 Then, to expect it to compete with the Orange Hooligan would be weird. Why would you compare an aggressive street motorcycle to a relaxed, easy going cruiser-ish city motorcycle that's got decent power figures for the price it s offered at. Even the ABS system isn't mandatory on the Dominar! Then on what other basis do you compare? Same engine displacement? That's like comparing you to your father because you've got similar waist sizes. Utterly ridiculous, isn't it?
Yes, but if you're doing a comparison of both these promising motorcycles in question, not for motorcycling, but plainly because you intend to promote a certain brand to fulfill your illusion of popularity and fame (clickbait purposes) or because you've been appointed by a certain party to portray a particular brand in a way makes viewers consider it over the other, then you're doing a pretty good job. We need not to forget that both brands belong to each other in a way but they are polls apart in many sense. At times comparing two different entities is not so fair and that it should be left on the actual buyer, which he/she can decide based on his/her priorities, isn't it??
By:
Ssaajan Manoj Jogia