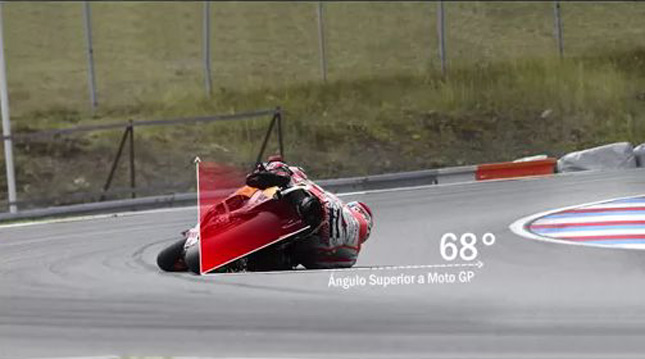 Among the young brigade at MotoGP, Marc Marquez is a name which requires no introduction, this very promising and charismatic Spanish rider has extremely bright future. He is known for his very late braking at the corners, which often gives him the advantage over his rivals. Applying brakes very late certainly give you the edge over the competition but it also extremely dangerous maneuver.
In normal circumstances a MotoGP rider takes turn at around 64 degrees, which is considered as very lean angle and virtually impossible to take in normal riding conditions. Marc Marquez has seen on the track taking turn at breathtaking 68 degree angle, however it seems like he actually got slipped from the saddle while taking turn but in fact he is one of the MotoGP riders who is also known for doing this deliberately.
Marco Simoncelli was also one of the riders blessed with this control on this motorbike and he often do this trick successfully, but not on the day when he tried to save his Honda while recovering from this maneuver and unfortunately lost his control and crashed. Anyways, watch Marc Marquez leaning to the extreme and enjoy.
Source:
Club VTM
By:
Farhan Kashif